WHAT IS THE HOPPER FROM DISH?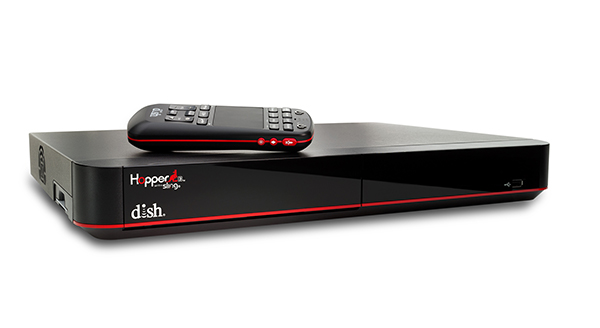 DISH's Hopper HD DVR is a digital video recorder that lets DISH customers record and play back live TV shows, movies and sports. The Hopper adds convenience to TV, letting you watch the shows you love on your schedule. There's also a remote locator, AutoHop, integrated search and a user-friendly interface for hassle-free entertainment.
The whole family can watch and save their favorite TV, thanks to the Hopper's 16 tuners and 2 terabytes of storage. That means recording up to 16 shows at once and saving up to 500 hours of HD programming! Did you forget to set the DVR? Don't worry; the Hopper uses PrimeTime Anytime to automatically record ABC, NBC, CBS and Fox primetime shows without taking up space on your DVR. You can also set your DVR from your smartphone, no matter where you are, with the DISH Anywhere app. Save time with AutoHop, which automatically skips commercials in recorded primetime TV.

Parental Controls on the Hopper by DISH
Parents will love the ability to set parental controls using the Hopper. Plus, push a button on the Hopper and your remote will sound, no matter how far the kids pushed it into the couch. Families will enjoy taking live TV and their DVR recordings on-the-go with DISH Anywhere. This means long car rides, boring hotels and quiet waiting rooms just got a whole lot more fun!
DISH Hopper Entertainment Features
Create an entertainment center with your DISH Hopper. The Hopper lets you access Netflix from across your home for uninterrupted viewing from living room to bedroom and on every TV in between. You can use your Hopper to stream On Demand and pay-per-view movies too.
Music isn't left out either. Connect your DISH Hopper to your home's surround sound for whole-home SirusXM satellite radio. This means more than 70 channels of commercial-free music, live performances and talk radio, thanks to the Hopper HD DVR. Even more music options are included in the Hopper's apps. Personalize your listening in experience with Pandora, iHeart Radio and TuneIn. Watch all your favorite artists on the Vevo app too.
The Hopper's apps let you add Facebook, Twitter, Sports Overlay, games and more for a complete entertainment experience.
The DISH Hopper's High-Tech Features
The Hopper's high-tech features are perfect for the biggest sports and TV fans. 4K video with the Hopper from DISH works with the newest TVs for lifelike images. With Sports Bar Mode, the Hopper 3 lets you watch 4 channels at once in HD on a 4K TV. Without a 4K TV, you can still watch 4 channels; they just display at a lower resolution. This is perfect for a weekend full of games, and it works with any 4 channels you choose!