Choose the Right Satellite TV Service and Save Hundreds
Satellite television gives you an amazing selection of channels and on demand content to choose from, but not every company gives you the same value. Some providers offer unique benefits, specialty hardware or promotional offers that give you better value, more content or even save you money.
Selecting the right satellite TV for you seems like a tough choice, but just break down the basics. Between DirecTV and DISH, while both are available nationwide, let you watch on demand and also record your favorite shows, only one has built-in Netflix, Bluetooth audio, 2-year price protection and much more.
See the key value and entertainment benefits broken down between both DISH and DirecTV to see which works best for you!
| Who is the Best Satellite TV Provider? | | |
| --- | --- | --- |
| Records up to 16 shows at once | | |
| Instantly skip commercials | | |
| Watch 100% of TV channels anywhere | | |
| DVR Recording Time | 500 hours/2 TB storage | 200 hours/1 TB |
| Built-in Netflix | | |
| Google voice remote | | |
| Bluetooth audio | | |
| Remote locator | | |
| Ranked #1 in customer satisfaction by J.D. Power | | |
| Price protection | 3 years | 2 years |
| Price increase past second year | $0 | $10+ |
5 Reasons Why DISH is Better Than DirecTV
When you take a good look at the features of each provider, the choice becomes clear: DISH network gives you a much better satellite TV experience at much better value.
1

Record more shows & store your content with a huge 2 TB hard drive.

2

Better hardware like the voice remote and Netflix built-in.

3

Stay locked in at a cheaper price for even longer.

4

Get better customer service whenever you need technical or account assistance.

5

Watch shows and movies anywhere, live or recorded.
Guarantee Your TV Price for 3 Years
One great benefit TV providers sometimes offer is a price guarantee – meaning that whatever price you sign up with stays on your bill over time. But while many providers often price guarantees for only several months or perhaps even a full year (which is the case with DirecTV), DISH Network will guarantee your monthly price for a full 3 years.

For 36 months, your price will remain unchanged when you sign up with DISH with a 2-year commitment. That means you don't have to worry about sudden price hikes or surprise fees, giving you peace of mind to enjoy the entertainment packages from DISH and allowing you to take control of your TV bill.
Entertainment Like Never Before with Hopper 3 HD DVR
A key advantage DISH has over its competitors is its remarkable hardware – the Hopper 3 HD DVR. Not only does this system let you watch, search, stream and record your favorite television, but it does so better than any of its competition.
The Hopper 3 gives you over 500 hours of storage for recording all your favorite TV, it lets you record up to 16 simultaneous shows at once in either HD or 4K quality, and it also makes searching easier than ever with the Google voice remote. When you combine that with features like AutoHop and DISH Anywhere (letting you skip commercials and stream TV to any connected device with Sling), then the advantage becomes clear for the Hopper 3 from DISH.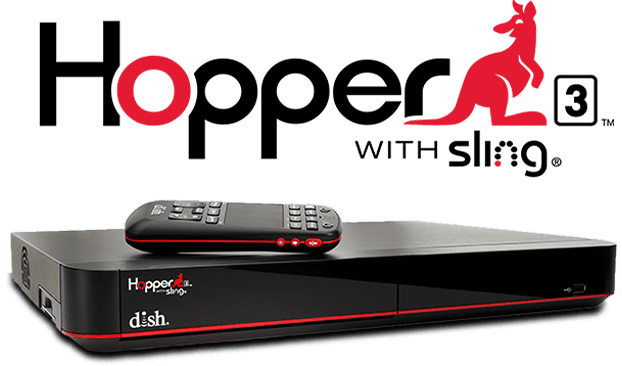 Promotional Offers
Make the switch over to DISH today to take advantage of these great offers!
Free standard installation in up to 6 rooms
Premium movie channels free for 3 months*
Get your TV price guaranteed for 3 years
*After 3 mos., you will be billed $30/mo. for Showtime and DISH Movie Pack unless you call or go online to cancel. *Comparison between DISH AT 120 and DirecTV's Entertainment Starter package over two years.