DISH vs Charter
Are you choosing between DISH Network and Charter Spectrum service? This comparison puts the two providers head to head on the topics you care about, including package price, DVR technology and customer service!
When new customers choose DISH as their TV service provider, they get more than $280 in savings over Charter. Plus, DISH provides superior technology, customer service and flexibility. Enjoy more entertainment for less with DISH!
| See for Yourself! | | |
| --- | --- | --- |
| Lowest Package Prices |    |    |
| Best Technology |    |    |
| Best Promotional Offers |    |    |
| Best Customer Service |    |    |
| Create Your Own TV Package |    |    |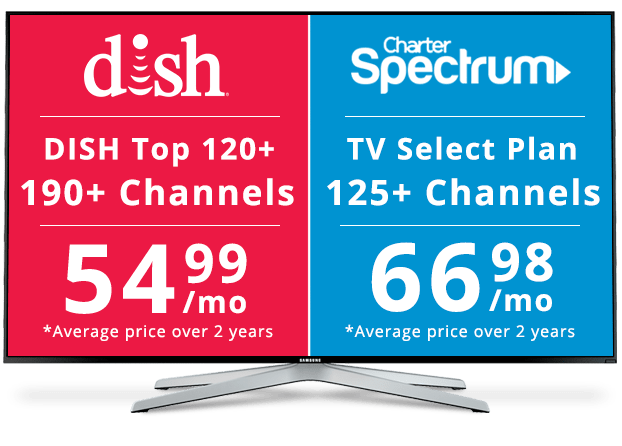 DISH vs Charter: Channel Packages
Get more for less with DISH when compared to Charter Spectrum. More channels and fewer fees are all included in a lower monthly price when you choose DISH as your TV provider. Your DISH package includes your first receiver; Charter charges you a receiver fee each month, even if you only have a single TV. With DISH, you can save more than $280 over 2 years!
DISH vs Charter: Best Technology
New DISH customers will love their Hopper 3 HD DVR. You can record up to 16 channels at once, perfect for big families who love TV. Primetime TV on ABC, NBC, CBS and FOX is automatically recorded, and commercials are automatically skipped.
The Hopper's advanced features make entertainment the focus. There's integrated search that includes Netflix. You have the ability to watch four channels at once, perfect for sports fans or news enthusiasts. Enjoy social media, music and more with the Hopper's apps and Sirius XM music channels.
| DVR Technology | | |
| --- | --- | --- |
| Shows Recorded at Once | 16 | 2 |
| Instantly Skip Commercials | Yes | No |
| Hours of HD Storage | 500 | 20 |
| Bluetooth Audio | Yes | No |
| Stream Your Entire Lineup | Yes | No |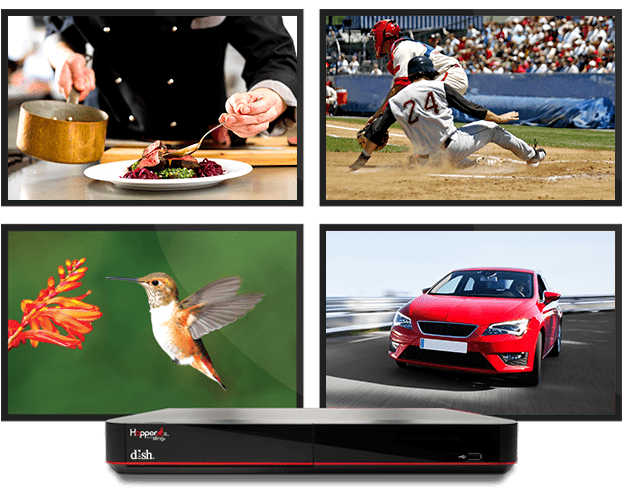 DISH vs Charter: Promotional Offers
DISH Network offers new customers a great value with added perks! When you join the DISH family, you can enjoy these promotional offers and more:
Free installation in up to 6 rooms for whole home entertainment
Upgrade for free to the industry-leading Hopper 3 HD DVR
Your first receiver fee included in the price of your package
HBO included at no cost for 12 months with qualifying packages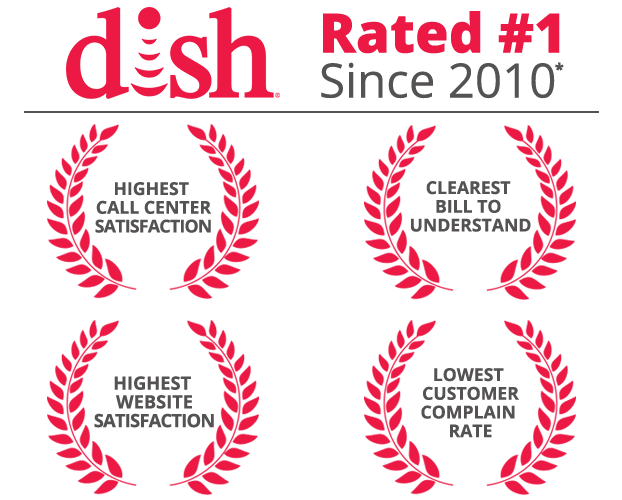 DISH vs Charter: Customer Service
DISH delivers on its promises to customers! DISH takes the top spot in both call center and website satisfaction since 2010, while Charter falls in at #6. Enjoy free professional installation from DISH, and forget frustrating confusion over you monthly bill. DISH has the clearest bill to understand in the industry! DISH will show you the dedicated service that makes it the TV provider with the lowest customer complaint rate.
*Based on the average American Customer Satisfaction Index comparison of major TV providers (2010-2015).
Build Your TV Package with DISH
Welcome to the future of TV! DISH now offers a customizable TV package that lets you pick the channels you want to watch and the price you want to pay. Starting at just $39.99 per month, DISH's Flex Pack includes more than 50 popular channels with something for everyone. Plus, add channel packs with everything from sports to news. Your first channel pack is included for free!
Customize your TV package with channel packs you can change at any time
Your monthly bill starts at just $39.99 and includes your first channel pack
Channel packs are available for as low as $4 per month
Choose channel packs with favorites like ESPN, Disney, Bravo and more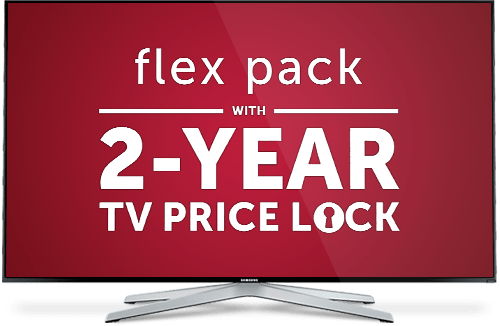 5 Reasons Why DISH Is Better Than Charter
Watch movies and shows in 4K! No cable provider can offer you 4K picture quality, including Charter Spectrum. With DISH, watch On Demand movies and shows in incredible ultra HD.
Integrated Netflix is available right on your Hopper 3. You no longer have to switch devices to enjoy your Netflix subscription. Plus, search both your Hopper library and Netflix at the same time with integrated search.
Create your own skinny bundle with DISH's Flex Pack. Choose the channel you want to watch and the price you want to pay. You can also add on premium channels for more movies, sports and original TV series.
Get your new DISH TV service as soon as tomorrow with free next-day installation (where available). Enjoy your TV package throughout your home with free professional installation in up to 6 rooms.
Upgrade for free to the Hopper 3 HD DVR. Save up to 500 hours of HD recordings on your Hopper and record up to 16 channels at once. Find the remote, automatically skip commercials, watch 4 channels at once and more!
DISH vs Charter Frequently Asked Questions
DISH Network vs Charter Cable
As a satellite TV provider, DISH is able to offer features cable providers like Charter can't. DISH is available nationwide, even in remote areas. Satellite can also send 4K movies and shows to your home, unlike cable from Charter Spectrum.
Charter DVR vs DISH Hopper
DISH's Hopper 3 leads the industry in features. Record up to 16 channels at once, versus Charter's 2 channel capability. Hopper boasts a 2 TB hard drive, while Charter has just 160 GB of space. Find your remote, search Netflix and more, all from your Hopper 3.
Which is Better, Charter or DISH?
DISH Network provides customers better prices, technology, promotional offers and more! You can also save more than $280 over 2 years versus Charter Spectrum. DISH offers nationwide service with TV packages and receivers that fit your lifestyle.