DISH vs Wave Broadband
Deciding on a TV provider can be a tough choice. This comparison of Wave Broadband and DISH Network makes reviewing the two providers simple, with channel packages, pricing, technology and customer service all included.
When you choose DISH, you'll enjoy more channels for less, free installation, your first receiver included in your package price and more. You'll also enjoy greater flexibility with DISH: enjoy TV without internet and build your own TV package. Plus, save almost $700 over two years with DISH!
| See for Yourself! | | |
| --- | --- | --- |
| Lowest Package Prices |    |    |
| Best Technology |    |    |
| Best Promotional Offers |    |    |
| Best Customer Service |    |    |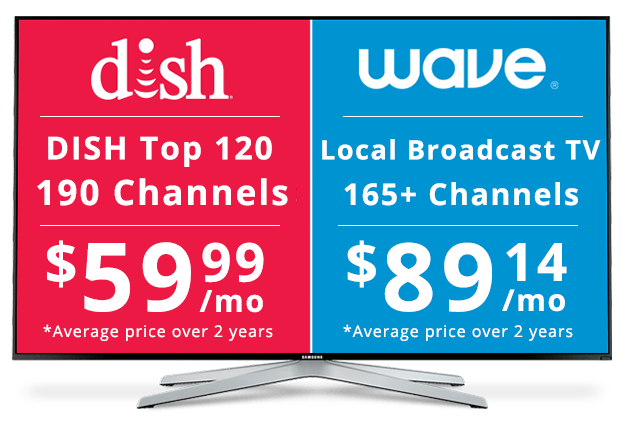 DISH vs Wave Broadband: Channel Packages
DISH offers customers more channels for less than Wave! Choose America's Top 120 for 190 channels, including Big Ten Network, ESPNEWS, ION, NASA, Pop and WE tv, which are not included in the 160+ channels of Wave's Expanded Content. With free professional installation, your first receiver included and a 2 year price lock guarantee, DISH customers can save more than $650 over Wave Broadband customers.
*All offers require credit qualification and 24-month commitment and early termination free with eAutopay. Offer ends 4/9/18. Call for details. Prices include Hopper Duo for qualifying customers. Hopper, Hopper w/Sling or Hopper 3 $5/mo. more. Upfront fees may apply based on credit qualification.
DISH vs Wave Broadband: Best Technology
The TiVo whole home DVR system from Wave is no match for DISH Network's Hopper 3 HD DVR. Hopper boasts advanced technology and features that turn your TV package into whole home entertainment. It starts with an impressive 16 tuners, for recording up to 16 channels at a time, or watching on as many as 7 TVs throughout your home at once.
Hopper 3 offers innovative features, including remote finder, Primetime Anytime, Autohop and MultiView Mode. With the DISH Anywhere app, your phone becomes your remote and you can schedule your DVR from anywhere!
| DVR Technology | | |
| --- | --- | --- |
| Shows Recorded at Once | 16 | 6 |
| Instantly Skip Commercials | Yes | No |
| Hard Drive Storage | 2 TB | 1 TB |
| Bluetooth Audio | Yes | No |
| Stream Your Entire Lineup | Yes | No |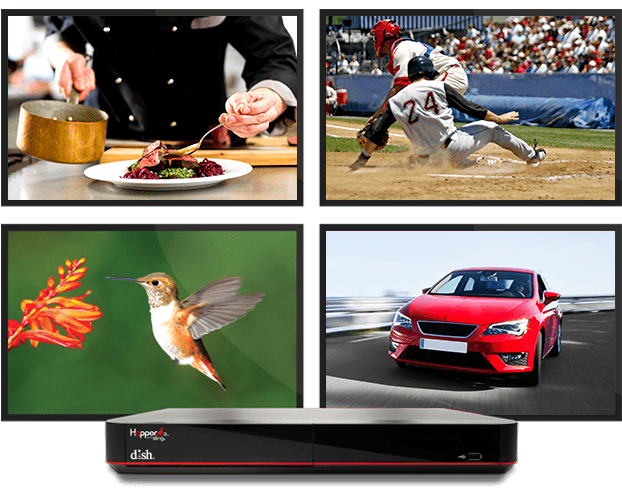 DISH vs Wave Broadband: Promotional Offers
As a new DISH customer, you will enjoy great deals with your new TV package, including:
A Smart HD DVR included in your monthly price
Premium channels free for three months with qualifying packages*
Complimentary HD for life
Free next day professional installation in up to six rooms (where available)
*After 3 mos., you will be billed $55/mo. for HBO, Cinemax, Showtime, Starz and DISH Movie Pack unless you call to cancel.
DISH vs Wave Broadband: Customer Service
DISH is proud to offer award-winning customer service and support. Of all major TV providers, DISH is the service provider with the highest call center and website satisfaction, making ordering and servicing your new TV package simple. You'll enjoy the clearest bill to understand in the industry and find out why DISH is the provider with the lowest customer complain rate since 2010.
*Based on the average American Customer Satisfaction Index comparison of major TV providers (2010-2015).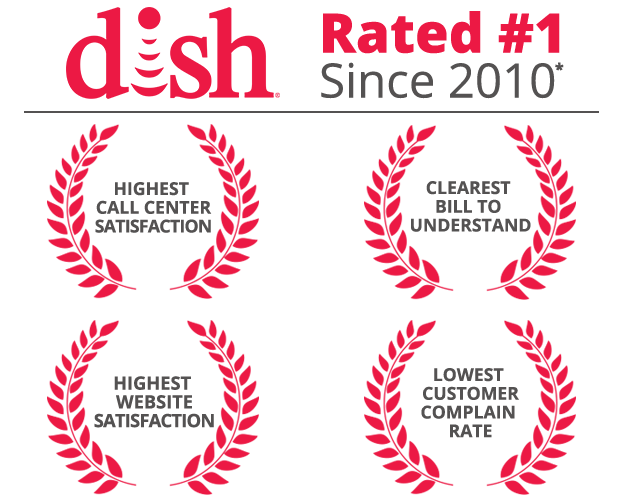 5 Reasons Why DISH Is Better Than Wave Broadband
Choose from five DISH TV packages, with the freedom to choose just TV service, without adding internet. Or, choose an internet plan from one of our provider partners, starting at $14.95.mo., where available.
Take your entire channel lineup on-the-go with DISH Anywhere. The Sling technology in your Hopper 3 lets you watch live TV, DVR recordings and On Demand content from your phone, tablet or laptop.
Upgrade for just $5/mo. to DISH's Hopper 3 HD DVR. Watch TV throughout your home on as many as 7 TVs and record up to 16 channels at once. Plus, use Alexa to control your Hopper with your voice.
DISH helps you save! With free installation, a two year price lock guarantee and more channels for less, DISH delivers value straight to your living room. When you choose DISH, you can save more than $650 over two years versus Wave.
Satellite TV providers like DISH can deliver stunning 4K video to your 4K TV. Watch TV series, movies, documentaries and sports with DISH On Demand and Pay Per View, plus integrated Netflix.
DISH vs Wave Broadband Frequently Asked Questions
DISH vs Cable Comparison
DISH Network is a satellite TV provider, broadcasting its channels via satellite signal. This technology allows for great picture quality, rural coverage and lower prices. Plus, DISH offers a two year price guarantee.
Cable vs Satellite Picture Quality
Satellite TV delivers clear HD and 4K programming, even in rural areas. Get great picture quality included with your TV package with DISH's free HD for life. Satellite technology also allows for 4K content, unlike cable providers like Wave Broadband.
Is DISH Network Reliable?
Yes! DISH Network is rated for 99.9% signal reliability throughout the country. Even homes and businesses in remote areas can enjoy TV and internet with DISH. Watch DISH from any location across the country with a clear view of the southern sky.