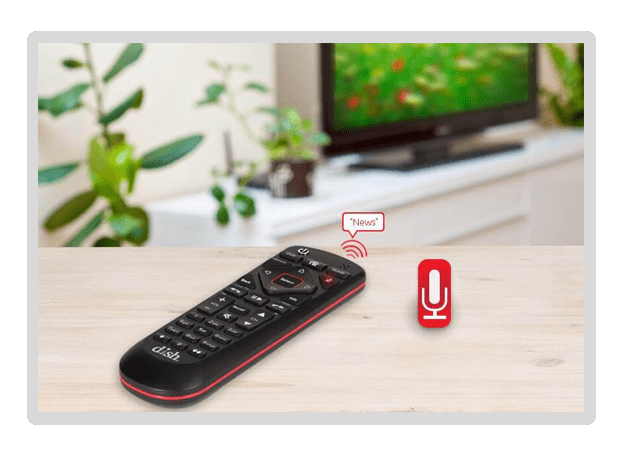 Command Your TV With Your Voice!
Quickly surf TV channels or find your favorite shows all by simply speaking to the new DISH Voice Remote.* The remote features advanced voice recognition technology that lets you search live TV, On demand TV, and even Netflix at the same time. Simply hold the button to enable voice recognition and speak the commands for an easier TV experience.
Check out some of the most useful DISH voice commands that help relieve common frustrations with using a standard remote control:
Searching
"Say 'hello' to my little friend!
"Dallas Cowboys"
"Fixer Upper"
Changing the Channel
"Go to Channel 172"
"Tune to AMC"
"Go to Home and Garden Television"
Navigation
"Open Guide"
"Live TV"
"DVR"
Transport Controls
"Skip forward"
"Record this"
"Pause this"
Launching Apps
"Go to Netflix"
"Launch Pandora"
"On Demand"
Natural Language
"Free movies starring Brad Pitt"
"On Demand TV shows from HBO"
"What live sports are on right now?"
Changing Settings
"Picture in Picture"
"Closed Captioning"
"Record this"
Accessibility
"Audio Description off"
"Magnification on"
"Text to Speech on"
Navigate the User Friendly Remote With Ease
Weather taking advantage of the new voice features, or taking matters into your own hands, the DISH Voice Remote delivers. With a new, simplified layout layout, and customizable buttons that allow you to create your own personalized experience, the DISH Voice remote lets you navigate with ease.
Its simplified design sports chrome highlights and red striping while offering a total of 32 buttons on the top and 4 on the sides.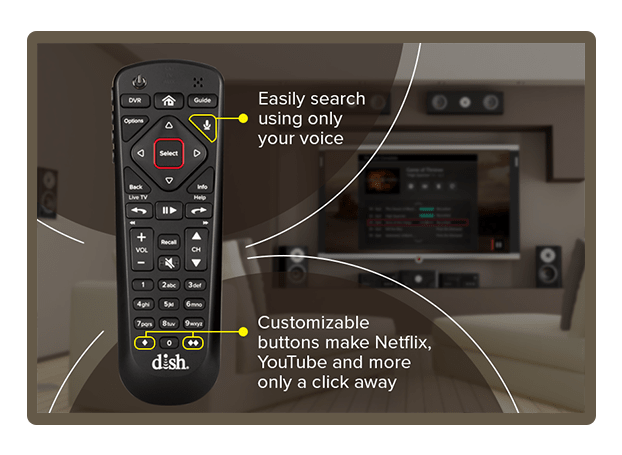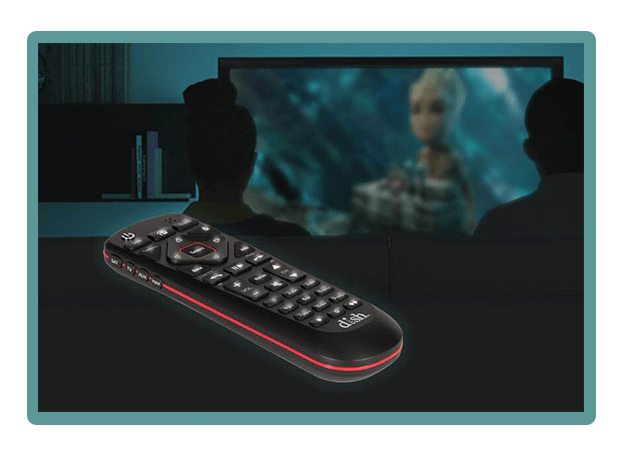 Backlighting When You Need It Most
Do you love turning on the lights to use your remote when its dark? We don't either! The DISH Voice Remote features backlit buttons that let you see your remote and perform a task in the middle of a dark lit room. Don't ruin movie night by turning on the lights just because you need to rewind 30-seconds.
Never lose your remote again
How often do you find yourself looking for a lost or misplaced TV remote? We can answer that for you! The average American spends 2 weeks of their life looking for their lost remote – but that doesn't have to be you!
The new remote features a "locate remote" function that, when activated, causes the remote control to emit audible noises and flashing lights. Spend more time watching what you want and save the headache with the DISH Voice Remote.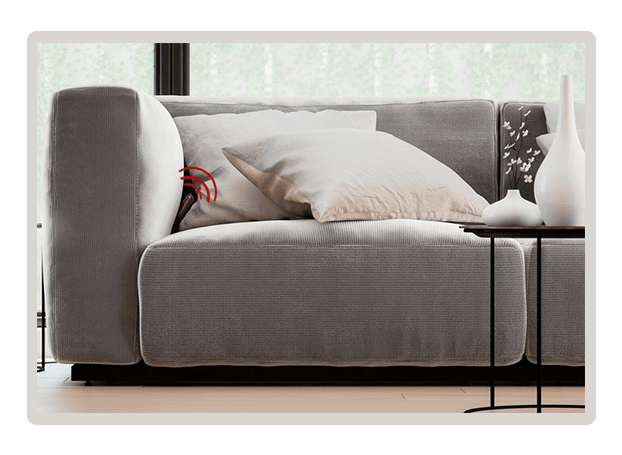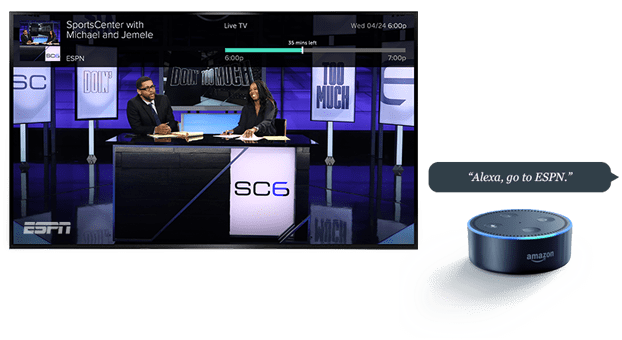 Introducing Hands-Free TV™ From DISH*
DISH gives you even more control of your TV by partnering with Amazon Alexa and Google Assistant devices. Just link your Amazon Echo, Tap, Show ,Echo Dot, or Google Assistant to your Hopper 3 and use your voice to change the channel; search your Hopper by show or movie title, actor or genre; control your DVR; pause, stop, fast-forward, rewind, and skip; plus more features are on the way!
*Internet connection, active subscription and Voice Remote are required to use voice feature.
Get a FREE DISH Voice Remote With These Great TV Packages:
*All offers require credit qualification and 24-month commitment and early termination fee with eAutopay. Offer ends 4/10/24. Call for details. Prices include Hopper Duo for qualifying customers. Hopper, Hopper w/Sling or Hopper 3 $5/mo. more. Upfront fees may apply based on credit qualification. After 3 mos., you will be billed $30/mo. for Showtime, Starz and DISH Movie Pack unless you call or go online to cancel.