DISH Latino Max
$7999/mo
$84.99/mo
265+ Channels
FREE Next Day Installation!
Scheduling may vary & up to 6 TV's
Smart HD DVR Included
With credit qualification or qualifying packages
FREE HD for Life
Watch TV in the highest quality
265+ Channels Included




Local Channels Included
FREE Premium Channels*


Premium Channels Free for 3 Months
*All offers require credit qualification, 2-Year commitment with early termination fee and eAutoPay. After 3 mos., you will be billed $20/mo. for Showtime and DISH Movie Pack unless you call to cancel..
DISH Latino Max Channel List

A&E
Daystar
Headline News
QVC2
Alma Vision Hispanic
Discovery
History
REAL
AMC
Discovery en Español
History En Espanol
Ride TV
Angel One
Discovery Familia
HITN
Russia Today
Animal Planet
Discovery Family Channel
Home and Garden Television
Shepherd's Chapel Network
Antena Tres Internacional
Dish Network FYI
Home Shopping Network
SHPLC
AXS TV
Disney Channel
Home Shopping Network 2
SMART
AZ Cinema
Disney Channel – West
HOPR
Sonlife Broadcasting Network
AZ Clic
Disney XD
Impact Network
Sports Alternate
Azteca America
DIY
In Country Television
Syfy Channel
Baby First
DPLCL
Independent Film Channel
TBN
Baby TV
E! Entertainment Television
INSP
TBS
BBC America
ION
Teleformula
BEAUT
Enlace
Jewelry Television
Telemundo
beIN Sport
EPIC
Justice
Telemundo Oeste
beIN Sports en Espanol
ESPN
Kids and Teens Television
Tennis Channel
Believer's Voice of Victory
ESPN Alternate
LAFF TV
The Hillsong Channel
Bloomberg Television
ESPN Deportes
Lifetime
The Movie Channel – West
Boomerang
ESPN2
Link Television
The Movie Channel Xtra – West
Bravo
ESPNEWS
MLB Network
Three Angels Broadcasting
BUZZR
Estrella TV
MLB Network Alternate
TLC
BYU Television
Estudio 5
MLMDS
TNT
Caracol TV Internacional
Eternal Word Television
MTV
Travel Channel
Cartoon Network
EVINE Live
MTV Tr3s
TV Espanola International
Cartoon Network West
Faith USA
MTV2
TV Games Network
Cbeebies
FETV
MXCNL
TV Games Network 2
Centroamerica TV
Food Network
NASA
Universo
CGTN Espanol
FOX Deportes
NatGeo Mundo
USA Network
CGTNN
FOX Movie Channel
National Geographic
Velocity
Christian Television Network
FOX Sports 1
NBA TV
VH1
Cine Latino
Free Speech TV
Nick Jr.
Videorola
Cine Sony
Freeform
Nickelodeon / Nick At Nite
V-ME
CNBC
Fuse
Nickelodeon / Nick At Nite – West
Wapa America
CNN
Fusion
Nuestra Tele
WeatherNation
CNN En Espanol
FX
Oprah Winfrey Network
WGN Cable
Comedy Central
FXX
Paramount Network
Women's Entertainment
CRAFT
Game Show Network
Pasiones
Zee Mundo
C-SPAN
Gem Shopping Network
PixL
4K
C-SPAN2
GRIT
Pop HD
4KHDR
CSPRT
Hallmark Channel
Pursuit
CubaMax
Hallmark Movies and Mysteries
QVC
DISH Latino Max Channel List

A&E
Hallmark Movies and Mysteries
Alma Vision Hispanic
Headline News
AMC
History
Angel One
History En Espanol
Animal Planet
HITN
Antena Tres Internacional
Home and Garden Television
AXS TV
Home Shopping Network
AZ Cinema
Home Shopping Network 2
AZ Clic
HOPR
Azteca America
Impact Network
Baby First
In Country Television
Baby TV
Independent Film Channel
BBC America
INSP
BEAUT
ION
beIN Sport
Jewelry Television
beIN Sports en Espanol
Justice
Believer's Voice of Victory
Kids and Teens Television
Bloomberg Television
LAFF TV
Boomerang
Lifetime
Bravo
Link Television
BUZZR
MLB Network
BYU Television
MLB Network Alternate
Caracol TV Internacional
MLMDS
Cartoon Network
MTV
Cartoon Network West
MTV Tr3s
Cbeebies
MTV2
Centroamerica TV
MXCNL
CGTN Espanol
NASA
CGTNN
NatGeo Mundo
Christian Television Network
National Geographic
Cine Latino
NBA TV
Cine Sony
Nick Jr.
CNBC
Nickelodeon / Nick At Nite
CNN
Nickelodeon / Nick At Nite – West
CNN En Espanol
Nuestra Tele
Comedy Central
Oprah Winfrey Network
CRAFT
Paramount Network
C-SPAN
Pasiones
C-SPAN2
PixL
CSPRT
Pop HD
CubaMax
Pursuit
Daystar
QVC
Discovery
QVC2
Discovery en Español
REAL
Discovery Familia
Ride TV
Discovery Family Channel
Russia Today
Dish Network FYI
Shepherd's Chapel Network
Disney Channel
SHPLC
Disney Channel – West
SMART
Disney XD
Sonlife Broadcasting Network
DIY
Sports Alternate
DPLCL
Syfy Channel
E! Entertainment Television
TBN
TBS
Enlace
Teleformula
EPIC
Telemundo
ESPN
Telemundo Oeste
ESPN Alternate
Tennis Channel
ESPN Deportes
The Hillsong Channel
ESPN2
The Movie Channel – West
ESPNEWS
The Movie Channel Xtra – West
Estrella TV
Three Angels Broadcasting
Estudio 5
TLC
Eternal Word Television
TNT
EVINE Live
Travel Channel
Faith USA
TV Espanola International
FETV
TV Games Network
Food Network
TV Games Network 2
FOX Deportes
Universo
FOX Movie Channel
USA Network
FOX Sports 1
Velocity
Free Speech TV
VH1
Freeform
Videorola
Fuse
V-ME
Fusion
Wapa America
FX
WeatherNation
FXX
WGN Cable
Game Show Network
Women's Entertainment
Gem Shopping Network
Zee Mundo
GRIT
4K
Hallmark Channel
4KHDR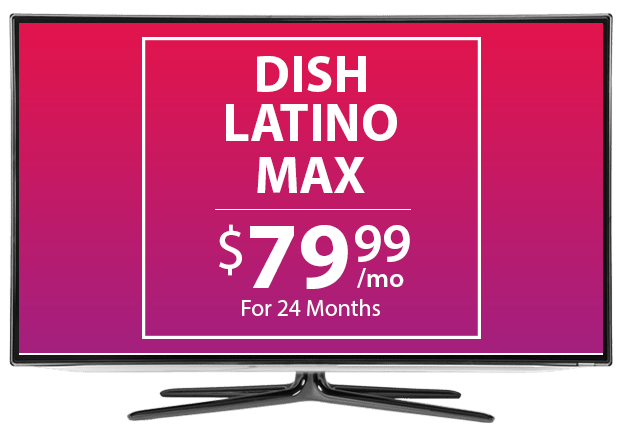 DISH Latino Max
For the best bilingual entertainment value, choose DishLATINO Max. Get over 270 channels for $79.99* a month with a 2 year price lock. This DISH package includes a Smart Hopper HD DVR and English and Spanish channels that movie lovers and sports fans will enjoy. Kids will love Disney Channel, Freeform, Nat Geo Mundo, Nickelodeon and more. DishLATINO Max keeps the whole family happy!
*All offers require credit qualification, 2-Year commitment with early termination fee and eAutoPay.
Take Advantage of DISH Deals
All DishLATINO Max subscribers qualify for valuable DISH Deals! Get free HD for life with over 50 HD channels. Installation in up to six rooms is included in your package price. Enjoy news and primetime TV on ABC, CBS, NBC, PBS and more with included local channels, where available. Watch free premium channels from Showtime the DISH Movie Pack and more for 3 months.*
*After 3 mos., you will be billed $20/mo. for Showtime and DISH Movie Pack unless you call to cancel..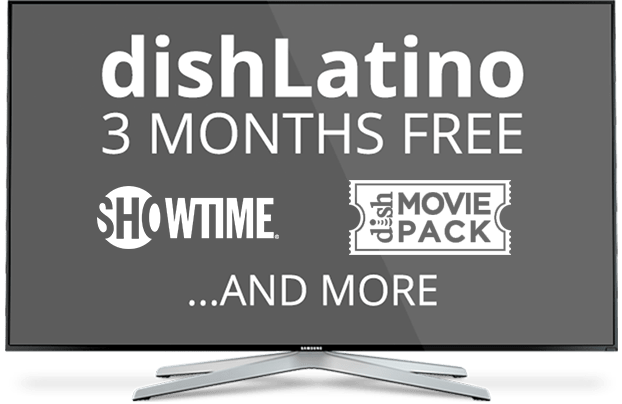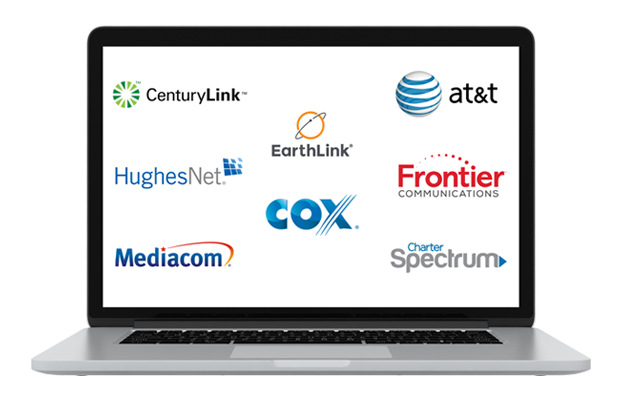 Save a Bundle on High Speed Internet
Add internet to your TV plan for as little as $14.95 a month in select markets, with options for every budget and location. Get DSL, cable, fiber or satellite internet for the best service for you. High speed internet from our partners is am affordable, fast, convenient way to stay connected to friends and family everywhere.
Follow the Drama of the Best Telenovelas
DishLATINO Max is full of your favorite characters. Follow the life of Alberto Aguilera Valadez in Hasta Que Te Conoci on Telemundo. This TV package lets you watch movies on De Película, Hallmark and FX Movie Channel. Plus, enjoy premium channels from Showtime the DISH Movie Pack, and more for 3 months, on us!*
*After 3 mos., you will be billed $20/mo. for Showtime and DISH Movie Pack unless you call to cancel..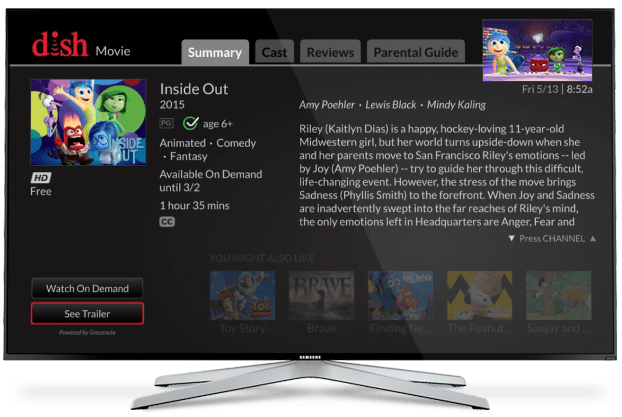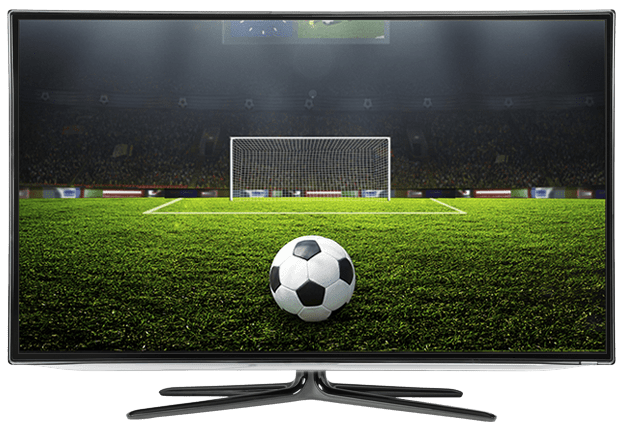 DISH is Your Front Row Ticket
Never miss a minute of soccer, baseball, basketball or tennis. DishLATINO Max includes four channels from ESPN, beIN Sports, FOX Deportes and FS1. There's also HorseRacing TV, MLB Network, and Tennis Channel. Action packed matches, games and races from around the world are delivered to your home, accompanied by analysis from the best sportscasters and your favorite players.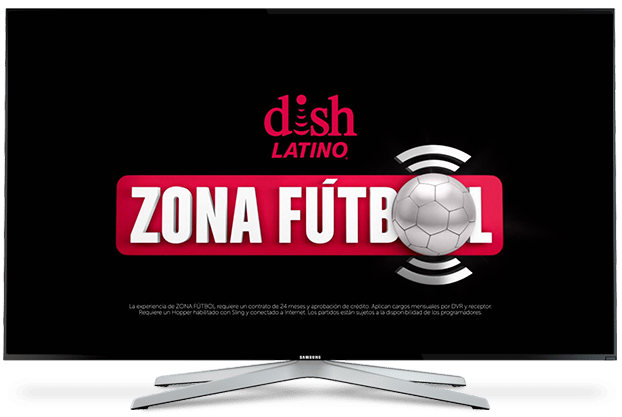 Never Miss a Game with Zona Fútbol
Take advantage of DISH's free Hopper HD DVR upgrade and receive complimentary Zona Fútbol. Watch six top games at once from your TV from LaLiga, English Premier League, MLS and more. View schedules from multiple soccer channels all in one place with Game Finder. Take matches on-the-go with DISH Anywhere, so you truly never miss a game.
Entertainment for the Whole Family
DishLATINO Max is the perfect package for the whole family. With a great mix of English and Spanish channels, everyone will be able to find channels they love. Get news from the country and the world with BBC America, Bloomberg Television, and more. Kids will love Nickelodeon and Nick at Nite, Disney Channel and Animal Planet. Laugh out loud with POP and Comedy Central.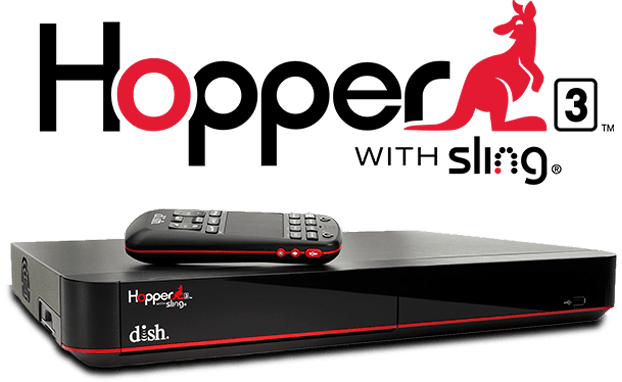 Exceptional Customer Experience