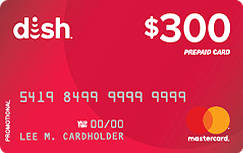 Expiring Soon - Switch to DISH & Get Up to a $300 Gift Card!*
*for qualifying customers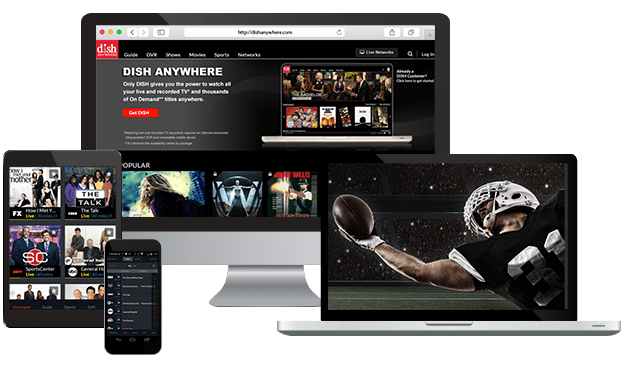 DISH Anywhere
DISH's mobile technology lets you take your TV on-the-go on your laptop, smartphone or tablet. Download the free DISH Anywhere app from the Apple App Store, Google Play or Amazon Appstore and start watching TV no matter where you are. When you log in to your DISH account, you can watch live TV from your DISH Network TV package, recordings stored on your DVR or On Demand content.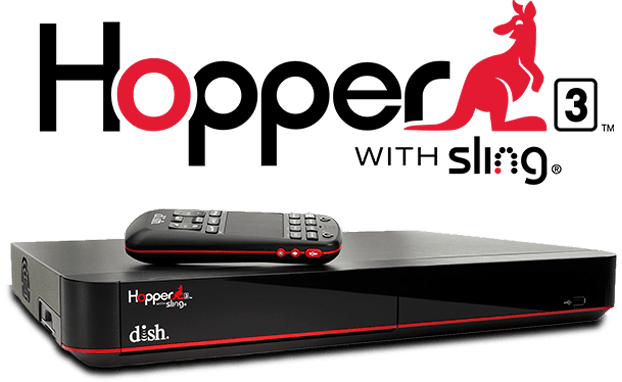 Watch Live TV Anywhere
Whole-home entertainment becomes mobile entertainment when you use DISH Anywhere. Use the app on any iOS, Android or Fire TV device, or log in to the DISH Anywhere website on your laptop or desktop computer. Choose any channel from your TV package's channel guide to watch movies, shows and sports in real time. Sports fans will love keeping up with the game everywhere from the mall to vacation.
Take Recorded Shows and Movies with You
Catch up on your favorite shows while commuting or traveling! With DISH Anywhere, there's 2 ways to watch the movies, TV episodes and games you recorded on your DVR. You can stream content from your Sling-enabled DVR to your mobile device. Or, enjoy your recorded programming without an internet connection when you plug your smartphone or tablet into your DVR and download recordings right to your device.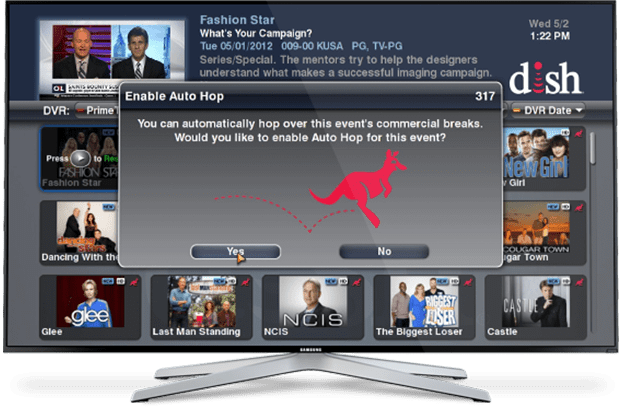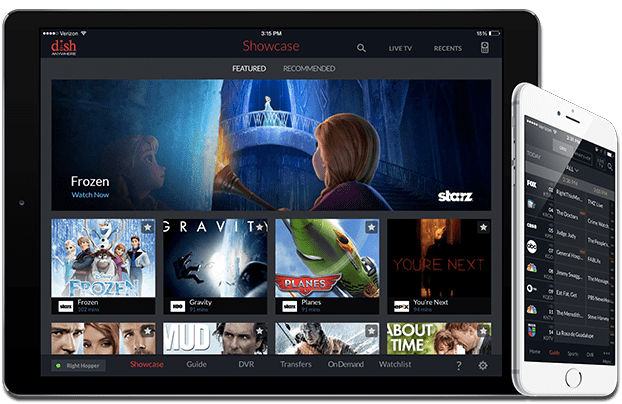 Watch On Demand Videos Instantly
Choose from thousands of On Demand videos, including movies, shows and trailers. The latest episodes of some of TVs hottest shows are on DISH Anywhere, alongside classic favorites like Seinfeld. Watch TV and movie trailers online or on your phone anytime, anywhere. When you log in, choose from categories like trending, science fiction and kids' movies, plus documentaries. There's also college and professional sports from the MLB, NBA, NFL, NCAAF and more.
Manage and Schedule DVR Recordings
With a Sling-enabled DVR like Hopper 3, DISH Anywhere lets your access your DVR on-the-go. Never miss a show you love because you forgot to set the DVR the night before. Manage your DVR on the way to work, from the store or at the kids' soccer game. You can also search for and watch any of your recorded shows with My Recordings, Daily Schedule and My Timers sections.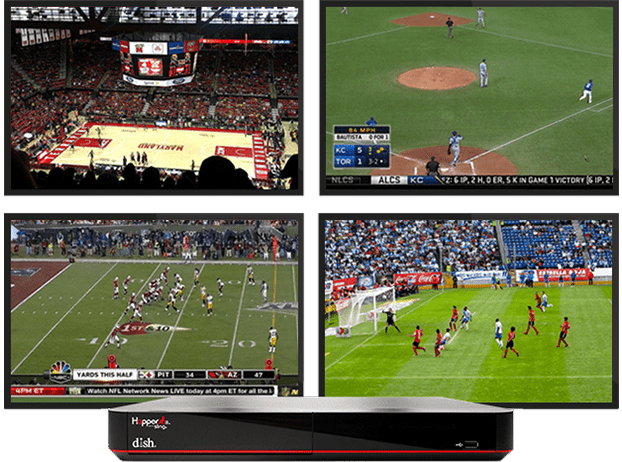 Browse Your TV Program Guide
Your entire channel lineup is on DISH Anywhere. Use the channel guide from your phone, tablet or laptop to see what's on tonight even before you're home, with a description of the upcoming episode. Click record to set your DVR right from the guide. You can also select any program from your TV package currently on and watch live TV anywhere, thanks to your Sling-enabled DVR.
Control Your TV with Your Phone
Your phone or tablet becomes your remote with the DISH Anywhere app. Change the channel, play recorded shows and pause live TV with just your iPhone or Android phone! Don't worry about finding the remote in the couch cushions if your phone is in your hand. You can leave the room and still have control over volume, channel and what's recording as well.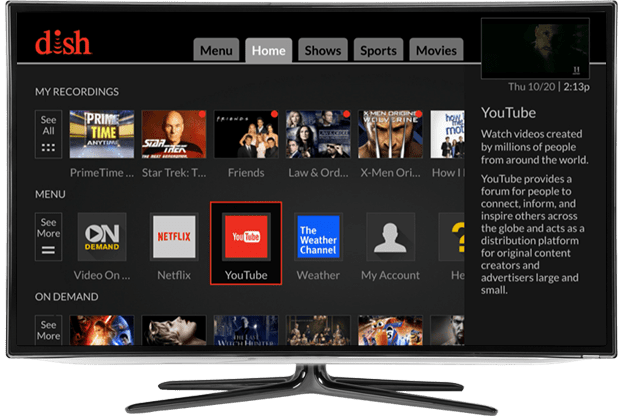 Take Your TV Anywhere With These Great DISH Packages:
*All offers require credit qualification and 24-month commitment and early termination fee with eAutopay. Offer ends 11/13/23. Call for details. Prices include Hopper Duo for qualifying customers. Hopper, Hopper w/Sling or Hopper 3 $5/mo. more. Upfront fees may apply based on credit qualification. After 3 mos., you will be billed $30/mo. for Showtime, Starz and DISH Movie Pack unless you call or go online to cancel.
DISH Anywhere Frequently Asked Questions
How Does DISH Anywhere Work?
You can access movies and TV shows using DISH Anywhere. The website and app use an internet connection to bring you On Demand content. You can also sync your DVR to DISH Anywhere by connecting your Sling-enabled DVR to the internet.

Learn More…
How to Use DISH Anywhere?*
DISH Anywhere can be accessed using the website or by downloading the DISH Anywhere app for iOS, Android or Fire TV. Log in to your DISH account to watch live TV and your DVR recordings. You can also use the app to set your DVR.

Learn More…
Is DISH Anywhere Free?
Yes! Visit the DISH Anywhere website or download the free app for iOS, Android or Fire TV. Anyone can access thousands of videos; log in with your DISH username and password to watch live TV from your DISH TV package. Use any Sling-enabled DVR connected to the internet to take your recorded shows anywhere for free.

Learn More…
*Watching live and recorded TV anywhere requires an Internet-connected, Sling enabled DVR and compatible mobile device.