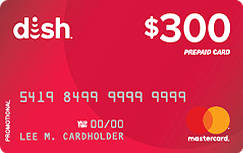 Expiring Soon - Switch to DISH & Get Up to a $300 Gift Card!*
*for qualifying customers
Best Kids TV Shows for 2023 – TV Series Your Entire Family Will Love
The American Academy of Pediatrics (AAP) suggests that, while children under 18 months shouldn't have any screen time outside of video chatting, that kids over 2 years old can have up to an hour of television per day. For that hour of TV, parents should select quality programming for that age group, such as shows found on PBS Kids or other curated choices you can browse from our lists here.
It's still important for young children with developing brains to have activities and interactions outside of screens though, in order to build language, social skills and empathy. Lack of face-to-face interaction and an over-dependence on screens can also negatively affect sleep and physical health, however there are many positive benefits of smart screen use. For family members over the age of 6, increased TV watching is just fine as long as it's high-quality kids' shows with consistent watch limits in mind. Finding great children's programming for your family can be tough, but with this guide you can navigate the latest and best shows for kids of any age.
Browse the Best Kid's TV Shows on DISH Network

Beat Bugs
Available on: Netflix
You might be interested in this show even if you're a parent. "Beat Bugs" is a musical show where each episode is based on a song from music icons The Beatles. The titular group find themselves in different situations each week that get expressed through a particular Beatles track, sometimes even joined by some great musical guest stars to perform the cover.
Daniel Tiger's Neighborhood
Available on: PBS, Amazon Prime
Followup and reimagining of kid's cultural classic "Mr. Roger's Neighborhood", this show follows the son of the tiger from the original show as he seeks to educate kids about a lot of the similar struggles Mister Rogers told children about for generations. Each episode does this through music and repetition to try and establish behavioral clues for children. Through this, "Daniel Tiger's Neighborhood" helps kids deal with issues or feelings in a productive, earnest way – just like Mister Rogers.

Dinosaur Train
Available on: PBS Kids, Amazon Prime
If you have a toddler they probably love dinosaurs, and this Jim Henson Company production is a wonderful one for your kid to enjoy. Following a family of pteradons and their adopted T. rex sibling, "Dinosaur Train" sees them visiting different species of dinosaur across many different episodes, giving lessons and learning in detail about each group.

Doc McStuffins
Available on: Disney+
A very popular kid's show and a favorite among Terry Jeffords' daughters Cagney and Lacey, "Doc McStuffins" is known for focusing on emotional or physical ailments that kids or their families might be going through, all told through the titular character's treatment on her toy friends. Through this, Doc teaches them how to help heal and how to deal with their daily problems.

Octonauts
Available on: Netflix
A fantastic kid's show that stands on its own as a really good adventure series, "Octonauts" features interesting quests, fun exploration, informational lessons on sea like and some great music. Each episode, the characters find themselves encountered new underwater creatures at their aquatic base, getting into exciting adventures and capping off the action with an informational bit about the episodes featured creature.

Pete the Cat
Available on: Amazon Prime
Joining "Beat Kids" as a kid's show with good taste in music, "Pete the Cat" consistently features great, catchy music thanks to Elvis Costello and Diana Krall who help produce the show and play the main cat's parents. Featuring great music and based on a great book series from Kimberly and James Dean, this show is a great resource for children that far less likely to annoy parents than your average kid's show.
Puffin Rock
Available on: Netflix
"Puffin Rock" is a calming show, featuring the vocal talents of Irish sitcom star Chris O'Dowd narrating the daily lives of adorable puffins. Low-key, low stakes and enjoyable, this show is based off the real location of Puffin Island and follows a family of puffins exploring their unique little world that exists off the coast of Ireland.

Sesame Street
Available on: PBS Kids, Max
How can any list of great kid's shows not include the show that's defined the childhood for generations – "Sesame Street"? Since 1969, this show has been popular and impactful, but has managed to stay that way thanks to adapting to new times, new issues, new animation and musical styles. Always expressing openness and inclusivity, "Sesame Street" has always been – and may always be – a key show for growing kids, both big and small.

Tumble Leaf
Available on: Amazon Prime
A nice change-up from a lot of the more frantic kid's shows out there, "Tumble Leaf" is a more easy-going experience. Part stop-motion and somewhat offbeat, this show has a spirit of exploration and patience in each of its episodes. The blue fox Fig who leads the show is always encouraging a measured, appreciative attitude, which is welcome change in much of the children's programming we tend to see.

Word Party
Available on: Netflix
Another Jim Henson Company production, "Word Party" is all about expanding a toddler's vocabulary. Each episode contains lessons about new words, what they mean and how to use them. Told through the starring group of diapered baby animals, this show is a fun, quick resources for helping kids to learn new words in an exciting way.

Angelina Ballerina
Available on: Amazon Prime, Sling TV
Angelina is a friendly mouse with big dreams of being a famous ballet dancer. She's also a great role model through interactions with her family and friends. This, combined with great musical numbers and entertaining daydreaming makes "Angelina Ballerina" a great, easy-going viewing choice.

Arthur
Available on: PBS Kids, Amazon Prime
A popular family mainstay and based on a great book series from Marc Brown, "Arthur" is an entertaining and wholesome look at a group of friends and family dealing with day-to-day issues at home or at school. With great messages about inclusivity and accepting differences, "Arthur" is a hopeful, pleasant choice for your kids to watch.

Ask the Storybots
Available on: Netflix
This Emmy award-winning kid's series conveys relatable, simple lessons in fun and silly ways. Following Beep, Boop, Bing, Bang and Bo, "Ask the Storybots" provides answers to everyday questions and features cameos from music icons like Snoop Dog, "Weird Al" Yankovic and John Legend.

Penguins of Madagascar
Available on: Amazon Prime, CBS All Access
Spinning off from the Madagascar movies, this show follows a group of penguins living their lives at the Central Park Zoo that the characters escaped from in the original films. With some returning characters and plenty of fun adventures, this is an especially good choice for any families of animal lovers.

Peppa Pig
Available on: CBS All Access
Super popular and charming, "Peppa Pig" shows us a sweet little world of talking British animals getting into minor situations over the course of each 5-minute episode. Follow Peppa and her family in this lovable Nick Jr. series!

Shaun the Sheep
Available on: Amazon Prime
From the makers of "Wallace and Gromit", TV series "Shaun the Sheep" features loads of visual humor, impressive stop-motion animation and offbeat British charm. Follow Shaun and his other sheep pals getting into and out of minor scrapes in fun ways at Mossy Bottom Farm!

Sid the Science Kid
Available on: PBS Kids, Netflix, Amazon Prime
In a show that promotes science and curiosity, "Sid the Science Kid" sees Sid and his friends, teachers and family seeking to answers to questions he poses at the beginning of each episode. Together they make observations, develop theories and come to informed conclusions. A fun show for encouraging reason and exploration!

Sofia the First
Available on: Netflix, Hulu
An all-star princess showcase, "Sofia the First" is a premiere choice for any lover of sweet, sovereign princesses. The titular Sofia is a charming lead with a great sense of adventure, who alone makes the show enjoyable. But episodes will also feature appearances from the pantheon of Disney princesses, making this show an extra special choice.
Tangled the Series
Available on: Disney+
Following up on the huge hit Disney film, "Tangled the Series" brings us back to Rapunzel and her life and family. After getting her magical hair back to her, she quests out on great fantasy adventures every episode, providing fun and entertaining fare for all to enjoy.

WordGirl
Available on: PBS Kids
Combining superhero antics with a strong vocabulary, "WordGirl" sees 9 year old Becky Botsford defending her school from the occasional villain. When duty calls, Becky suits up as WordGirl – the avenger that uses fun new words to defeat her challengers every episode, seeking to expand kids' vocabularies in a very fun way.

The Boss Baby: Back in Business
Available on: Netflix
The Boss Baby is back to ensure that babies remain the prime source of cuteness for all. The Boss is joined by his brother Tim to help run Baby Corps and fend off stiff competition from the likes of kittens and puppies, working as a team to make sure babies stay on top of the game.
Crikey! It's the Irwins
Available on: Hulu, Animal Planet
The Irwins maintain a strong legacy following the passing of Steve Irwin, and this show is a wonderful look at this family and their efforts to preserve wildlife, educate the world and run their Australian zoo. A fun, educational look at animal life through the lens of a loving, charming family, any animal lover should add this to their watch list.

DuckTales
Available on: Disney+, Hulu
"DuckTales" was a beloved 90s series with a theme song for the ages, and now Uncle Scrooge and his nephews are back for new adventures! Join him as he drags his family around the world, using his vast fortune for exciting quests and perhaps even more vast fortune!

Hey Arnold!
Available on: Hulu, CBS All Access
A bona fide Nickelodeon classic, "Hey Arnold!" follows Arnold and all his quirky friends and family in their Brooklyn-inspired neighborhood as they experience of the high and lows of daily life as a kid in the city. Relatable, entertaining and time-tested, this show is a must for any kid to experience.

Kung Fu Panda: Legends of Awesomeness
Available on: Amazon Prime, CBS All Access
Your kids probably loved the movies, and this show is a great watch to go along with those. With some returning voices and all the same style and humor, this series combines so much of the Eastern mythology and themes of family that underscored the original films.

Phineas and Ferb
Available on: Disney+
The stars Phineas and his brother Ferb are brilliant inventors and science nerds, always looking to build crazy new contraptions together. The show also features their envious sister Candace and their beloved pet platypus Perry, who also lives a secret life as a spy. It's a fun, uplifting and quirky show that every kid will enjoy.

Pokemon
Available on: Netflix, Hulu
This show based on a Japanese trading card game has become a cultural phenomenon, growing in popularity over the past couple decades as a show, a series of movies, an incredible plethora of video games and much more. But this original show remains fun and entertaining, communicating certain values like friendship and strategy through an exciting world of characters and lovable creatures.

Scooby Doo
Available on: Boomerang, Hulu, Max
There's nothing wrong with a classic, and while there have been several great followup series released over the years, showing your kids the 1969 original isn't a bad choice either. Scooby and the gang live on the road in the Mystery Machine, solving spooky crimes and catching dastardly villains. It's a fun ride, and can help young kids appreciate some light, age-appropriate horror tropes.

Spongebob Squarepants
Available on: CBS All Access
This long-running show is a cultural icon, entertaining a wide variety of ages with its silly humor and offbeat characters. The titular Spongebob, of course, lives in a pineapple under the sea, as does series mainstays like Patrick the Starfish, Mr. Krabs and Squidward. Spongebob's quirky optimistic attitude combined with the clever humor make this a great choice for just about any age.

Teen Titans Go!
Available on: Cartoon Network
One of the strongest newer kid's shows, "Teen Titans Go!" tells great stories through irreverent charm and an overriding love of the DC Comic universe. Following the superhero crew the Teen Titans, these characters go on adventures, learn to work together, and meet up with all the icons of DC, from Batman and Superman to even more obscure picks that comic fans will love.

Batman: The Animated Series
Available on: Max
Premiering in 1992, this show was not only immensely popular when it released but also continues to have a huge following from kids and adults alike. One of the most influential animated shows ever made, "Batman: The Animated Series" brought to life many of the Caped Crusader's best stories and characters into a show that, while appropriate for kids, dealt with those elements in a serious and compelling way.

Diary of a Future President
Available on: Disney+
A young Cuban-American girl chronicles her middle school life in her journal, unaware that she will indeed grow up to be President of the United States. Charming and likable, yet growing more mature as the serious goes on, this is a great show that's emblematic of forward, positive change is socially relevant kid's programming.

Gortimer Gibbon's Life on Normal Street
Available on: Amazon Prime
Suburban life with a heavy dose of magical fun, "Gortimer Gibbon's Life on Normal Street" tells a quirky and charming tale of family life and friendships alongside the oddities of a world filled with supernatural and magic wonders.

Hannah Montana
Available on: Disney+
A very popular show featuring then-child star Miley Cyrus, "Hannah Montana" follows the double life of Miley Stewart. By day she's a normal middle schooler, by night she's a pop megastar. This show follows her dealing with her dual identities while managing all the usual friends and family drama too.

Holly Hobbie
Available on: Hulu
Based on the existing character, "Holly Hobbie" is an updated version following middle schooler Holly in this great and charming coming-of-age series. Living in a small town but dreaming big, follow Holly in this sweet, relatable update of a classic character.

Masterchef Junior
Available on: Hulu
A kid's version of the popular cooking show, "Masterchef Junior" features Gordon Ramsey and others as they teach culinary skills to kids as they compete for the title of Masterchef. Entertaining and a great way to get you child interested in cooking!

The Powerpuff Girls
Available on: Netflix
A classic which transcends generations, "The Powerpuff Girls" remains an excellent show for any child to jump into. The titular group of superheroines (Blossom, Bubbles and Buttercup) defend Townsville from a league of villains. Taking inspiration from comic books and Japanese tokusatsu shows, any child or parent can thoroughly enjoy this show.

The Spectacular Spider-Man
Available on: Crackle, Amazon Prime
Marvel's iconic wall-crawler has been a mainstay of pop culture for decades, and the 2008 series "The Spectacular Spider-Man" is one of the best examples of the fun, excitement and relevancy of Peter Parker's ongoing adventures and tribulations.

Star Wars Rebels
Available on: Disney+
Lucasfilm has built up a rich lot of fantastic animated Star Wars shows since their previous series "The Clone Wars", and "Rebels" builds on that success with this series about a group of heroes in the early days of the Rebel Alliance from the original Star Wars trilogy, telling its own stories and lessons in a show kids and parents will both love.

Young Justice
Available on: Max
In this show from the world of DC, this group of teenage superheroes face major threats and serious themes across multiple seasons of poignant, compelling stories. Featuring younger counterparts to heroes like Batman and The Flash, "Young Justice" builds its own world of younger heroes with surprisingly grounded and relatable struggles, not to mention exciting action.

Atypical
Available on: Netflix
Following teenager Sam who's on the autism spectrum, "Atypical" is a very good show that gives great insight into living with autism, but never at the expense of its protagonist. Overall the show promotes inclusion and acceptance, always managing to be moving and charming while shedding light on common mental health issues.

Chilling Adventures of Sabrina
Available on: Netflix
Building on the success of "Riverdale", this adaptation of the Archie Comics character serves as an excellent mix of likable teen drama and devilishly entertaining horror and fantasy. 16-year-old Sabrina Spellman is a girl who lives a normal teenage life in some ways, but is also making her way as a burgeoning young witch, part of a community of supernatural witches, warlocks and conjurers.

Daria
Available on: CBS All Access, MTV
This show began as a spinoff of Mike Judge's "Beavis & Butthead", but the titular character became an icon in her own right. "Daria" follows the titular acerbic high schooler wading through absurd suburban inanity while walking her own path of sardonic, tongue-in-cheek independence and feminism. It's intelligent, funny, and might even hit closer to home than you'd expect.

Dear White People
Available on: Netflix
Following up on Justin Simien's fantastic film, "Dear White People" continues the grilling of modern racial issues in America, following a diverse group of teenagers facing discrimination from largely-white Ivy League high schoolers. Funny, dramatic and essential, this show is a great examination of pervasive racial tensions in American society.

Everything Sucks!
Available on: Netflix
Often seen as a version of "Freaks and Geeks" set in the 90s instead of the 80s, "Everything Sucks!" has a lot of the charm and heart that show does while telling a time capsule-story of teenagers facing friendship, heartbreak and high school antics in a nostalgic trip through the decade of baggy jeans, beepers and Britpop.

Freaks and Geeks
Available on: Netflix
This show has since become a cult classic for many reasons. From its amazing cast of stars-to-be and strong sense of early 1980s culture to its relatable teen drama that's earnest while managing to be devoid of cliché, "Freaks and Geeks" is essential viewing for teens or adults.

Never Have I Ever
Available on: Netflix
A teen comedy from powerhouse writer Mindy Kaling and co-creator Lang Fisher, "Never Have I Ever" mixes sorrow, silliness and sweetness in a way that's unique to its creators. Kaling and company strive to tell an honest teenage story that's enjoyable, full of heart very emotionally honest.

The O.C.
Available on: Max
A teen classic of its time, "The O.C." is a teenage soap that dominated the early to mid-2000s, and remains as a fun, witty chronicling of troubled teen Ryan who gets adopted by a kind, upper class family in Newport Beach. It gets cheesy but always stays likable and clever, accompanied by an amazing soundtrack to boot.

Riverdale
Available on: Netflix
A surprisingly dark and compelling update of classic Archie Comics characters, "Riverdale" provides a moody and twisty teen drama mixed with a solid murder mystery plot. A great cast that sells its unique atmosphere, this show will mix all of what you love from "The OC" and "Twin Peaks".

Smallville
Available on: Netflix
Telling the origin and young adult life of the boy who would become Earth's greatest hero, "Smallville" follows the daily life of Clark Kent – who will eventually become Superman. This show mixes teen soap opera with comic book origin as Clark slowly discovers his true nature, manages his high school life, and even maintains a friendship with eventual arch enemy Lex Luthor.

Anne with an E
Available on: Netflix
Based on a series of books, this "Anne of Green Gables" adaptation follows a group of teens at the turn of the century dealing with not only their daily dramas, but social and political matters of the time like freedom of speech, racism and consent. A charming story of its time but also progressive and inclusive, "Anne with an E" is an optimistic and sweet show you should tune in for.

Boy Meets World
Available on: Disney+
This formative show of for 90s kids remains a TV sitcom classic, thanks to its likable cast, entertaining capers and enduring adolescent dramas. Cory Matthews, Topanga and the whole gang are ready to welcome you back to their joys and sorrows at John Adams High, all overseen by Mr. Feeny himself.

Full House
Available on: Hulu
Ready to learn some life lessons? "Full House" has you covered, because this long-running family classic has them in spades with the extended Tanner family and their wholesome, whacky lives. The original series can be seen on Hulu, but the followup series "Fuller House" is on Netflix and is definitely worth watching for fans of the original.

Gilmore Girls
Available on: Netflix
"Gilmore Girls" follows life in a small New England town full of eclectic characters, conveyed through the series leads – Lorelai Gilmore and her daughter Rory. This show follows this strong, witty pair over the years as they endure love, loss and life in their unique little world of Stars Hollow.
King of the Hill
Available on: Hulu
Mike Judge's classic animated series follows life in Arlen, Texas for a cast of offbeat (mostly) likable characters. Low-key and dry-witted, "King of the Hill" ran for 13 seasons and has since become a beloved animated classic, making Hank Hill and his family a welcome addition to many Sunday nights through the 90s and 2000s.

Mister Rogers' Neighborhood
Available on: PBS Kids
Developed for children but enriching for truly anybody who watches, "Mister Rogers' Neighborhood" is a product of the love and respect exhibited by Fred Roger himself. Rogers' show uses child show trappings like colorful sets and puppets, but uses them to give lessons and ask questions about some of the most common and hardest issues families can deal with.

Mythbusters
Available on: Hulu
For those who are endlessly curious, scientifically-driven or just love to be entertained, "Mythbusters" looks at some of the most common myths or misconceptions and tests them one-by-one. Are elephants really afraid of mice? Can a lead balloon fly? These and many, many more questions are faced in this classic science entertainment show.

A Series of Unfortunate Events
Available on: Netflix
Based on a book series, this darkly-funny series follows the Baudelaire children as they investigate their parents' suspicious deaths while fending off their evil new guardian Count Olaf. A twisted, quirky mystery comedy, "A Series of Unfortunate Events" will have you entertained and riveted.

The Simpsons
Available on: Disney+
The longest-running animated comedy of all time, this classic for the ages sees the Simpson family navigate life in their unique world of Springfield. Their ongoing adventures, eclectic and bizarre assortment of townsfolk and absurdist humor are all united by familial love that's endured since the show started in 1989.

Stranger Things
Available on: Netflix
This phenomenon helped put Netflix original programming on the map, and every season has captivated audiences around the globe. Following the denizens of Hawkins, Indiana in the mid-80s, "Stranger Things" is a strongly horror-tinged show that's tied together by an intriguing plot and a stellar cast. Heavily influenced by the trends and storytelling of its time period, this show defined binge-watching for many families when it premiered in 2016.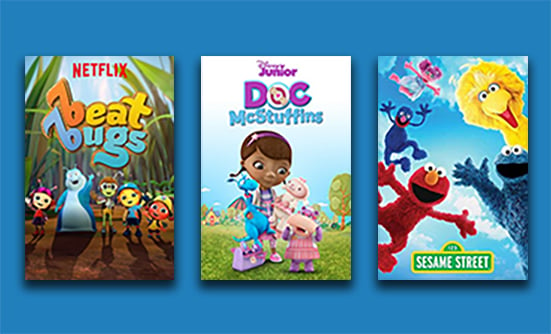 TV Shows for Toddlers
Knowing what your toddler should watch and how much they should watch is a real challenge, especially for new parents. But understanding your kid along with some basic guidelines can make all the difference. Up to an hour of good quality TV per day is okay, and shows that are shorter and more visual lead to better learning. Consult our guide of recommended shows for toddlers for some great starting points on shows for you and your toddler to enjoy together!
TV Shows for Little Kids
As your kids get old enough to start school, they'll have more regular screen time outside of the home. So while other family activities should be prioritized, up to an hour of TV per day is still perfectly fine, with perhaps a little extra on the weekends as well. Television time should be monitored, but there are many award-winning shows for your kid that can be entertaining and fun as well as enriching. See our guide for some great suggestions to start with!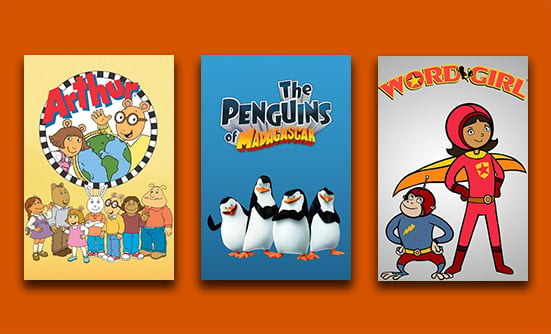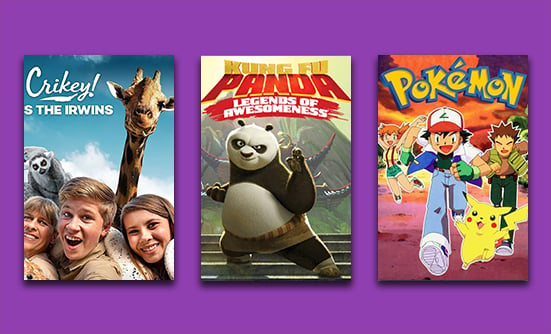 TV Shows for Big Kids
As your children get a little older, you don't have to be quite as strict with TV time. Your kids likely use computers, tablets or other screens for other uses like while at school, so they're more used to that exposure. But it's important to still be aware of how much time they're spending watching TV, and be sure to note any behavioral or physical changes that could result from excessive screen time. And still be prioritizing other activities like family activities, time with friends or reading. Check out our guide for some great show ideas!
TV Shows for Tweens
Your kids can start to enjoy different types of programming as they get older, like family sitcoms or tame reality shows, however it's still important to kind usage in mind and maybe set some boundaries. They'll have more screen exposure from smartphones or video games, although TV is distinct from those as it's a more passive activity. It's often a good practice to watch TV shows with your kids and have a conversation with them about it, and continue to look for any behavioral or physical changes with them. See our guide for show ideas for your tween!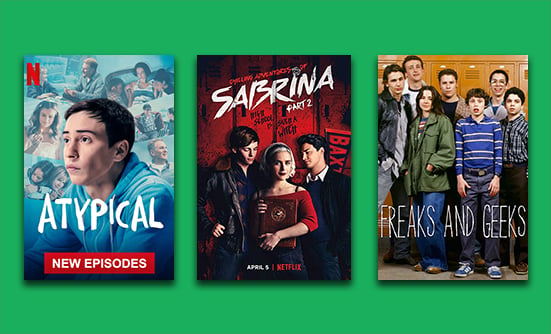 TV Shows for Teens
As your kids get older and start high school, what they'll want to watch and what they'll be exposed to will naturally change quite a bit. Staying involved through shared watching and conversation is still important, as is balancing TV time with school, family time and other activities like sports or music. As their perspectives open up, it's good to keep in mind what they're watching. They might start viewing less enriching television, so you should encourage them to also watch shows with strong female leads, diverse casts and smart messages as well. Consult our guide for some helpful suggestions!
TV Shows for the Whole Family
While different sets of shows can be appropriate for different age levels of your children, finding content for you and all your kids to watch and enjoy together can be difficult. Beyond finding something you'll all like, you'll still want to be mindful of how much time they're spending watching, as well as how you're all engaging with programming together through conversation. Refer to the show ideas provided in our guide for some great starting points on shows that are enriching for children, engaging for adults and entertaining for your entire family!