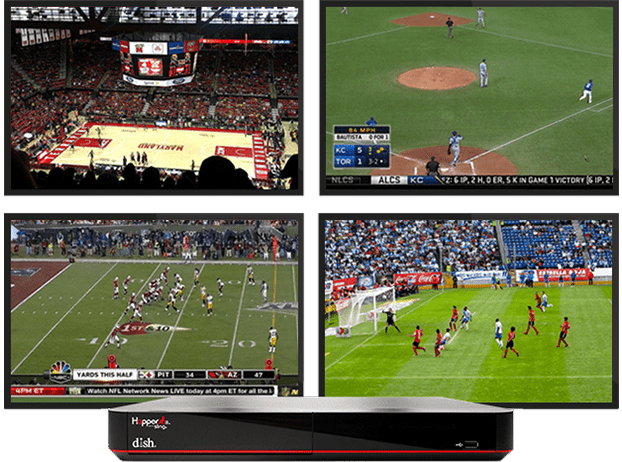 Score Big with DISH Sports
Sit front and center at every game with DISH Sports Packages! Get access to professional, college and regional sports with a full range of year-round and seasonal sports channels. DISH serves up big, sports package portions, giving you access to your favorite sports on the field, track, ice, arena, court and green with more action-packed sports channels and package options to satisfy even the biggest sports appetite! Don't miss a single minute of the sports action you love with DISH sports packages!

Multi-Sport Pack with NFL Redzone
Access to NFL RedZone, NFL Network, NBA TV, NHL Network, MLB Network, MLB Strike Zone, FXX, Fox Sports 2, Universal
Sports Network, Big Ten Network, Pac-12 Networks & beIN Sport!
Over 20 Regional Sports Networks! (tailored to your location)
Take NFL Network & NFL RedZone on-the-go with DISH Anywhere!

MLB Extra Innings
Follow your favorite MLB teams with up to 100 out-of-market regular season games every week
Gain access to MLB.TV to watch every out-of-market game on over 400 spported devices
Take MLB on the go and watch with DISH Ahywhere!

NBA League Pass
Watch up to 20 games in HD!
Up to 40 live games from around the league every week!
Full access to NBA TV and NBA League Pass Stats Central!
Follow your favorite player, team & match-up all season long!

NHL Center Ice
40 out-of-market games a week!
Watch many hockey games in HD!
Follow your favorite teams and players!
Hockey replays, stats and commentary with NHL Network!

FOX Soccer Plus with Rugby
Live and exclusive soccer and rugby matches from around the world!
Barclays Premier League, UEFA Champions League, FA Cup & more!
Heineken Cup, Aviva Premiership, Amlin Challenge Cup & more!
Premium sports network is a must-have for global sports fans!

Outdoor Package
Experience the ultimate outdoor sports package with Sportsman Channel, Outdoor Channel, World Fishing Network & MAVTV!
Hunting, fishing, shooting and motor sports programming!
Perfect for outdoor and motor sports enthusiasts!

Willow Cricket HD
24/7 Cricket channel in HD!
Coverage of Indian Premier League!
Live Cricket, Cricket World Cup, highlights and more!
Access to Cricket events in India, Australia, South Africa, England & more!

Racetrack Television Network
Over 80 Channels dedicated to Horse Racing from Around the country!
Access to Harness, Thoroughbred, Quarter Horse & Greyhound Racing!
Great sports package for bettors, horse breeders, owners & trainers!
Only available on DISH!