DISH Top 120 Plus
$8499/mo for 24 mos
$99.99/mo
190+ Channels
FREE Next Day Installation!
Scheduling may vary & up to 6 TV's
Includes Smart HD DVR
Watch and record your favorite shows in HD
60k Free OnDemand titles
Watch Free TV, Movies, & new releases
190+ Channels Included




Local Channels Included
30 FREE Premium Channels*



Premium Channels Free for 3 Months
DISH Top 120 Plus Channel List

A&E
Enlace
ION
SEC Alternate
ACC Network
EPIC
Jewelry Television
Shepherd's Chapel Network
Alma Vision Hispanic
ESNE
Justice Central
ShopHQ
America's Voice
ESPN
LAFF TV
Smart
AMC
ESPN Alternate
Lifetime
Sonlife Broadcasting Network
Animal Planet
ESPN2
Link Television
Sports Alternate
AXS TV
ESPNEWS
Lo mejor de Liga MX
Stadium
Baby First
ESPNU
Longhorn Network
Start TV
Big Ten Network
Eternal Word Television
MeTV
Superior Livestock Auction
Big Ten Network Alternate
FETV
MLB Extra Innings
Syfy Channel
Black News Channel
FM
MotorTrend
Tennis Channel
Bounce
FMC
MSNBC
The Cowboy Channel
Bravo
Folk TV
MTV Live
The Hillsong Channel
Buy TV
Food Network
MTV
TLC
BUZZR
FOX Business Network
Music Television 2
Three Angels Broadcasting
BYU Television
FOX News
NASA
Travel Channel
C-SPAN
FOX Sports 1
National Geographic
TBN
C-SPAN2
FOX Sports 2
Newsmax HD
truTV
Cartoon Network
Free Speech TV
NFL Network
TBS
Cartoon Network West
Freeform
Nickelodeon
TNT
CGTN News
Fuse
Nickelodeon – West
TV Games Network
CGTN Espanol
FX
Novelas de Oro
TV Games Network 2
Christian Television Network
FXX
Novelas de Romance
TV Land
Cine Club
GAC Living
Novelas en Familia
USA Network
Circle
Gem Shopping Network
PAC-12 Network
V-ME
CNBC
getTV
PAC-12 Network Alternate
Value TV
CNN
GRIT
Paramount Network
VH1
Comedy Central
Headline News
Pop HD
Victory
Comet
Heroes & Icons
Pursuit
Weather Channel
Country Music Television
History
QVC
WeatherNation
Cozi TV
HITN
QVC2
Women's Entertainment
Craft
HGTV
QVC3
World Fishing Network
Daystar
Home Shopping Network
Recipe.TV
YouTV
DEAL
Home Shopping Network 2
Reelz
4K
Discovery
Impact Network
Renew
4K2
Dish Studio
In Country Television
Sale
4K HDR
Disney Channel
Independent Film Channel
Satellite Response Network
Disney Channel – West
INSP
SCAPESCAPE
E! Entertainment Television
Investigation Discovery
SEC
Bold– Channels not included on previous packages
DISH Top 120 Plus Channel List

A&E
Investigation Discovery
ACC Network
ION
Alma Vision Hispanic
Jewelry Television
America's Voice
Justice Central
AMC
LAFF TV
Animal Planet
Lifetime
AXS TV
Link Television
Baby First
Lo mejor de Liga MX
Big Ten Network
Longhorn Network
Big Ten Network Alternate
MeTV
Black News Channel
MLB Extra Innings
Bounce
MotorTrend
Bravo
MSNBC
Buy TV
MTV Live
BUZZR
MTV
BYU Television
Music Television 2
C-SPAN
NASA
C-SPAN2
National Geographic
Cartoon Network
Newsmax HD
Cartoon Network West
NFL Network
CGTN News
Nickelodeon
CGTN Espanol
Nickelodeon – West
Christian Television Network
Novelas de Oro
Cine Club
Novelas de Romance
Circle
Novelas en Familia
CNBC
PAC-12 Network
CNN
PAC-12 Network Alternate
Comedy Central
Paramount Network
Comet
Pop HD
Country Music Television
Pursuit
Cozi TV
QVC
Craft
QVC2
Daystar
QVC3
DEAL
Recipe.TV
Discovery
Reelz
Dish Studio
Renew
Disney Channel
Sale
Disney Channel – West
Satellite Response Network
E! Entertainment Television
SCAPESCAPE
Enlace
SEC
EPIC
SEC Alternate
ESNE
Shepherd's Chapel Network
ESPN
ShopHQ
ESPN Alternate
Smart
ESPN2
Sonlife Broadcasting Network
ESPNEWS
Sports Alternate
ESPNU
Stadium
Eternal Word Television
Start TV
FETV
Superior Livestock Auction
FM
Syfy Channel
FMC
Tennis Channel
Folk TV
The Cowboy Channel
Food Network
The Hillsong Channel
FOX Business Network
TLC
FOX News
Three Angels Broadcasting
FOX Sports 1
Travel Channel
FOX Sports 2
TBN
Free Speech TV
truTV
Freeform
TBS
Fuse
TNT
FX
TV Games Network
FXX
TV Games Network 2
GAC Living
TV Land
Gem Shopping Network
USA Network
getTV
V-ME
GRIT
Value TV
Headline News
VH1
Heroes & Icons
Victory
History
Weather Channel
HITN
WeatherNation
HGTV
Women's Entertainment
Home Shopping Network
World Fishing Network
Home Shopping Network 2
YouTV
Impact Network
4K
In Country Television
4K2
Independent Film Channel
4K HDR
INSP
Bold– Channels not included on previous packages
*Local channels are included and may vary depending on market.
DISH Top 120 Plus Package Highlights
2-Year TV Price Guarantee
The best of America's Top 120 and more with ESPN, local channels and regional sports included
Free premium channels for 3 months*
Free HD for Life
Over 28,000 free On Demand titles
Over 70 Sirius XM Music Channels
Free standard professional installation available as soon as tomorrow
*After 3 months, you will be billed $30/mo. for Showtime, STARZ and DISH Movie Pack unless you call or go online to downgrade.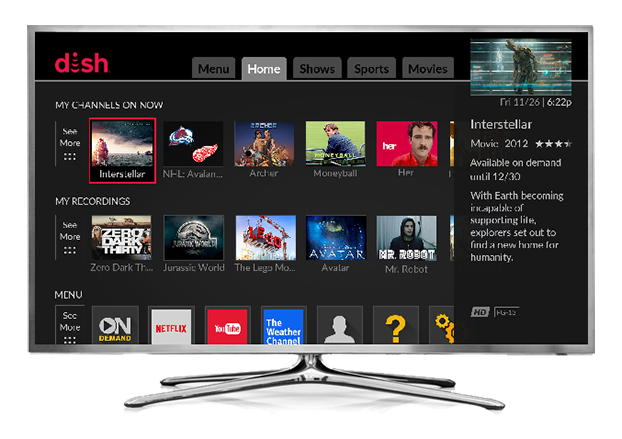 America's Top 120 Plus
America's Top 120 Plus is home to DISH's most popular channels. This affordable package includes a Hopper Smart HD DVR and over 190 channels of your favorite sports, movies and primetime TV, plus local and regional channels. There's something for every TV lover in your home! Get great entertainment for an even better price with DISH's 2 Year TV Price Guarantee at only $84.99 per month.*
*All offers require credit qualification, 2-Year commitment with early termination fee and eAutoPay.
Stay Connected with High Speed Internet
Keep your home connected in every way with internet starting at just $19.99 per month* in select markets. Planet DISH's trusted partners offer great internet options no matter where you live, your lifestyle or your budget. Our partnerships with leading internet providers give you options, including DSL, cable, fiber and satellite.
*Subject to availability. Restrictions apply.

Discover the Value of DISH
TV is anything but basic with DISH. When you choose America's Top 120 Plus, you'll qualify for tons of great DISH Deals. For a limited time, get free standard installation, a free DISH Voice Remote, free HD for life, and 4k programming! Enjoy premium movie channels, including Showtime, STARZ, and the DISH Movie Pack free for 3 months.* You can also enjoy free channel previews each month.
*After 3 mos., you will be billed $30/mo. for Showtime, STARZ, and DISH Movie Pack unless you call or go online to cancel.
Never Miss Game Day Action
This is the TV package for sports lovers. Regional sports networks are included for free, and you can watch an entire collection of channels from ESPN. College fanatics will love channels from the Big Ten, PAC-12 and Longhorns. Add the Multi-Sport Pack to a new America's Top 120 Plus subscription and get non-stop action with NBA TV, MLB Network, and more!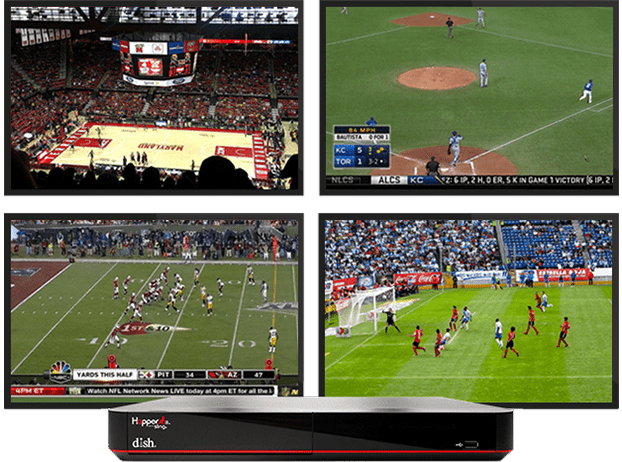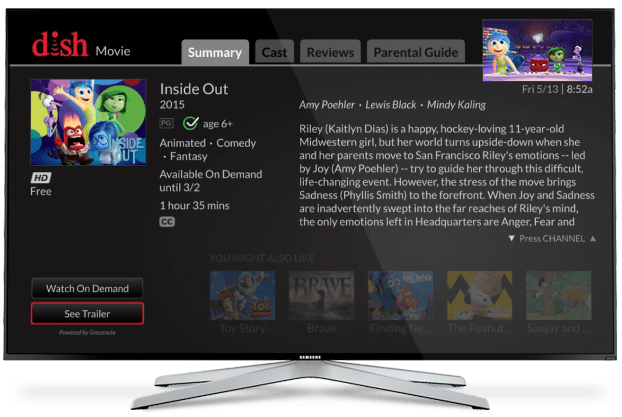 Fill Up on Family Entertainment
With America's Top 120 Plus, your TV becomes entertainment for the whole family. The channels kids love are all included, with Freeform, Disney Channel, Cartoon Network and Nickelodeon/Nick at Nite. Added features like free On-Demand titles, DISH Anywhere and Sirius XM music channels make this package a great value sports fans, music lovers, kids, movie aficionados and everyone in between.
Save More With Limited Time DISH Network Deals
*All offers require credit qualification and 24-month commitment and early termination fee with eAutopay. Offer ends 7/13/22. Call for details. Prices include Hopper Duo for qualifying customers. Hopper, Hopper w/Sling or Hopper 3 $5/mo. more. Upfront fees may apply based on credit qualification. After 3 mos., you will be billed $30/mo. for Showtime, STARZ, and DISH Movie Pack unless you call or go online to cancel.
DISH Top 120 Plus Frequently Asked Questions
What Channels are on DISH 120+?
America's Top 120 Plus Package has over 190 channels. Favorites include AMC, USA and FoxSports2. Local channels are included in your TV package, where available. Families will love this package filled with entertainment for everyone, with ESPN, MTV and Disney Channel.

Learn More…
How Much is AT 120+?
America's Top 120 Plus from DISH includes more than 190 channels for $84.99 per month with a 2-Year Price Guarantee. Get local channels, a Hopper HD DVR upgrade, free HD for life and more, all included.

Learn More…
Exceptional Customer Experience