DISH Top 250
$8999/mo for 24 mos
$99.99/mo
290+ Channels
FREE Next Day Installation!
Scheduling may vary & up to 6 TV's
Includes Smart HD DVR
Watch and record your favorite shows in HD
FREE HD for Life
Watch TV in the highest quality
290+ Channels Included



Local Channels Included
FREE Premium Channels


Premium Channels Free for 3 Months
DISH Top 250 Channel List

A&E
EPIX Drive-In
Lifetime Movie Network
Smithsonian Channel
ABC*
ESPN
Link Television
Sonlife Broadcasting Network
Alma Vision Hispanic Network
ESPN Alternate
Longhorn Network
Spike
AMC
ESPN2
Mercury Television
Sports Alternate
America Live
ESPNEWS
MLB Extra Innings
Sportsman Channel
American Heroes
ESPNU
MLB Network
Starz Encore – West
Angel One
Estrella TV
MLB Network Alternate
Starz Encore Action
Animal Planet
Eternal Word TV
MoviePlex
Starz Encore Black
AXS TV
EVINE Live
MSNBC
Starz Encore Classic
Baby First
Faith USA
MTV
Starz Encore Family
BBC America
FETV
MTV Classic
Starz Encore Suspense
BEAUT
Fightbox
MTV Live
Starz Encore Westerns
beIN Sport
FM
Music Television 2
SundanceTV
beIN Sports en Espanol
Food Network
My Network TV*
Syfy Channel
Believer's Voice of Victory
FOX Business News
NASA
TBN
BET
FOX Movie Channel
Nat Geo Wild
TBS
BET Her
FOX News
National Geographic
TeenNick
Big Ten Network
FOX Sports 1
NBA TV
Tennis Channel
Big Ten Network Alternate
FOX Sports 2
NBC Sports Network
The Cowboy Channel
Bloomberg Television
Fox*
NBC*
The CW*
Boomerang
Free Speech TV
NFL Network
The Hillsong Channel
Bravo
Freeform
NHL Center Ice
The Movie Channel
BUZZR
Fuse
NHL Network
The Movie Channel Xtra
BYU Television
Fusion
NHL Network Alternate
TheBlaze
Cartoon Network
FX
Nick Jr.
Three Angels Broadcasting
Cartoon Network West
FXX
Nickelodeon/Nick At Nite
TLC
CBS Sports Network
FYI
Nickelodeon/Nick At Nite – West
TNT
CBS*
Galavision
Nicktoons
Travel Channel
CGTN Espanol
Game Show Network
Olympic Channel
truTV
CGTN News
Gem Shopping Network
Outdoor Channel
Turner Classic Movies
Christian Television Network
getTV
OWN
TV Games Network
CMT
Golf Channel
Oxygen
TV Games Network 2
CNBC
Great American Country
PAC-12 Network
TV Land
CNN
GRIT
PAC-12 Network Alternate
UniMas
Comedy Central
Hallmark Channel
PBS*
UniMas West
Cooking HD
Hallmark Movies and Mysteries
Pop
Universo
CRAFT
Headline News
PPV Event
Univision Deportes
C-SPAN
HGTV
Pursuit
Univision Este
C-SPAN2
History
QVC
Univision Oeste
Daystar (DYSTR)
HITN
QVC2
Uplifting Entertainment
DEAL
Home Shopping Network
REAL
USA Network
Destination America
Home Shopping Network 2
Reelz
VALU
Discovery
Impact Network
RFD-TV
Velocity
Discovery Family Channel
In Country Television
Ride TV
VH1
Disney Channel
Independent Film Channel
Russia Today
Viceland
Disney Channel – West
INSP
Sale
V-ME
Disney Jr.
Investigation Discovery
Science
Weather Channel
Disney XD
ION
SEC
WeatherNation
DIY (DIY) HD
Jewelry Television
SEC Alternate
WGN Cable
E! Entertainment
Justice
SHAHD
Women's Entertainment
El Rey Network
Justice Central
Shepherd's Chapel
YouTV
Enlace
Kids and Teens Television
SHPLC
Z Living
EPIC
Lifetime
SMART
4K Station
Bold– Channels not included on previous packages
DISH Top 250 Channel List

A&E
Lifetime Movie Network
ABC*
Link Television
Alma Vision Hispanic Network
Longhorn Network
AMC
Mercury Television
America Live
MLB Extra Innings
American Heroes
MLB Network
Angel One
MLB Network Alternate
Animal Planet
MoviePlex
AXS TV
MSNBC
Baby First
MTV
BBC America
MTV Classic
BEAUT
MTV Live
beIN Sport
Music Television 2
beIN Sports en Espanol
My Network TV*
Believer's Voice of Victory
NASA
BET
Nat Geo Wild
BET Her
National Geographic
Big Ten Network
NBA TV
Big Ten Network Alternate
NBC Sports Network
Bloomberg Television
NBC*
Boomerang
NFL Network
Bravo
NHL Center Ice
BUZZR
NHL Network
BYU Television
NHL Network Alternate
Cartoon Network
Nick Jr.
Cartoon Network West
Nickelodeon/Nick At Nite
CBS Sports Network
Nickelodeon/Nick At Nite – West
CBS*
Nicktoons
CGTN Espanol
Olympic Channel
CGTN News
Outdoor Channel
Christian Television Network
OWN
CMT
Oxygen
CNBC
PAC-12 Network
CNN
PAC-12 Network Alternate
Comedy Central
PBS*
Cooking HD
Pop
CRAFT
PPV Event
C-SPAN
Pursuit
C-SPAN2
QVC
Daystar (DYSTR)
QVC2
DEAL
REAL
Destination America
Reelz
Discovery
RFD-TV
Discovery Family Channel
Ride TV
Disney Channel
Russia Today
Disney Channel – West
Sale
Disney Jr.
Science
Disney XD
SEC
DIY (DIY) HD
SEC Alternate
E! Entertainment
SHAHD
El Rey Network
Shepherd's Chapel
Enlace
SHPLC
EPIC
SMART
EPIX Drive-In
Smithsonian Channel
ESPN
Sonlife Broadcasting Network
ESPN Alternate
Spike
ESPN2
Sports Alternate
ESPNEWS
Sportsman Channel
ESPNU
Starz Encore – West
Estrella TV
Starz Encore Action
Eternal Word TV
Starz Encore Black
EVINE Live
Starz Encore Classic
Faith USA
Starz Encore Family
FETV
Starz Encore Suspense
Fightbox
Starz Encore Westerns
FM
SundanceTV
Food Network
Syfy Channel
FOX Business News
TBN
FOX Movie Channel
TBS
FOX News
TeenNick
FOX Sports 1
Tennis Channel
FOX Sports 2
The Cowboy Channel
Fox*
The CW*
Free Speech TV
The Hillsong Channel
Freeform
The Movie Channel
Fuse
The Movie Channel Xtra
Fusion
TheBlaze
FX
Three Angels Broadcasting
FXX
TLC
FYI
TNT
Galavision
Travel Channel
Game Show Network
truTV
Gem Shopping Network
Turner Classic Movies
getTV
TV Games Network
Golf Channel
TV Games Network 2
Great American Country
TV Land
GRIT
UniMas
Hallmark Channel
UniMas West
Hallmark Movies and Mysteries
Universo
Headline News
Univision Deportes
HGTV
Univision Este
History
Univision Oeste
HITN
Uplifting Entertainment
Home Shopping Network
USA Network
Home Shopping Network 2
VALU
Impact Network
Velocity
In Country Television
VH1
Independent Film Channel
Viceland
INSP
V-ME
Investigation Discovery
Weather Channel
ION
WeatherNation
Jewelry Television
WGN Cable
Justice
Women's Entertainment
Justice Central
YouTV
Kids and Teens Television
Z Living
Lifetime
4K Station
Bold– Channels not included on previous packages
*Local channels are included and may vary depending on market.
DISH Top 250 Sports Channels

Football
ABC, NBC, CBS, FOX, ESPN, ESPN2, ESPNU, ESPNEWS, FOX Sports 1, Longhorn Network, NBC Sports Network, NFL Network, SEC Network, RSN
Basketball
ABC, CBS, FOX, ESPN, ESPN2, ESPNU, FOX Sports 1, Longhorn Network, NBA TV, SEC Network, SEC Network+, TBS, TNT, truTV, RSN
Hockey
NBC, ESPNU, RSN, CBS Sports Network, NBC Sports Network, NHL Network
Baseball
FOX, ESPN, ESPN2, ESPNU, FOX Sports 1, Longhorn Network, MLB Network, SEC Network, SEC Network+, TBS, RSN
Soccer
NBC, FOX, ESPN, ESPN2, ESPNU, Fox Sports 1, Longhorn Network, SEC Network, SEC Network+, RSN // beIN Sport, beIN Sports en Espanol
NASCAR
NBC, NBC Sports Network, FOX Sports 1 // FOX Sports 2
Golf
CBS, NBC, ESPN, ESPN2, ESPNU, Golf Channel, FOX Sports 1, NBC Sports Network, TNT, RSN
Tennis
ABC, NBC, ESPN, ESPN2, ESPNU, Tennis Channel
MMA / Boxing
FOX, ESPN, ESPN2, FOX Sports 1, truTV, RSN // FOX Sports 2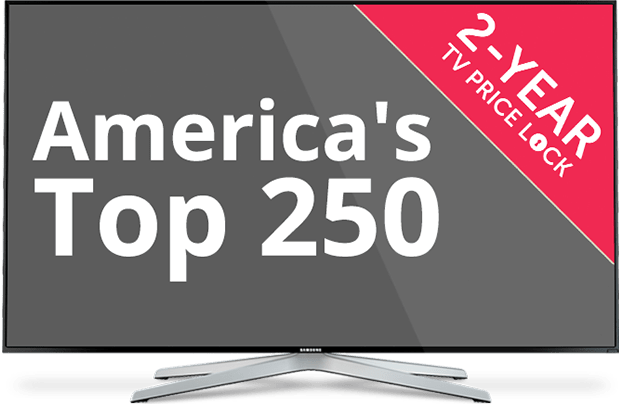 America's Top 250
With over 290 popular channels and an included Hopper Smart HD DVR for just $89.99/month,* America's Top 250 offers value for the entire family at a low, 2-year locked in TV package price! This mega-pack is filled with over 17 movie channels, sports, family-friendly entertainment, news and weather, and your favorite primetime TV.  Plus, get local channels included, and premium movie channels free for 3 months!*
*All offers require credit qualification, 2-Year commitment with early termination fee and eAutoPay.
Get Connected with High Speed Internet
Turn your home into the ultimate entertainment zone with tons of internet options. We've got plans for every location, lifestyle and budget. Internet packages start as low as $14.95/month* in select markets. Choose from DSL, cable, fiber and satellite internet plans to find the one that's right for your home!
*Restrictions apply. Subject to availability. Internet not provided by DISH and will be billed separately.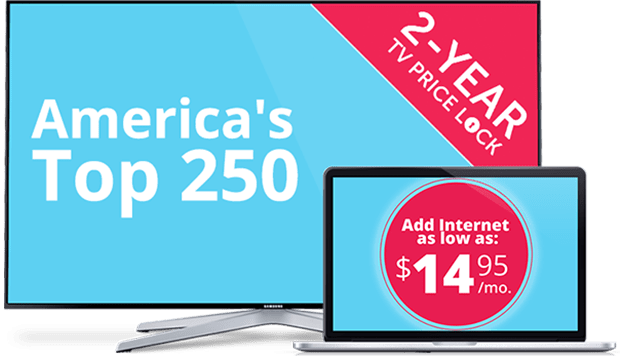 Discover the Value of DISH
Choose America's Top 250 and up your TV game with a free voice remote, HD free for life, FREE premium movie channels for 3 months* and more! DISH Deals bring you the best technology and entertainment variety, all for a great low price, guaranteed with 2 Year Price Lock. Plus, take live TV and your recordings on-the-go with DISH Anywhere
*After 3 mos., you will be billed $55/mo. for Cinemax, Showtime, Starz and DISH Movie Pack unless you call to cancel.
This One's for Movie Lovers
Pop some popcorn and recline your chair, its show time! America's Top 250 includes tons of movie channels, including Epix Drive-In, FXX, Hallmark Movies, Reelz and more. Movie lovers rejoice, with tons of options from Lifetime Movie Network to MoviePlex, and a collection from STARZ Encore!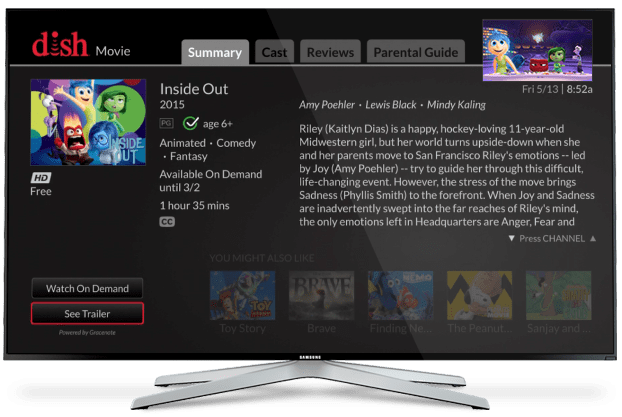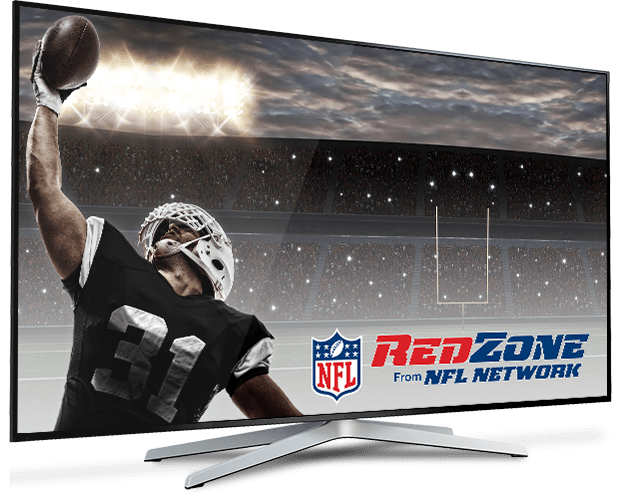 All the Sports You Want – And More
America's Top 250 is packed with professional, college and regional sports. Catch highlights on ESPN and watch the pros on channels from the NFL, NBA, NHL and MLB. Never miss a minute of on-field action with DISH. Plus, get outside with the Outdoor and Sportsman Channels!
DISH Top 250 Frequently Asked Questions
Do you get local channels with DISH?
Yes! Local channels are included with your DISH Top 250 Package, where available. Watch news, sports, daytime dramas and primetime shows from your community and across the nation on ABC, CBS, NBC, FOX, Univision and more.
AT 200 vs AT 250
Upgrade from America's Top 200 to America's Top 250 and get 290+ channels for just $10 more per month. Enjoy additional channels like Nat Geo WILD, FXM, Bloomberg Television and STARZ Encore. DISH Top 250 is $89.99 per month for 2 years.
What channels are on DISH Top 250?
America's Top 250 Package includes more than 290 channels. Favorites like CBS, ESPN, USA, Disney Channel, HGTV and AMC are all included. There are also exclusive channels in America's Top 250, including American Heroes Channel, Centric, Destination America and Smithsonian Channel.
Exceptional Customer Experience