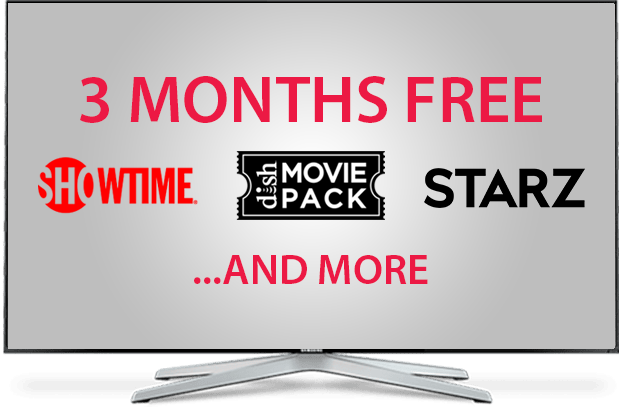 DISH Movie Packages Deliver Extra Entertainment
Experience the best movies, award-winning series, sports, concerts and more with DISH movie packages! Get premium movie channels from top networks like EPIX, SHOWTIME and STARZ. Watch everything from Hollywood blockbusters to exclusive comedy specials. With DISH movies, it's easy to get all the premium channels you love at a low cost.
Receive dozens of premium movie channels from Showtime, STARZ, and DISH Movie Pack free for 3 months when you sign up with DISH and order America's Top 120 or above.*

STARZ ENCORE Package
Add 8 movie-filled ENCORE channels from STARZ.
Get channels with action, kids, classic, suspense, Spanish and more.
Watch movies both new and old with genre-specific channels.
Access entertainment anywhere with the STARZ app and DISH Anywhere.

EPIX Package
EPIX, EPIX 2, EPIX 3 and EPIX Drive-In are all included.
Watch hit movies and classic films from the 70s, 80s, 90s and today!
Access genre films, concerts, comedy and sporting events.
Stream movies On Demand to your TV, computer or phone.

SHOWTIME Package
Access 9 SHOWTIME channels for shows, movies and more.
Watch original shows, including Twin Peaks, Dice and Shameless.
Order pay-per-view sports, including popular boxing matches.
Learn more about people and history on exclusive documentaries.

STARZ Package
Enjoy original series, kids' favorites and more on STARZ.
Subscribe for 8 exclusive channels, including 6 in high definition.
Watch critically-acclaimed shows like American Gods and Power.
Access anime, telenovelas, fitness series and classic TV favorites.

DISH Movie Pack
Add 15 movie channels from EPIX, STARZ, FXM and more.
Stream thousands of movies to your TV, computer or tablet.
Watch at home, On Demand or on-the-go with DISH Anywhere.
Get movies before they hit Redbox and Netflix, exclusively with DISH!

Playboy TV Package
Subscribe to the leader in premium adults-only entertainment.
Watch late night movies, wild reality shows, original series and more.
Indulge in all the passion and fun that defines the Playboy brand.
Access this X-Rated service when you add it to any DISH TV package.