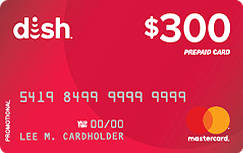 Expiring Soon - Switch to DISH & Get Up to a $300 Gift Card!*
*for qualifying customers

DISH Hopper 3 HD DVR
Upgrade to the Hopper 3 HD DVR from DISH! The updated Hopper boasts a user-friendly interface, integrated search and more for the best whole-home entertainment experience. Connect up to 6 Joeys to your Hopper for seamless TV from the living room to the man cave and everywhere in between. Store up to 500 hours of HD movies, games and shows on the Hopper's 2 TB hard drive.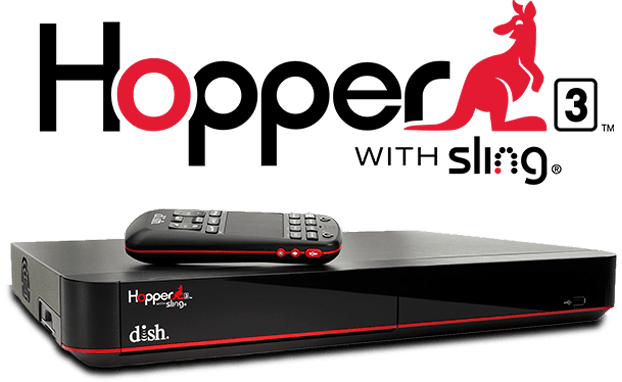 Advanced Technology, Only From DISH
Record 16 channels at once and never choose between watching and recording, thanks to 16 tuners. The Hopper is HD and 4K compatible for a great picture. Search TV and apps all at once with integrated search. Bluetooth compatibility lets you connect your speakers or headphones. Parents can take control of kids' viewing with parental controls and the ability to see what other TVs in the home are watching.
Auto-Skip Commercials with Primetime Anytime
Primetime Anytime automatically records primetime shows in HD on ABC, CBS, FOX and NBC. You won't have to remember to set your DVR for any of your primetime favorites. Plus, with Autohop automatically removing commercials, you save time! Primetime Anytime only uses one of the Hopper's tuners and doesn't take up any room on its hard drive, so you're able to watch and record other channels.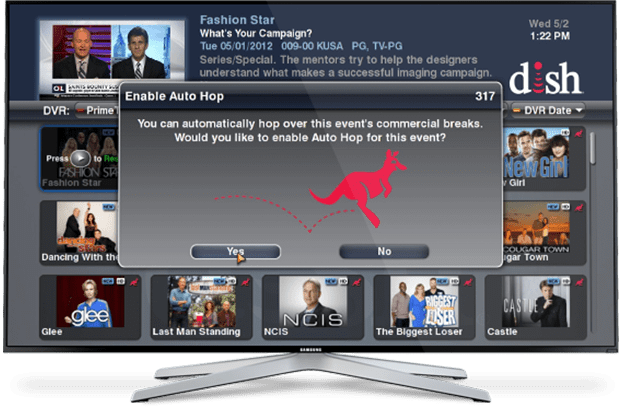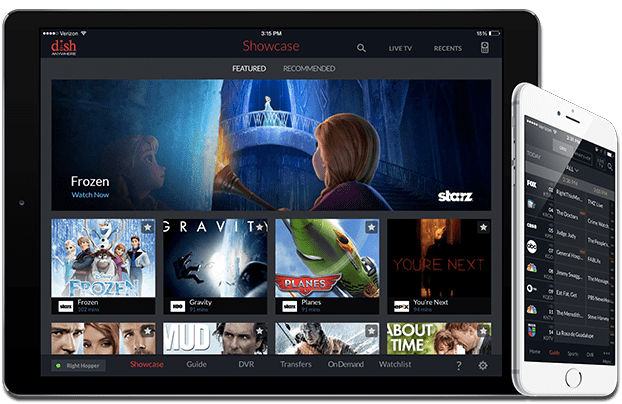 Watch TV Anywhere with Sling
The Sling technology in DISH's Hopper 3 lets you take your TV on-the-go. Connect your Hopper to the internet to watch on the DISH Anywhere app. You can also download your recordings to your phone or tablet and watch without using your phone's data plan. Or, use the HopperGO to store recorded movies, shows and more from your Hopper 3 and watch on any device with the DISH Anywhere app.
Made for the Biggest Sports Fans
The DISH Hopper was designed with sports fans in mind. Watch 4 channels at once with MultiView Mode. With a 4K TV, each channel displays in HD. That means keeping an eye on 4 games, without having to switch channels or check your phone! There's also Game Finder, which shows all current and upcoming games. Use Score Overlay on ESPN and ESPN2 for score updates that refresh every 30 seconds.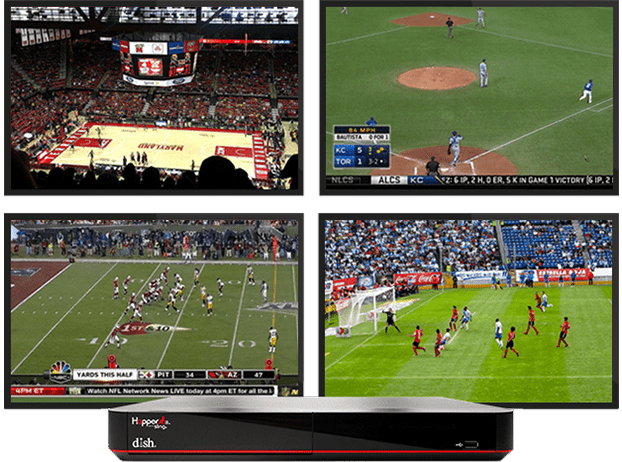 The DISH Hopper Remote
Never lose the remote again with Remote Finder. Push the Locate Remote button on your Hopper and your remote will sound, making it easy to find. Use the Voice Remote to search for your favorite shows or channels without typing or flipping through the channel guide. The Hopper 3 can also be controlled by your phone or tablet using the DISH Anywhere app.
Connect to DISH Hopper Apps
Hopper 3 is your whole-home entertainment hub, with TV, DVR and your favorite apps all in one place. Log in to Netflix, Pandora, Facebook, and more for music, videos and news. The Hopper's Smart Search includes Netflix, so finding every episode of your favorite show, whether it's stored on your DVR or available on Netflix, is easy! Play new games like Hunting Trails 2 and enjoy classics from Monopoly to Tetris.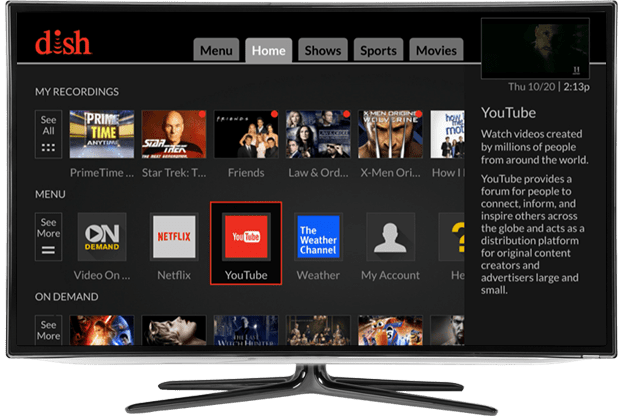 Get The Hopper 3 With These Great DISH Packages:
*All offers require credit qualification and 24-month commitment and early termination fee with eAutopay. Offer ends 11/13/23. Call for details. Prices include Hopper Duo for qualifying customers. Hopper, Hopper w/Sling or Hopper 3 $5/mo. more. Upfront fees may apply based on credit qualification. After 3 mos., you will be billed $30/mo. for Showtime, Starz and DISH Movie Pack unless you call or go online to cancel.
DISH Hopper 3 Frequently Asked Questions:
How Much is the Hopper a Month?
New customers can upgrade to a DISH Hopper 3 with any qualifying DISH TV package. Monthly DVR fees of $5/mo. apply when you use the Hopper to record TV shows, movies, sports and more from live TV.

Learn More…
Is the Hopper Wireless?
The DISH Hopper comes with an antenna and power cord. There are also various ports, including HDMI, optical audio, USB, Ethernet, phone and coaxial Jack for your satellite connection. These connections make your Hopper the center of your whole-home entertainment system.

Learn More…
How Many Tuners Does the Hopper Have?
The Hopper and Hopper with Sling have 6 tuners each; with Primetime Anytime and a Super Joey, record up to 8 shows at once. The Hopper 3 includes 16 tuners, allowing you to watch and record as many as 16 channels at once.

Learn More…