DISH vs Uverse
DISH and AT&T's UVerse go head to head in this comparison of two popular TV providers. Channel packages, technology, pricing, deals and customer service are all considered in this review.
When it comes to value, DISH comes out on top. With more channels for less, DISH includes ESPN, AMC, USA, Travel Channel and more that you can't get from UVerse without a costly upgrade. You'll also love free HD for life from DISH!
| See for Yourself! | | |
| --- | --- | --- |
| Lowest Package Prices |    |    |
| Best Technology |    |    |
| Best Promotional Offers |    |    |
| Best Customer Service |    |    |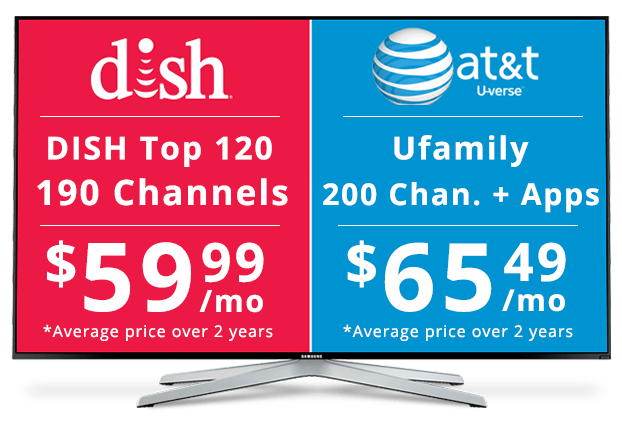 DISH vs Uverse: Channel Packages
DISH delivers the channels you want for a price you'll love. DISH America's Top 120 offers 190 popular channels. You'll get channels like A&E, Bravo, Cartoon Network, CNN, ESPN and regional sports networks, all channels that aren't included in the AT&T UVerse U-Family package. When you choose DISH over UVerse, you can save more than $100 and get all the channels you love!
*All offers require credit qualification and 24-month commitment and early termination free with eAutopay. Offer ends 4/9/18. Call for details. Prices include Hopper Duo for qualifying customers. Hopper, Hopper w/Sling or Hopper 3 $5/mo. more. Upfront fees may apply based on credit qualification.
DISH vs Uverse: Best Technology
DISH leads the industry in DVR technology, blowing UVerse's equipment out of the water. With the Hopper 3 HD DVR, record 16 shows at once and store up to 500 hours of HD movies, sports and shows.
The Hopper is packed with features, including a remote finder and built in Netflix that's included in integrated search. Watch four channels at once with Sports Bar Mode, perfect for football, baseball and soccer seasons. With the DISH Anywhere app, you can set your DVR no matter where you are and use your phone as a remote.
| DVR Technology | | |
| --- | --- | --- |
| Shows Recorded at Once | 16 | 4 |
| Instantly Skip Commercials | Yes | No |
| Hours of HD Storage | 500 | 155 |
| Built in Netflix App | Yes | No |
| Bluetooth Audio | Yes | No |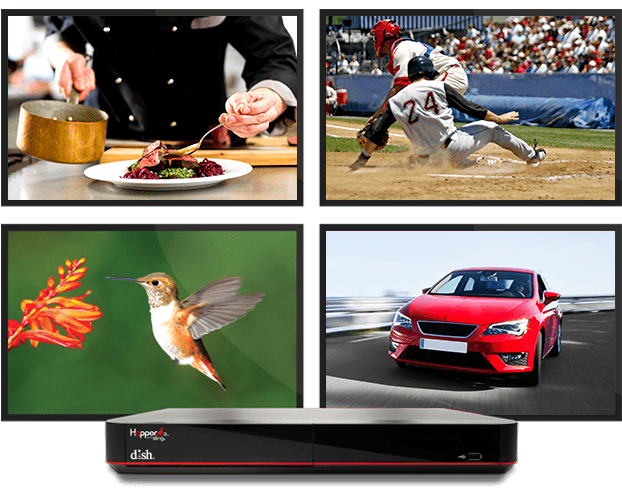 DISH vs UVerse: Promotional Offers
DISH Network offers new customers great deals for an exceptional value. Choose DISH and enjoy these promotional offers:
Complimentary HD for life
Premium movie channels free for 3 months*
Free professional installation in up to 6 rooms
Lock in your package price for 2 years
*After 3 mos., you will be billed $55/mo. for HBO, Cinemax, Showtime, Starz and DISH Movie Pack unless you call to cancel.
DISH vs Uverse: Customer Service
DISH leads the pack when it comes to customer service! All DISH customers enjoy the TV service provider with the highest call center and website satisfaction ratings. Your monthly bill is easy to follow; in fact, your DISH statement is the clearest bill to understand in the industry. DISH also boasts the lowest customer complaint rate, compared to other TV providers like UVerse.
*Based on the average American Customer Satisfaction Index comparison of major TV providers (2010-2015).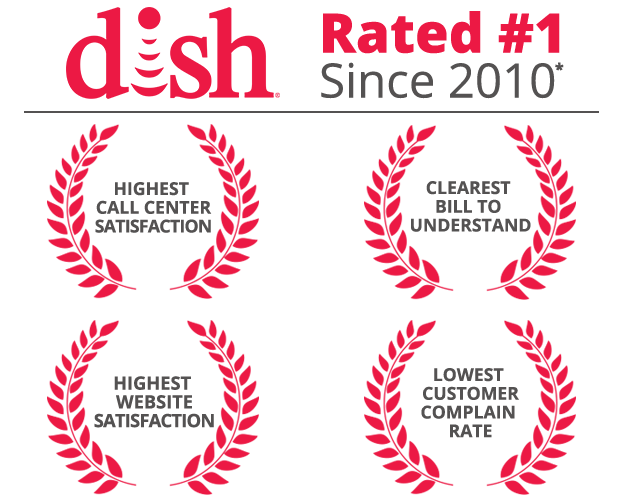 5 Reasons Why DISH Is Better Than Uverse
DISH Network TV is available nationwide with 99.9% signal reliability. Fiber cable networks like UVerse are geographically limited; moving just down the street could mean changing your TV provider.
DISH offers new customers a 2 year price lock guarantee. Don't be surprised by a higher UVerse bill after 12 months! Choose DISH and lock in your current deal for 24 months.
Watch your entire TV package live, no matter where you are, with DISH Anywhere. The Android and iOS app lets you watch TV and DVR recordings from your smartphone or tablet, plus set your DVR and use your phone as a remote.
The power of DISH Hopper 3 beats UVerse's DVR technology. Record up to 16 channels at once, automatically skip commercials in recorded primetime TV and keep programming kid-friendly with parental controls.
Watch more channels for less! DISH will save you more than $100, plus gives you channels that UVerse doesn't include, like A&E, Bravo, Cartoon Network, CNN and ESPN.
DISH vs UVerse Frequently Asked Questions
DISH vs AT&T UVerse
UVerse is a fiber cable TV provider with limited availability across the country. DISH Network offers nationwide coverage with great promotional offers for new customers. Get free HD for life, a Smart HD DVR included and more.
DISH vs UVerse Picture Quality
All DISH customers can enjoy free HD for life. DISH Network is a satellite provider, which allows for picture quality as high as 4K! Watch 4K movies and TV shows with DISH On Demand and Netflix right from your Hopper 3.
DISH vs DirecTV vs UVerse
DISH beats both DirecTV and UVerse from AT&T in value and innovation. DISH offers the industry-leading Hopper 3, live TV on your phone with DISH Anywhere, free HD for life and complimentary professional installation in up to 6 rooms.