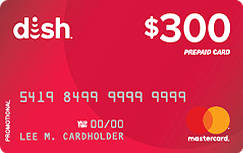 Expiring Soon - Switch to DISH & Get Up to a $300 Gift Card!*
*for qualifying customers What Channel is ESPN Alternate on DISH?
ESPN Alternate is on DISH channel 144. This alternative mirror station of ESPN provides you with the same broadcasts under a different line-up, providing ESPN fans with more ways to catch their favorite sports, programs, and broadcasts. ESPN Alternative includes all your favorite presentations, just as ESPN does.
Featured Shows from ESPN Alternate:

Get Up!
Mike Greenberg gives sports fans a good morning wake up call in Get Up. In this early morning broadcast, Greenberg is joined by former basketball player Jalen Rose, along with a guest host. Together, they run through the latest sports news while offering opinions and analyses.

Around the Horn
Around the Horn features panelist discussion. A revolving cast of guest hosts and panelists offer different perspectives and angles. Current headlines are just one of the many topics in this multi-format show that offers plenty of entertainment for sports fans.

World Series of Poker
Part of ESPN's original content lineup, World Series of Poker is one event you don't want to miss. Dust off your poker face in this competition, where the best of the best gather to secure top prizes. Only nerves of steel and dedication will win you the highest prize here.
ESPN Alternate is Available on These Great DISH Packages
AMERICA'S TOP 120
190 Channels
$7999
everyday price: $109.99/mo
FREE Premium Channels
Smart HD DVR Included
FREE Installation
AMERICA'S TOP 120+
190+ Channels
$9499
everyday price: $114.99/mo
FREE Premium Channels
Smart HD DVR Included
FREE Installation
AMERICA'S TOP 200
240+ Channels
$9999
everyday price: $124.99/mo
FREE Premium Channels
Smart HD DVR Included
FREE Installation
AMERICA'S TOP 250
290+ Channels
$10999
everyday price: $134.99/mo
FREE Premium Channels
Smart HD DVR Included
FREE Installation