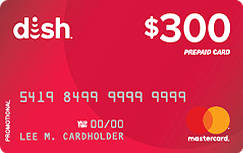 Expiring Soon - Switch to DISH & Get Up to a $300 Gift Card!*
*for qualifying customers What Channel is Eternal Word Television on DISH?
Eternal Word Television is on DISH channel 261. Eternal Word Television Network is your source for 24-hour Catholic news, shows, videos, and programming. Founded by Mother Angelica, EWTN is a principal network for Catholic programs. With Eternal Word Television Network, Catholic-themed programming is never too far away.
Featured Shows from Eternal Word Television:

Adventures in Odyssey
The fictional town of Odyssey is a thriving metropolis in Adventures in Odyssey. This series focuses on the interesting little town of Odyssey, and the many people who make up the population. This long-running comedy series provides wholesome evangelical entertainment.

The Quest for Shakespeare
In this documentary chronicling the life and work of William Shakespeare, host Joseph Pearce presents evidence that Shakespeare could have belonged to the Catholic faith. Dramatizations and reenactments of Shakespeare's work dot this program, making this an interesting blend of Catholicism and a history lesson.

Catholicism on Campus
Catholicism and campus life meet in Catholicism on Campus. In this series, Catholic Church teachings and the life and experiences of college students meld. Faith, teachings, and beliefs are discussed during this program, chronicling the blend of Catholic teachings and everyday life.
Eternal Word Television is Available on These Great DISH Packages
AMERICA'S TOP 120
190 Channels
$7999
everyday price: $109.99/mo
FREE Premium Channels
Smart HD DVR Included
FREE Installation
AMERICA'S TOP 120+
190+ Channels
$9499
everyday price: $114.99/mo
FREE Premium Channels
Smart HD DVR Included
FREE Installation
AMERICA'S TOP 200
240+ Channels
$9999
everyday price: $124.99/mo
FREE Premium Channels
Smart HD DVR Included
FREE Installation
AMERICA'S TOP 250
290+ Channels
$10999
everyday price: $134.99/mo
FREE Premium Channels
Smart HD DVR Included
FREE Installation