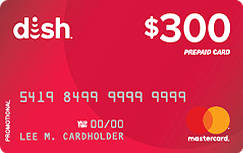 Expiring Soon - Switch to DISH & Get Up to a $300 Gift Card!*
*for qualifying customers What Channel is Freeform on DISH?
Freeform is on DISH Channel 180. Freeform's programming appeals to a wide variety of ages. With a focus on teenagers and young adults, Freeform's shows emphasize a range of topics, from slice of life, to the supernatural. You can also catch family shows and movies airing on this channel.
Featured Shows from Freeform:

Make It Or Break It
With competing in the Olympics as a gymnast in mind, Emily is thrilled to receive a scholarship to train in Colorado. At The Rock training center, competition is stiff. Emily has to navigate the challenges of dealing with her training mates while keeping her dream in focus.

Famous In Love
Paige's life is changed forever when she grabs the lead role in a blockbuster film. But with an attractive co-star and a current friend whose feelings for her may not be so platonic, Paige has to survive the madness of stardom and romance.

Shadowhunters
When her mother is kidnapped, Clary Fray must come to terms with a life-changing secret: she's part of a long lineage of demon hunters. Thrust headfirst into the world of monster hunting, Clary is now on a mission to find her mother.
Freeform is Available on These Great DISH Packages
AMERICA'S TOP 120
190 Channels
$7999
everyday price: $109.99/mo
FREE Premium Channels
Smart HD DVR Included
FREE Installation
AMERICA'S TOP 120+
190+ Channels
$9499
everyday price: $114.99/mo
FREE Premium Channels
Smart HD DVR Included
FREE Installation
AMERICA'S TOP 200
240+ Channels
$9999
everyday price: $124.99/mo
FREE Premium Channels
Smart HD DVR Included
FREE Installation
AMERICA'S TOP 250
290+ Channels
$10999
everyday price: $134.99/mo
FREE Premium Channels
Smart HD DVR Included
FREE Installation