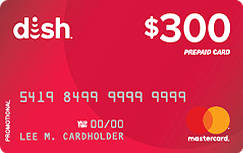 Expiring Soon - Switch to DISH & Get Up to a $300 Gift Card!*
*for qualifying customers What Channel is History Channel on DISH?
History Channel is on DISH channel 120. History Channel features a wide range of programming, from scripted dramas, to series showcasing science, inventions, and technology throughout the years. History Channel's programming lineup includes informative period pieces, to dramatic reenactments. Enjoy content that spans the ages.
Featured Shows from History Channel:

American Pickers
One man's trash is another man's treasure. Collectors Mike Wolfe and Frank Fritz travel across the country looking for the best items, whether in rubbish bins or at yard sales. Valuable pieces can be found in the most unlikely of places, and Mike and Frank have made it their goal to locate them.

Vikings
Legendary tales come to life in this period drama based on medieval times. Viking Ragnar Lothbrok's life, family and encounters are chronicled in this exciting series based on the tales of medieval Norsemen. Vikings draws inspiration from historical writings and invites you to come along for the journey.

Mountain Men
Mountain Men chronicles the lifestyles of those who live on rugged, harsh terrain, utilizing survival skills to thrive in harsh climates. Individuals featured include Eustace Conway, a man who resides on the hilly Blue Ridge Mountains and teaches people how to live off the land on his property.
History Channel is Available on These Great DISH Packages
AMERICA'S TOP 120
190 Channels
$7999
everyday price: $109.99/mo
FREE Premium Channels
Smart HD DVR Included
FREE Installation
AMERICA'S TOP 120+
190+ Channels
$9499
everyday price: $114.99/mo
FREE Premium Channels
Smart HD DVR Included
FREE Installation
AMERICA'S TOP 200
240+ Channels
$9999
everyday price: $124.99/mo
FREE Premium Channels
Smart HD DVR Included
FREE Installation
AMERICA'S TOP 250
290+ Channels
$10999
everyday price: $134.99/mo
FREE Premium Channels
Smart HD DVR Included
FREE Installation