DISH vs Blue Ridge Cable
Do you live in Pennsylvania? Are you looking for a new TV provider? You may be comparing the pros and cons of both DISH Network and Blue Ridge. This in-depth 2017 review of the two providers takes a look at price, package options, DVR and HD technology, and more.
For more channels, a low locked-in monthly price and free HD for life, choose DISH. For a complete whole home entertainment experience, upgrade for free to the industry-leading Hopper 3 HD DVR. When you join the DISH Network family, you can save more than $850 over Blue Ridge Cable.
| See for Yourself! | | |
| --- | --- | --- |
| Lowest Package Prices |    |    |
| Best Technology |    |    |
| Best Promotional Offers |    |    |
| Best Customer Service |    |    |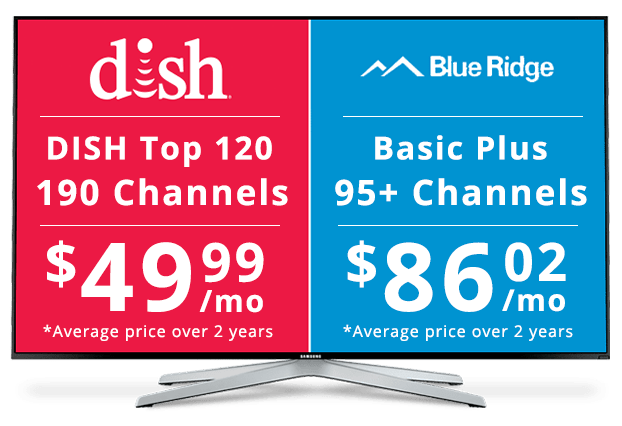 DISH vs Blue Ridge Cable: Channel Packages
DISH Network makes it easy to choose the channel package that's right for you, with options from the affordable America's Top 120 to the premium-filled America's Everything Pack. Every DISH TV package includes free HD for life with no additional equipment costs. America's Top 120 includes channels like AMC, Big Ten Network, Disney Channel and FOX Sports 1 and 2. With Basic+ from Blue Ridge, you'll miss out on these channels and more. Save more than $850 over 2 years and get more for less with DISH!
*Advertised price requires credit qualification and eAutoPay. Upfront activation and/or receiver upgrade fees may apply based on credit qualification.
DISH vs Blue Ridge Cable: Best Technology
DISH's whole-home DVR technology leads the pack, with superior recording abilities and innovative features. Blue Ridge Dream powered by TiVo offers less than half the tuners and hard drive space of the Hopper 3, with a higher monthly cost.
When you upgrade your receiver for free to the Hopper 3 HD DVR, you'll enjoy features like MultiView mode, which lets you watch four channels at once; it's perfect for sports fanatics and news enthusiasts! The Sling technology in your Hopper lets you watch your TV lineup and recorded programming everywhere you go with the DISH Anywhere app. Watch Bravo on the beach or football on the ferry with DISH!
| DVR Technology! | | |
| --- | --- | --- |
| Shows Recorded at Once | 16 | 6 |
| Instantly Skip Commercials | Yes | No |
| Hours of HD Storage | 500 | 150 |
| Bluetooth Audio | Yes | No |
| Stream Your Entire Lineup | Yes | No |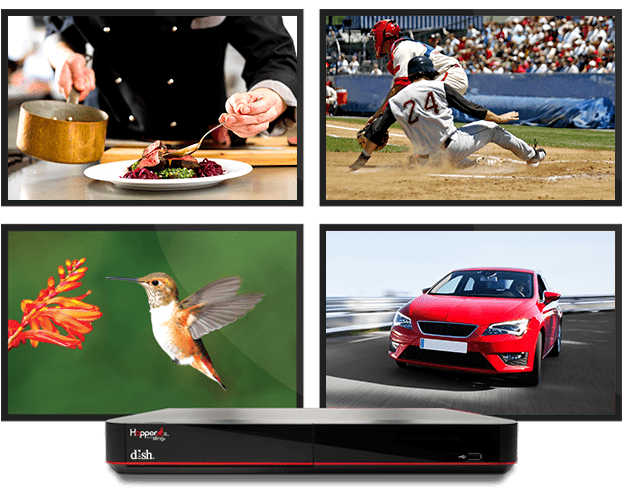 DISH vs Blue Ridge Cable: Promotional Offers
New customers are welcomed to DISH with great deals! When you join the DISH family, you'll enjoy these offers and more:
HBO at no cost for 12 months when you subscribe to an America's Top package*
Next day installation (where available) is free in up to six rooms
Lock in your package price for 2 years and save hundreds
Add free premium channels from HBO, STARZ and Cinemax for 3 months*
DISH vs Blue Ridge Cable: Customer Service
When you switch to DISH, you'll enjoy hassle-free ordering and customer service! DISH is the provider with the lowest customer complain rate, outranking all other major TV service providers. Why? It starts with the highest call center and website satisfaction in the industry. When you join the DISH family, your monthly bill will be easy-to-follow for a great customer experience.
*Based on the average American Customer Satisfaction Index comparison of major TV providers (2010-2015).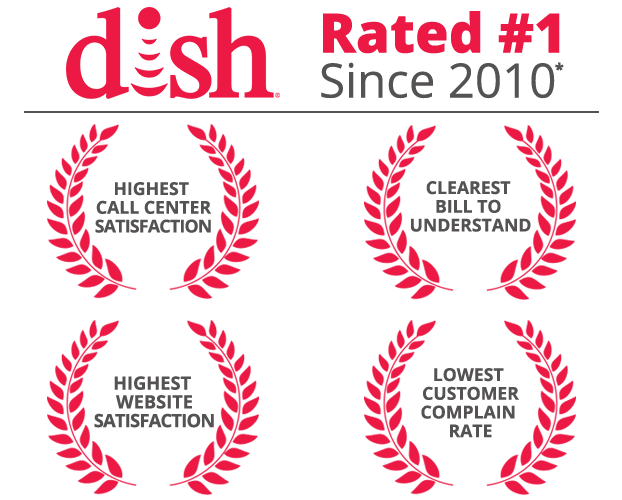 5 Reasons Why DISH Is Better Than Blue Ridge Cable
All DISH customers enjoy free HD for life, included in their TV packages. Watch local channels, sports and primetime favorites in crystal-clear high definition, without any extra equipment costs or monthly fees.
Get nationwide coverage with satellite TV from DISH. Cable providers like Blue Ridge offer limited geographic service, meaning you may have to switch providers after a move just around the corner. DISH moves with you!
Enjoy more channels for less. Blue Ridge includes dozens less channels at a higher price than DISH Network. Save more than $850 over 2 years when you choose DISH over Blue Ridge Cable.
Watch TV shows, movies and more in 4K with DISH! Both On Demand and Netflix include ultra high definition programming, available on Hopper 3. Blue Ridge and other cable companies can't offer 4K video.
Take your channel lineup on your next flight, road trip, morning commute or doctor's office visit. Keep the family entertained with DISH Anywhere, available on iOS and Android smartphones and tablets.
DISH vs Blue Ridge Cable Frequently Asked Questions
DISH Network vs Blue Ridge Cable
DISH Network offers more channels, free HD for life and free installation for up to six rooms, all for less than Blue Ridge Cable. With Blue Ridge, you'll pay more each month, while also paying additional HD and installation fees.
DishLATINO vs Blue Ridge en Español
With Blue Ridge en Español, customers can add Spanish language channels to an existing package for $3.95 per month. With DishLATINO, you'll enjoy a mix of Spanish and English channels for one low monthly price (starting at $35.99/mo.), as well as qualify for DISH Deals.
Blue Ridge Internet vs dishNET
Choose internet with dishNET and enjoy 12 Mbps download speeds for $49.99 per month, versus Blue Ridge's G10 plan for more than $55 per month. Bundle TV and internet with DISH and save $10 per month, adding up to almost $700 in savings over a comparable Blue Ridge bundle.