DISH vs Fios
This review compares DISH Network and Verizon Fios, taking into account channel options, pricing, technology, customer service and more. Who comes out on top? DISH! Plus, you could save more than $850 over two years with DISH Network.
DISH Network offers customers more channels and flexibility with packages, with everything from America's Top 120 to America's Everything. You can enjoy the industry-leading technology of DISH's Hopper 3 HD DVR, plus 4K movies and shows. DISH subscribers also get the best customer service among all major TV providers, including Fios.
| See for Yourself! | | |
| --- | --- | --- |
| Lowest Package Prices |    |    |
| Best Technology |    |    |
| Best Promotional Offers |    |    |
| Best Customer Service |    |    |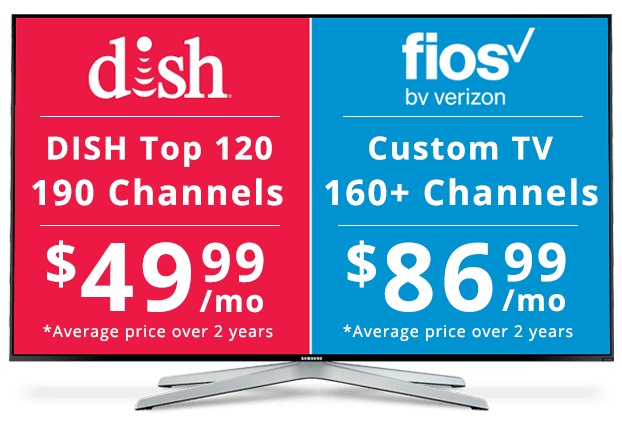 DISH vs Fios: Channel Packages
Choosing DISH over Verizon Fios gives you more for less! With DISH, enjoy 190 channels, including free regional sports networks. Fios makes customers choose between Essential channels and Sports channels. DISH customers get both, without an expensive upgrade! Enjoy Cartoon Network, E!, ESPN in HD, Freeform and TLC, all part of America's Top 120. Switch to DISH and save more than $850 over Fios.
*Advertised price requires credit qualification and eAutoPay. Upfront activation and/or receiver upgrade fees may apply based on credit qualification.
DISH vs Fios: Best Technology
Even Verizon Fios' upgraded Quantum TV Enhanced Service can't compare to the Hopper 3 HD DVR from DISH. Record up to 16 channels at once and watch in seven rooms at a time with just one Hopper 3.
Entertainment reaches a new level with the Hopper's innovative features. Automatically record primetime TV from CBS, ABC, FOX and NBC, then skip commercials without lifting a finger thanks to Autohop. Find your remote with the touch of a button, or use your phone as a remote with the DISH Anywhere app.
| DVR Technology | | |
| --- | --- | --- |
| Shows Recorded at Once | 16 | 6 |
| Instantly Skip Commercials | Yes | No |
| Hours of HD Storage | 500 | 100 |
| Built in Netflix App | Yes | No |
| Bluetooth Audio | Yes | No |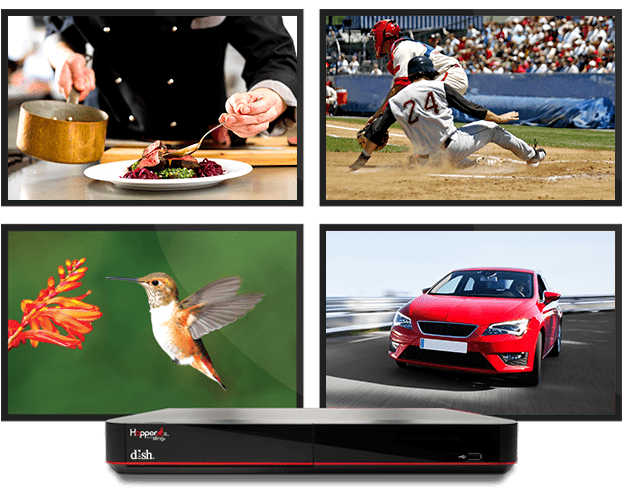 DISH vs Fios: Promotional Offers
Choose DISH for the best new customer offers. With DISH Network, you'll enjoy these deals and more:
12 months of HBO at no additional cost with qualifying packages*
Upgrade for free to the Hopper 3 HD DVR
Free professional installation as soon as tomorrow (where available)
Free TV everywhere with the DISH Anywhere app for Android and iOS
DISH vs Fios: Customer Service
DISH Network treats its customers to top-notch professional installation nationwide, at no extra cost. DISH is the #1 rated TV provider in call center satisfaction and claims the lowest customer complain rate, beating Verizon Fios in both categories. Enjoy an easy-to-navigate website and simple monthly bill for a hassle-free TV experience, thanks to DISH.
*Based on the average American Customer Satisfaction Index comparison of major TV providers (2010-2015).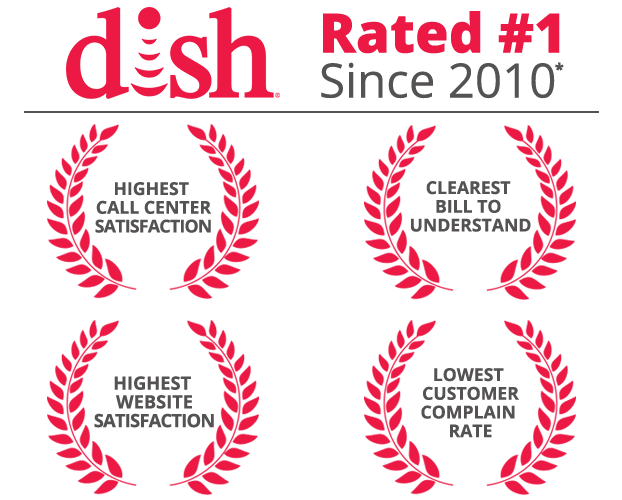 5 Reasons Why DISH Is Better Than Fios
Upgrade for free to the Hopper 3 HD DVR and automatically record primetime TV, plus skip commercials automatically with Autohop. Never lose the remote again and search all your apps, including Netflix, at once with integrated search.
Save big with DISH! Fios requires a costly router and charges for each receiver in your home. With DISH as your TV provider, there's no router and your first receiver doesn't have any fees.
Get more channels for less with America's Top 120. Enjoy 190 channels, along with free HD for life. This beats Fios' more expensive Custom TV plans that only come with 160+ channels.
Watch movies and TV shows in 4K with On Demand and integrated Netflix. DISH brings ultra high definition to your living room, while wired providers like Verizon Fios can't.
Enjoy the value of free installation from DISH. Professional installation in up to 6 rooms is included with your new TV package. Get TV as soon as tomorrow with next day installation, where available.
DISH vs Fios Frequently Asked Questions
Fios vs DISH Picture Quality
DISH delivers tons of HD channels with free HD for life. Enjoy even clearer picture quality with a 4K TV! Watch 4 HD channels side-by-side, and get 4K movies and shows via On Demand and Netflix right from your Hopper 3 HD DVR.
Which is Better, DISH or Fios?
DISH Network customers can save hundreds over Fios, with more channels for less. DISH's monthly package price starts at just $49.99 for 190 channels and includes installation, your first receiver fee, HD for life and a Hopper DVR upgrade.
Is Fios Available in my Area?
Verizon Fios is geographically limited, available in select cities across the Northeast. With DISH Network, HD TV is available nationwide in any home or business with a clear view of the southern sky. Enjoy TV no matter where you live with DISH.