DISH vs Mediacom
Looking for a new TV provider? Take a look at how DISH and local cable company Mediacom stack up!
DISH Network offers tons of channels nationwide, paired with innovative technology and incredible new customer deals. Choose DISH and enjoy crystal-clear picture quality with free HD for life and 99.9% signal reliability. You'll also get free installation and great customer service with DISH. Switch to DISH and save more than $300 over Mediacom!
| See for Yourself! | | |
| --- | --- | --- |
| Lowest Package Prices |    |    |
| Best Technology |    |    |
| Best Promotional Offers |    |    |
| Best Customer Service |    |    |
| Create Your Own TV Package |    |    |
DISH vs Mediacom: Channel Packages
Want to watch more channels for less? When you choose DISH over Mediacom, you'll enjoy more channels, including AXS, ESPNEWS, FOX Business News, Longhorn Network and Bravo. DISH customers can save more than $300 over Mediacom cable TV customers thanks to local channels at no extra cost! Plus, your DISH TV package includes your first receiver fee and free HD for even more savings.
*All offers require credit qualification and 24-month commitment and early termination free with eAutopay. Offer ends 4/9/18. Call for details. Prices include Hopper Duo for qualifying customers. Hopper, Hopper w/Sling or Hopper 3 $5/mo. more. Upfront fees may apply based on credit qualification.
DISH vs Mediacom: Best Technology
DISH's innovative Hopper 3 HD DVR leads the industry, beating Mediacom's TiVo by a mile! Record up to 16 channels at once, and save hundreds of hours of HD shows, movies and sports on your Hopper's 2 TB hard drive.
Hopper 3 is packed with entertainment features that TiVo can't match. Never lose your remote again with remote finder. Automatically record primetime TV on ABC, NBC, CBS and FOX, plus instantly skip commercials in those shows with Autohop.
| DVR Technology | | |
| --- | --- | --- |
| Shows Recorded at Once | 16 | 6 |
| Instantly Skip Commercials | Yes | No |
| Hours of HD Storage | 500 | 150 |
| TVs Watched at Once | 7 | 4 |
| Bluetooth Audio | Yes | No |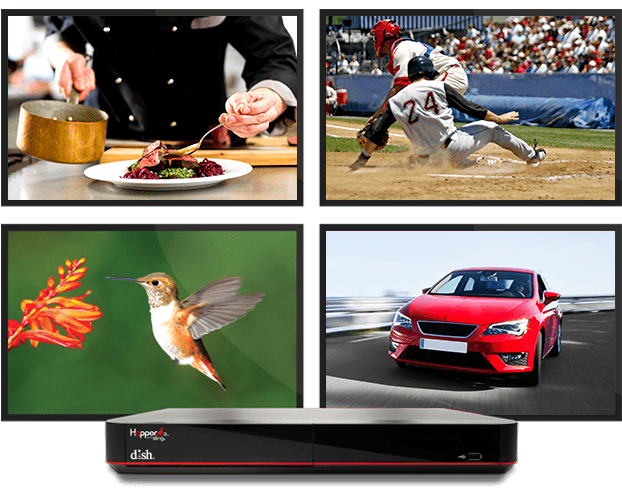 DISH vs Mediacom: Promotional Offers
DISH welcomes new customers with tons of great deals. When you choose DISH over Mediacom, you can qualify for these offers and more:
Free professional installation in up to 6 rooms
Complimentary HD for life
Upgrade for just $5/mo. to the Hopper 3 HD DVR
HBO, STARZ, Cinemax and more for 3 months at no cost*
*After 3 mos., you will be billed $55/mo. for HBO, Cinemax, Showtime, Starz and DISH Movie Pack unless you call to cancel.
DISH vs Mediacom: Customer Service
DISH customers are treated to top-notch customer service. When you switch to DISH, you'll experience the industry's highest call center and website satisfaction. Each month, your statement will be simple to follow, thanks to the clearest bill to understand among competitors. Choose DISH over Mediacom and discover why DISH has the lowest customer complain rate of major TV providers since 2010.
*Based on the average American Customer Satisfaction Index comparison of major TV providers (2010-2015).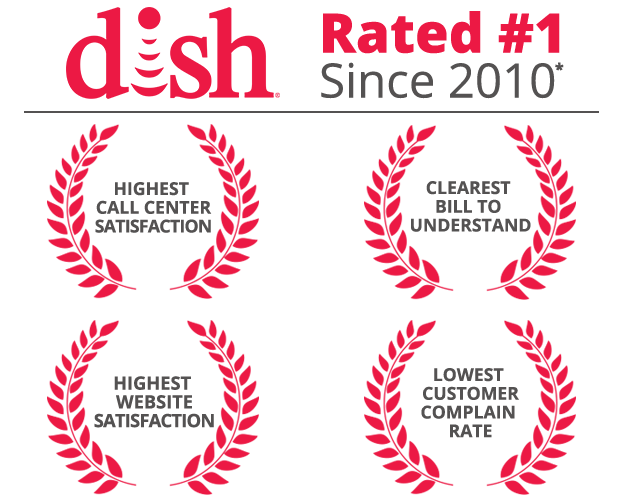 5 Reasons Why DISH Is Better Than Mediacom
DISH locks in package prices for 2 years, guaranteeing that your rate won't rise after 12 months. This price lock can save you hundreds over Mediacom!
Free installation is included in your package price. Enjoy your TV plan in up to six rooms as soon as tomorrow (where available) with DISH's free professional installation.
Get more for less! DISH offers more channels, more package options, more new customer deals and more advanced technology than Mediacom. And you'll still save money each month!
Watch TV in 4K with DISH. 4K movies and shows are On Demand and on Netflix, all available on your Hopper 3 HD DVR. Cable providers like Mediacom can't match this ultra high definition picture quality.
Bring your entire TV lineup with you no matter where you go with the DISH Anywhere app. Watch both live and recorded TV for your favorite entertainment everywhere! Catch up on Bravo in your hotel room or watch Disney Channel in the waiting room.
DISH vs Mediacom Frequently Asked Questions
Is Mediacom in my Area?
Like many cable providers, Mediacom is a regional TV service provider. It is currently available in parts of the Southern and Midwestern US. DISH Network is a nationwide TV provider that is accessible to any home with a clear view of the southern sky.
TiVo vs Hopper
DISH's Hopper 3 records more than double the channels of TiVo, and stores your recordings on a hard drive twice the size of TiVo's. The Hopper 3 also includes remote finder, 4K capabilities and wireless sound with Bluetooth compatibility.
Switching from Mediacom to DISH
DISH Network offers more channels at a lower price than Mediacom. Switch to DISH and save more than $300 with a 2 year price lock, local channels included, complimentary professional installation and more.