DISH vs Service Electric
Looking for an in depth comparison of Service Electric and DISH Network? The two providers go head-to-head in this review of channel packages and pricing, entertainment technology, customer service, reliability and more.
Service Electric Television packages and pricing can vary based on your location and local affiliate. With DISH, you'll enjoy nationwide availability, as well as numerous packages, add-on channels and receivers to choose from. You'll still get local channels and regional sports networks included with qualifying packages, plus get the advanced technology DISH offers. With DISH, you can save hundreds over Service Electric's service.
| See for Yourself! | | |
| --- | --- | --- |
| Lowest Package Prices |    |    |
| Best Technology |    |    |
| Best Promotional Offers |    |    |
| Best Customer Service |    |    |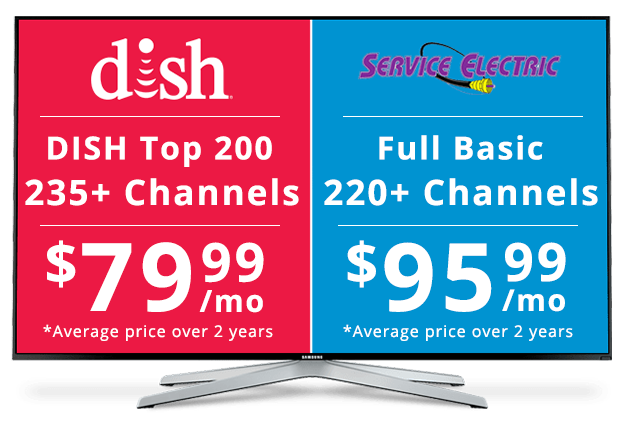 DISH vs Service Electric: Channel Packages
DISH offers a TV package for everyone, from news fanatics and young families to sports enthusiasts and music lovers. With Service Electric, you'll choose from just a few TV packages, depending on where you live. DISH also offers more for less, with more channels and free installation, all for less than Service Electric service. Choose DISH and save more than $350 in the next two years (over Full Basic from Service Electric Cable TV), plus enjoy DISH's two year price lock guarantee.
*All offers require credit qualification and 24-month commitment and early termination free with eAutopay. Offer ends 4/9/18. Call for details. Prices include Hopper Duo for qualifying customers. Hopper, Hopper w/Sling or Hopper 3 $5/mo. more. Upfront fees may apply based on credit qualification.
DISH vs Service Electric: Best Technology
Want to join the TV provider with the best technology? Subscribe to DISH for feature-packed whole home entertainment, thanks to the innovative Hopper 3 HD DVR. Record 16 shows at a time and watch up to 7 TVs in your house at a time!
Hopper 3 is also filled with features the SE Next Whole Home DVR doesn't include. Search and watch Netflix right from your DISH Hopper. You can also listen to your favorite XM radio station wirelessly with the Hopper 3's Bluetooth compatibility. The Hopper 3 gives you the ability to watch On Demand and Netflix programming in 4K effortlessly, thanks to integrated search.
| DVR Technology | | |
| --- | --- | --- |
| Shows Recorded at Once | 16 | 6 |
| Instantly Skip Commercials | Yes | No |
| Hard Drive Size | 2 TB | 1 TB |
| Built in Netflix App | Yes | No |
| Bluetooth Audio | Yes | No |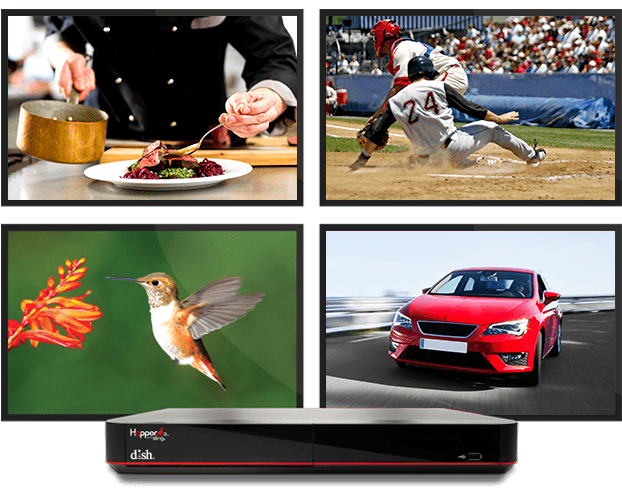 DISH vs Service Electric: Promotional Offers
New customers enjoy tons of great DISH Deals, plus you'll get new DISH Perks every month! Subscribe to DISH for these great promotional offers:
HBO, STARZ and more included at no cost for 3 months*
Free professional installation in up to six rooms in your house
Get a Smart HD DVR included with your new TV package
Free HD for life with over 200 HD channels available
*After 3 mos., you will be billed $55/mo. for HBO, Cinemax, Showtime, Starz and DISH Movie Pack unless you call to cancel.
DISH vs Service Electric: Customer Service
Since 2010, DISH ranks above the competition in customer service. When you switch to DISH, you'll be joining the TV service provider with the highest call center satisfaction and lowest customer complain rate. As a customer, you'll enjoy 24/7 service with phone, chat, social media, forum and email support. Join DISH for the highest website satisfaction and the clearest bill to understand in the industry!
*Based on the average American Customer Satisfaction Index comparison of major TV providers (2010-2015).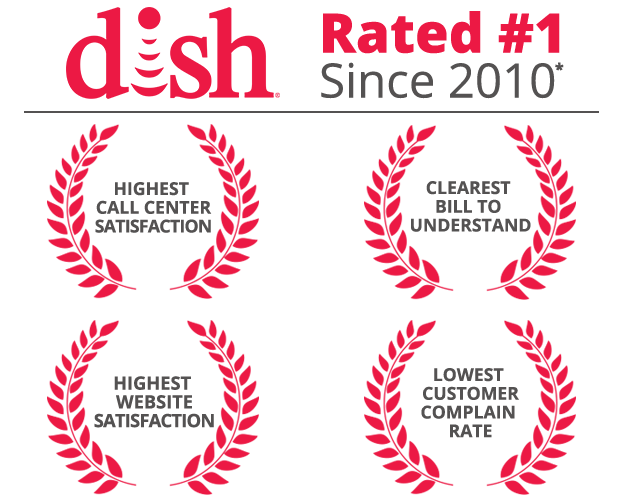 5 Reasons Why DISH Is Better Than Service Electric
Watch TV everywhere with the DISH Anywhere app for free! You can take your live and recorded TV with you wherever you go thanks to your Sling-enabled Hopper. Service Electric offers TV on the Go, with some affiliates charging upfront fees of more than $150.
Choose from tons of TV package options with DISH. With five English packages, premium channel options and international packages to choose from, DISH has all the networks your family wants to watch!
DISH helps you save! Subscribe to DISH's America's Top 200 and get 235+ channels, more than Service Electric's Full Basic package. You'll still save more than $350 thanks to DISH's two year price lock guarantee.
Free HD for life is included with your DISH TV package, adding to your monthly savings. Watch your favorite channels in picture-perfect high definition with 99.9% signal reliability, only from DISH.
Start enjoying your new DISH TV package as soon as tomorrow. DISH offers free next day professional installation (where available) in as many as six rooms in your house.
DISH vs Service Electric Frequently Asked Questions
How Reliable is DISH Network?
DISH offers 99.9% signal reliability and more than 200 HD channels for crystal-clear TV at your home or business. In many rural locations nationwide, satellite TV offers more programming options and internet capabilities than cable TV providers.
Can I Watch 4K with DISH?
Yes! Unlike cable providers, satellite TV providers like DISH can offer customers 4K programming live, On Demand and via Netflix. The innovative Hopper 3 and 4K Joey work with your 4K TV for incredible ultra HD TV series, movies and sports.
Sports Channels on DISH
DISH Network delivers local sports on regional sports networks. Watch your favorite teams on channels tailored to your location, included in your qualifying TV package at no extra cost. Local channels are also included with qualifying TV packages from DISH.