DISH vs WOW! Cable
Looking for a DISH vs WOW! Cable review that encompasses every aspect of the two TV providers? Keep reading for an in-depth 2018 comparison, including channel package variety and pricing, DVR technology, promotional offers and customer service.
When you switch to DISH, you'll enjoy superior channel selection and customization options. Watch your TV plan and DVR recordings on-the-go with DISH Anywhere. Plus, DISH customers can save more than $100 over WOW! Cable customers!
| See for Yourself! | | |
| --- | --- | --- |
| Lowest Package Prices |    |    |
| Best Technology |    |    |
| Best Promotional Offers |    |    |
| Best Customer Service |    |    |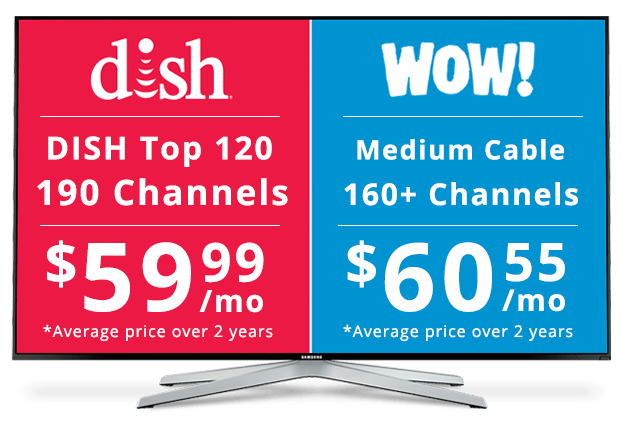 DISH vs WOW! Cable: Channel Packages
DISH offers tons of TV package options, with the family-friendly America's Top 120 Plus, sports fans' dream America's Top 250 and premium-filled America's Everything Pack. WOW! Cable offers fewer channels at a higher monthly cost than DISH, as well as charging monthly regional sports network fees, which are included in many DISH packages. DISH customers can save more than $100 in just two years over WOW! Cable.
*All offers require credit qualification and 24-month commitment and early termination free with eAutopay. Offer ends 4/9/18. Call for details. Prices include Hopper Duo for qualifying customers. Hopper, Hopper w/Sling or Hopper 3 $5/mo. more. Upfront fees may apply based on credit qualification.
DISH vs WOW! Cable: Best Technology
DISH's whole home DVR tops the competition every time. The Hopper 3 HD DVR lets you record up to 16 channels on as many as seven separate TVs, all at the same time. Plus, you can store up to 500 hours of HD shows, events and movies on the Hopper's 2 TB hard drive.
Hopper 3 is packed with features that WOW! Cable's Ultra Whole-Home HD DVR can't match. With DISH, instantly skip commercials in automatically-recorded primetime TV from NBC, ABC, CBS and FOX. Search your apps, recordings and Netflix all at once with integrated search. Plus, never lose the remote again with remote finder.
| DVR Technology | | |
| --- | --- | --- |
| Shows Recorded at Once | 16 | 6 |
| Instantly Skip Commercials | Yes | No |
| Hard Drive Storage | 2 TB | 500 GB |
| Hours of HD Storage | 500 | 75 |
| Bluetooth Audio | Yes | No |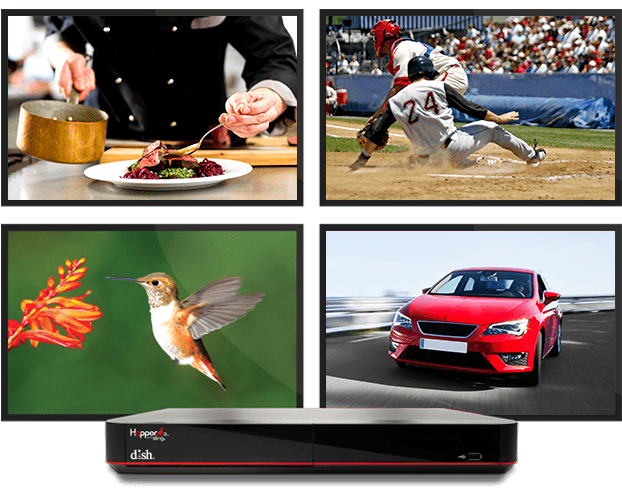 DISH vs WOW! Cable: Promotional Offers
Choose DISH for awesome deals! Switch and enjoy these great offers and more with qualifying TV packages:
Premium movie channels included at no extra cost for 3 months*
Free next-day installation (where available) in up to six rooms
Complimentary HD service for life
Upgrade for just $5/mo. to the innovative whole-home Hopper 3 HD DVR
*After 3 mos., you will be billed $55/mo. for HBO, Cinemax, Showtime, Starz and DISH Movie Pack unless you call to cancel.
DISH vs WOW! Cable: Customer Service
Who is the provider with the lowest customer complain rate since 2010? DISH Network! DISH offers subscribers #1 rated call center and website satisfaction. From the time you order your TV package on, you will enjoy top-notch service, as well as the clearest bill to understand of any major TV provider.
*Based on the average American Customer Satisfaction Index comparison of major TV providers (2010-2015).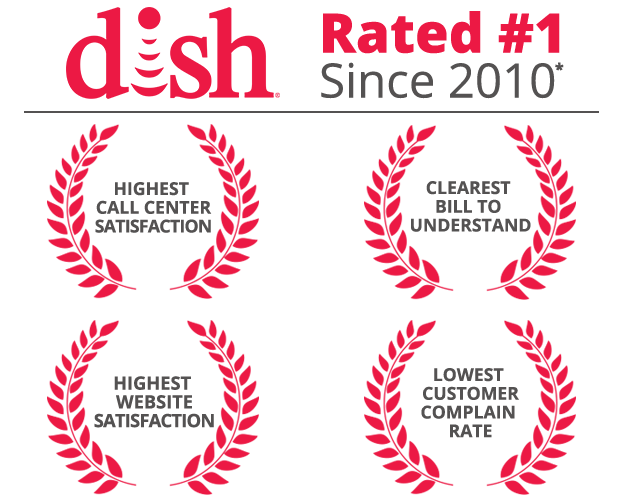 5 Reasons Why DISH Is Better Than WOW! Cable
Upgrade for $5/mo. to the innovative Hopper 3 HD DVR. Record 16 channels at a time, watch seven TVs at a time, and take live and recorded TV everywhere with DISH Anywhere.
Take advantage of free installation in as many as six rooms for big savings! Start watching your DISH package as soon as tomorrow with next-day installation (where available).
Watch TV in 4K with DISH! Cable providers like WOW! Cable can't offer ultra HD. When you subscribe to DISH, you can watch movies and shows in unbelievable quality both On Demand and on Netflix via your Hopper 3.
Enjoy DISH Network nationwide, at any home or business with a clear view of the southern sky. Don't worry about switching providers if you move down the street or across the country. DISH goes wherever you do!
Save big with DISH! With tons of DISH Deals, flexible TV packages, hundreds of channels and a two year price lock guarantee, you get the best value with DISH. When you choose DISH over WOW! Cable, you could save more than $100.
DISH vs WOW! Cable Frequently Asked Questions
WOW! Cable vs DISH Network
DISH Network offers superior TV plan variety, pricing, new customer offers, customer service and technology over WOW! Cable. Satellite TV from DISH offers HD and 4K services, along with the innovative Hopper 3 HD DVR, to customers nationwide.
DISH vs WOW! Cable Picture Quality
DISH Network includes free HD for life and 4K capabilities. There are over 200 HD channels to choose from with DISH, almost double WOW! Cable's HD offerings. WOW! can't offer 4K quality content, due to the limitations of cable TV.
Is DISH Cheaper than Cable?
DISH offers more channels for less than cable companies like WOW! With DISH, you can save more than $100 over 2 years on your TV service with DISH's 2 year price lock guarantee. You'll also get more channels and flexibility with DISH.