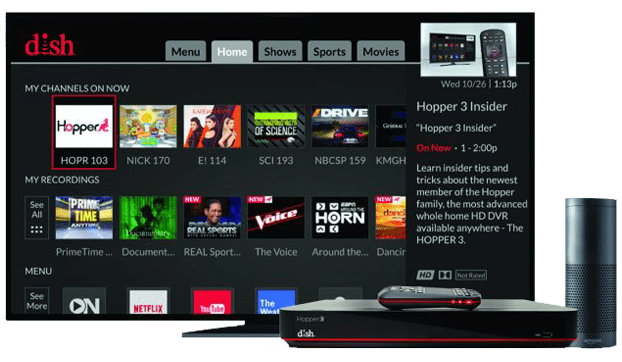 Moving with DISH Network
Moving to a new home can be stressful, so let DISH take care of relocating your equipment. DISH's moving deal for current customers includes free installation of your dish at your new home, as well as free premium channels! This is also a great time to add service to another TV in your home, or upgrade to the latest DISH receiver.
DISH Moving Deals for Current Customers
Free Premium Movie & Sports Channels
When you move your DISH service, you can add premium channels to your DISH package for FREE. Enjoy dozens of channels from Showtime, Starz and the DISH Movie Pack, free for 3 months!*
*After 3 mos., you will be billed $30/mo. for Showtime, Starz and DISH Movie Pack unless you call to cancel
Free DISH Equipment Installation
DISH makes moving easy with free installation at your new home. Let us know what day and time is best for you and we'll install your dish and set up your receivers. Just unpack your TVs and make sure your home's electricity and internet are ready to go.
Great Deals on DISH Sports Packages
When you move with DISH, you'll qualify for great deals on sports channels. Follow your hometown teams no matter where you're headed, with channels featuring the NFL, MLB, NBA, NHL, ICC, EPL and more available nationwide.
Upgrade To The Award-Winning DISH Hopper 3
Sweeten your DISH Move In Deal with a Hopper 3 . Take advantage of the whole-home power of the Hopper with as many as 6 Joeys throughout you home. Your new Hopper lets you record 16 channels at once and store up to 500 hours of HD programming!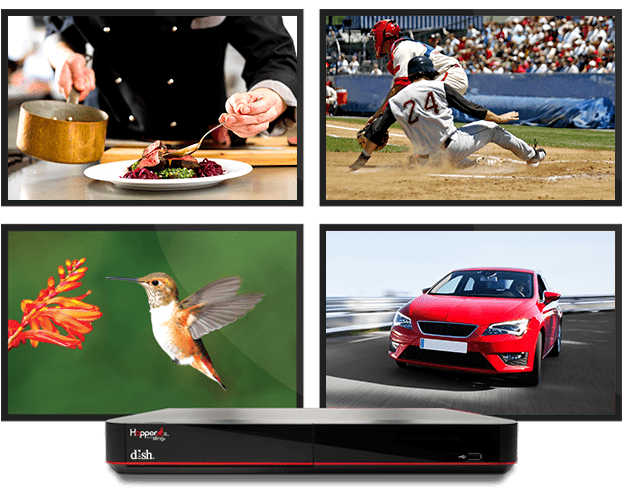 Moving to Your New Home with DISH
Transferring your DISH service to your new address takes only a few steps. Let us know what time is best for you, and we'll be ready to deliver your free installation. If you're unsure at any step of the way, the DISH Customer Service team is glad to help! Just give us a call and we'll make moving with DISH as easy as possible.
DISH Moving Process & Steps
1. Schedule Your Free Installation
To schedule your DISH Network move, call our DISH Customer Service team with your new address, and the date and time you'd like our installers to come. If you'd like to upgrade to the Hopper 3 HD DVR or add additional TVs to your DISH package, let us know!
2. Pack Up Your Receivers and Remotes
Move your receivers and remotes with you to your new home and DISH will take care of the rest! If you rent your current home, you may need to remove your current dish before moving. If it's unsafe for you to do this yourself, DISH can send a technician to take care of it.
3. Get Ready for the DISH Movers
Once in your new home, unpack your DISH receivers and each TV you want connected to DISH service. To get the most out of your DISH Network moving deal, it's important to have both electricity and internet connected in your new house.
4. Let DISH Install Service in Your Home
A local DISH installer will finish transferring your service. A new dish is installed, your receivers are connected and you'll be ready to start enjoying your DISH service. If you opted to upgrade your equipment, the installer can take your old receivers and remotes with them.
DISH Deals For New Customers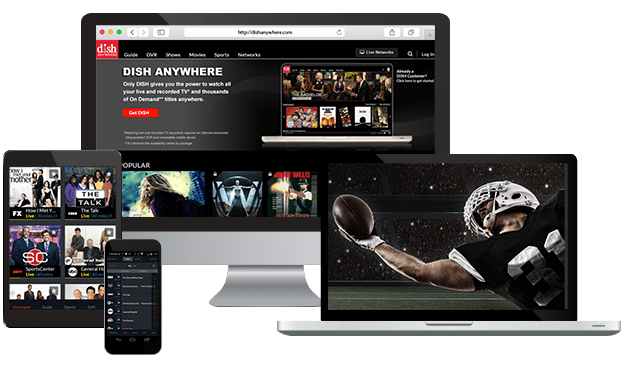 Add DISH Network to Your New Home
Moving beyond the reach of your current TV provider? Let DISH add entertainment to your family's new home with hundreds of channels filled with TV shows, movies and sports. Moving can be difficult, which is why DISH offers FREE installation as soon as tomorrow in up to 6 rooms throughout your house.
Choose DISH for Tons of Move In Deals
We know moving can be both exhausting and expensive. That's why DISH delivers great deals to first-time customers adding TV to their new home. You'll qualify for free premium channels, complimentary HD for life, a free voice remote and more! Plus, ordering DISH couldn't be easier. Just give us a call!

Get More when You Move with DISH
Upgrade to the whole-home Hopper 3 HD DVR
Qualify for free channels from Showtime, Starz, the DISH Movie Pack, and more for 3 months.*
Get free HD for life.

Free Installation in Your New Home
DISH can install your service tomorrow with FREE next-day installation (where available).
Create whole-home entertainment with complimentary installation in up to 6 rooms.
For complete installation, make sure the power is on in your new home.
Add Internet and Stay Connected
Internet plans from our partners start at just $19.99/mo. in select markets.
Add entertainment and stay connected with cable, fiber, satellite and DSL options.
No matter where you're moving, our internet partners have an affordable plan for you.
Add DISH to Your New Home With These TV Packages: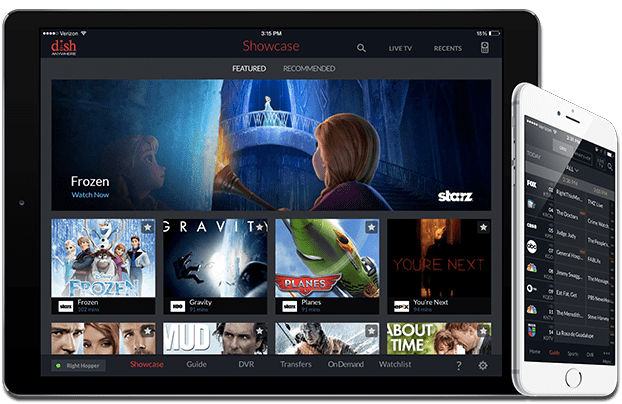 Add to Your DISH Move In Deal
DISH Network offers additional Smart Home Services to make moving easy. Let professionally-trained installers take care of your dish installation, plus mounting your TVs on the wall or a stand. DISH can also help you relocate power, set up your WiFi network, and add an integrated sound system or soundbar.
Mount Your TV for Central Entertainment
Whether you'd like your TV to hang from the wall or sit on a TV stand, DISH installers can take care of mounting your TV. Let a professional from the DISH team connect not only your DISH receivers, but other consoles as well. Services start at $199.99.
Create a Cord-Free Entertainment Center
Don't let rerouting power to where you want your TV in your new home be time consuming and costly. Your DISH installer will use a Power Relocation Kit to hide the wires powering your wall-mounted TV inside your wall for just $99.99.
Set Up Wireless Internet in Your Home
Configuring a WiFi network and connecting your laptop, smartphone and tablet can be difficult and frustrating – especially mid-move. Let DISH take care of installing a router that will have you connected throughout your home in no time! Services start at $99.99.
Add High Quality Sound Systems
Experience DISH's high definition capabilities paired with top-notch sound in your new home. Whether you'd like a soundbar or full surround sound system, DISH's installers can take care of the details of your entire entertainment system for as little as $199.99.
*Move-In Deal offer subject to customer eligibility. Fee will apply for installations within 12 months of either service activation or a previous move, or for installations requiring additional equipment.