Sling TV Orange Package

– Experience
Television in an Entirely New Way
$40/mo
30+ channels of sports, family programming & more
50 hours of DVR storage to record TV or movies
Stream to an additional device of your preference
Sling TV Orange Channel List
A&E
Cheddar
Food Network
Local Now
AMC
Comedy Central
Freeform
Motortrend
AXS TV
Comet
Fuse
Nick Jr.
BBC America
Disney Channel
HGTV
Stadium
BET
EPIX Drive-In
History Channel
TBS
Bloomberg Television
ESPN
IFC
TNT
CNN
ESPN2
Investigation Discovery
Travel Channel
Cartoon Network
ESPN3
Lifetime
Vice
Sling TV Orange
Get Sling – the best way to watch live TV – your way and with your favorite channels, free from long-term contracts!
The Sling TV Orange package has many of the channels you want and expect from your TV like CNN, Cartoon Network, Food Network, IFC and Lifetime, but also comes with a unique set of channels exclusive to the Orange package.
Networks like the Disney Channel, Freeform, Motortrend and ESPN come exclusively through Sling TV Orange, making this package a perfect choice for families and sports fans. This amazing offer comes with DVR recording and device streaming and is available now for just $40 per month. Sign up for Sling TV now and change the way you watch TV!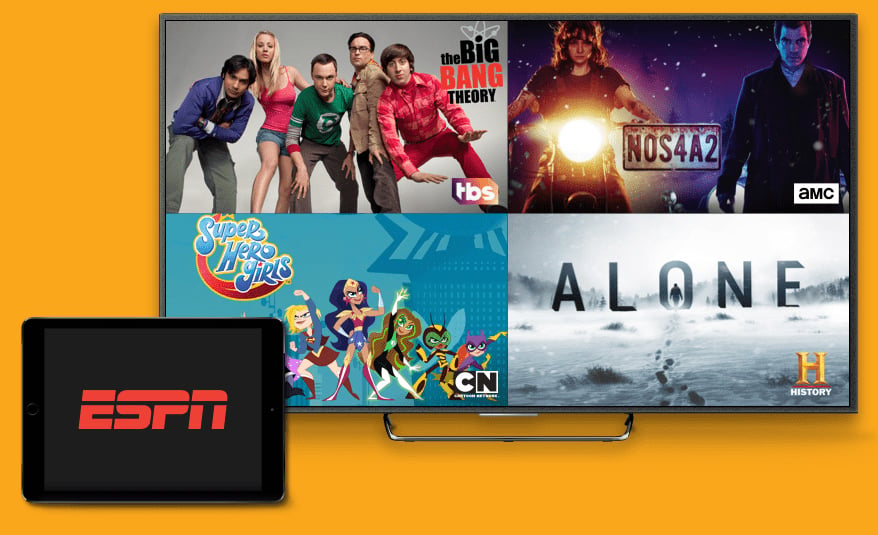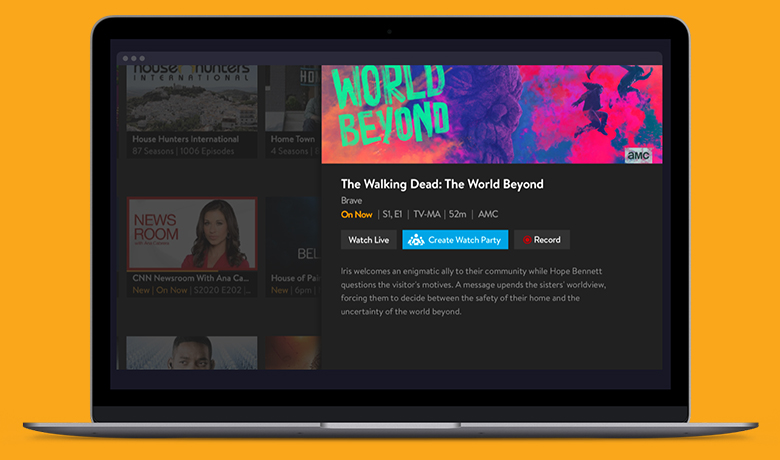 Extras for Every Viewer
Looking for some more options beyond your Orange subscription? Sling TV offers a whole slew of mini sets of channels called Extras that let you tailor your television experience even more! Whether it's comedy, news, movies or sports, Extras are available for super low cost today to add onto your Sling TV Orange experience!
Browse add-ons and make your complete Sling TV experience today!
Customize Your Sling Orange Package with Extras:
Sports Extra
$1100
10+ Channels

Comedy Extra
$600
10+ Channels

News Extra
$600
10+ Channels

Lifestyle Extra
$600
5+ Channels

Hollywood Extra
$600
5+ Channels
Heartland Extra
$600
10+ Channels

Kids Extra
$600
5 Channels

AMC+
$700
4 Channels

Add Additional Premium Movie Packages:
SHOWTIME
$1000
5+ Channels
STARZ
$900
5+ Channels

EPIX
$500
4 Channels

CineFest
$500
1 Channel

CineMoi
$300
1 Channel

Comedy Dynamics
$500
1 Channel

Get These Deals to Save on Sling TV Orange
You can get even more and spend even less when you bundle your Sling Orange package with specialized add-ons and channel packages. Not only that, but you can save big on an AirTV or HD antenna, and even get a Google Chromecast for no cost at all when you sign up and prepay for Sling TV Orange today!
CHROMECAST FOR FREE
Get a Google Chromecast for no cost!
Sign up for a Sling TV Orange package for this award-winning 4K HDR streaming device
Chromecast brings together all your content into one place
Comes with Google TV, supporting 4K resolution and HDR
Prepay for 1 month of Sling Orange for a FREE Chromecast
AIRTV 2 + HD ANTENNA
Watching local TV is now easier than ever
Get everything you need for watching local channels through Sling TV Orange
AirTV2 with the HD Antenna brings you all your local stations
Watch and record it all at no extra charge through Sling TV Orange
Prepay for 3 months of Sling Orange and get it all for only $49 ($149 value)
GIFT WITH PURCHASE
Get a FREE streaming device!
Prepay for 2 months of Sling Orange and get a FREE AirTV Mini ($79.99 value)
Get 200 hours of storage with DVR Plus – free with your first month
The best streaming device to use with Sling TV Orange
Watch on apps like Netflix, YouTube and more through Google Play