YouTube TV vs. Sling for the Best Streaming TV
Cable is far from your only option for quality home television anymore, as other services like satellite and streaming have become popular and even preferred. With something like streaming TV, you're able to get many of the same channels you'd be able to access through cable but without the daunting costs, installations or contracts you'd have to worry about with cable.
Sling TV and YouTube TV are two of the top streaming TV services available now. Both let you watch television channels through your internet (including locals), both have more reasonable costs than many cable providers and both let you watch everything through a streaming device that you probably already own.
While you can have great streaming TV service with either provider, you can get started with Sling TV for a considerably lower monthly cost than YouTube TV. Plus Sling TV offers a bit more robust channel variety, and the app used to watch channels on the device of your choice is available on a wider range of devices.
| Who is the Best Streaming TV Provider? | | |
| --- | --- | --- |
| Monthly Cost | $40 | $65 |
| Household Type | Great for everyone | Only for larger families |
| Wider Device Compatibility | | |
| Channel List Content Focus | World News, Lifestyle, Science Fiction, Sports and True Crime | News, Lifestyle, Science Fiction |
| Free AirTV Mini/HD Antenna | | |
5 Reasons Why Sling TV is Better Than YouTube TV
Both services are great options for streaming TV, but Sling TV is a stronger choice in several key ways.
1

Pay less per month (including free access to local channels)

2

Sling TV app on wider range of devices (including Sling's own devices)

3

More well-rounded variety of content types in channel list.

4

Better fit for any user or household (as opposed to just larger family units)

5

Get discounts or free streaming devices with your subscription.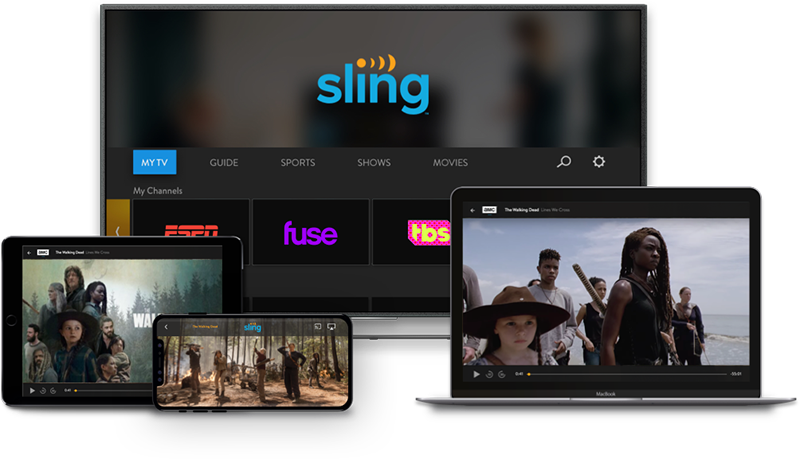 Stream Through a Wider Variety of Devices
For these streaming television services, you'll accessing your content through their app that you install on your preferred device. And although both options feature an app that can be found across a range of smart devices, the Sling TV app actually has better availability on a wider selection of hardware, like Android, iPhone, certain smart TV brands, Xbox, Windows, Chromecast, Apple TV and more.

Not only that, but if you want to sign up for Sling TV but don't already have a compatible streaming device, Sling can set you up with a device at no extra cost! The AirTV Mini, for, example, can be yours for free when you prepay for two months of Sling TV. You can also get a steep discount of an AirTV2 with the HD antenna, or separately just get the HD antenna for no charge so you can watch your favorite local channels for free.
Watch Local Channels for Free with Sling TV
Most cable companies will charge you to be able to watch your favorite local stations like NBC, CBS, ABC, FOX or Telemundo. And with YouTube TV local channels are built in to the package price, leaving you without the choice to include them or not. But with Sling TV, you can decide whether or not to include local channels. And if you do there's no extra charge at all once you hook up a digital antenna (either one you have or one you get for free through Sling).
Once you do they'll be integrated right into the rest of your Sling TV channel lineup, and if you hook up your antenna to your AirTV you can use your DVR to record local content as well. If you don't happen to have an antenna, Sling offers a free indoor HD antenna when you prepay for two months of the service that can be quickly and easily hooked up to your TV and will pick up those local favorites like a charm!
Promotional Offers
Sign up with Sling and take advantage of these fantastic special offers!
Get an award-winning Google Chromecast for free!
Save big on an AirTV 2 with an HD antenna
Get a streaming AirTV Mini for no charge