DISH vs Comcast
Choosing your TV service provider can be a difficult decision. When comparing DISH Network to cable provider Comcast, consider the added value DISH provides. With free HD for life, free next-day installation (where available) and more, DISH deserves your attention.
With DISH, you'll get more channels and a 2 year price lock guarantee that will save you hundreds over XFINITY. Enjoy the industry-leading technology of DISH with Hopper 3 and watch premium channels free for 3 months! New DISH customers save more than $200 when compared with XFINIY!
| See for Yourself! | | |
| --- | --- | --- |
| Lowest Package Prices |    |    |
| Best Technology |    |    |
| Best Promotional Offers |    |    |
| Best Customer Service |    |    |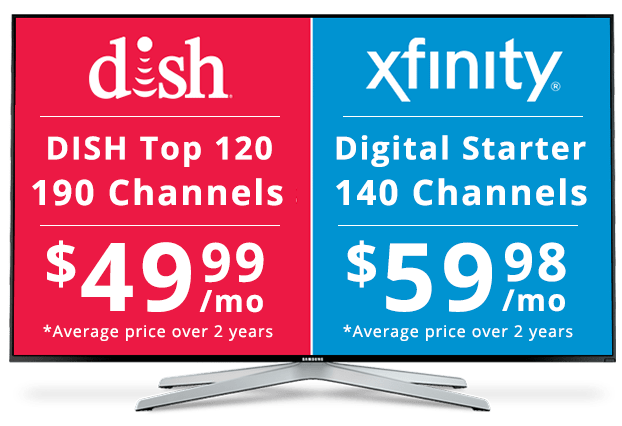 DISH vs Comcast: Channel Packages
When you choose DISH over Comcast XFINITY, enjoy the value of high quality entertainment at an affordable price. Your America's Top 120 package includes more channels than Comcast's Digital Starter plan. With DISH, you also enjoy free HD for life and your local regional sports networks included in the price of your TV package. Combine that with DISH's 2 year price lock, and you save more than $200 over Comcast!
*Advertised price requires credit qualification and eAutoPay. Upfront activation and/or receiver upgrade fees may apply based on credit qualification.
DISH vs Comcast: Best Technology
For the best DVR technology, choose the DISH Hopper 3 HD DVR. Record and store more with the Hopper's 16 tuners and 2 TB hard drive. XFINITY's X1 DVR can't touch the extra features DISH includes, like Bluetooth compatibility for wireless headphones and speakers, a remote finder and commercial-skipping Autohop.
Watch throughout your home and on-the-go with your Hopper 3, Joeys and DISH Anywhere. Discover industry-leading DVR technology and enjoy your shows on your time, only from DISH.
| DVR Technology | | |
| --- | --- | --- |
| Shows Recorded at Once | 16 | 6 |
| Instantly Skip Commercials | Yes | No |
| Hours of HD Storage | 500 | 60 |
| Built in Netflix App | Yes | No |
| Bluetooth Audio | Yes | No |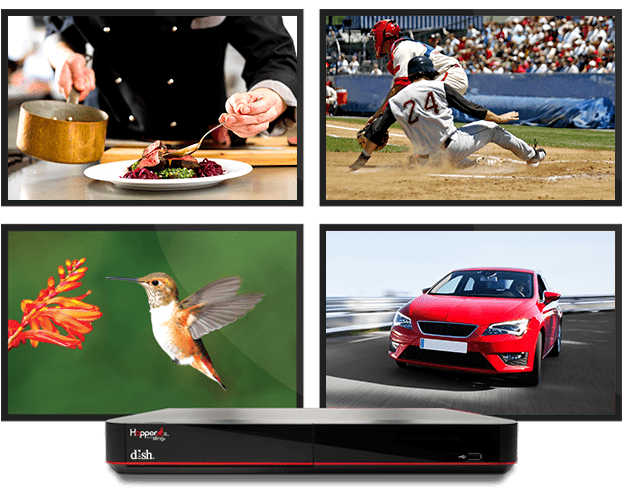 DISH vs Comcast: Promotional Offers
DISH is proud to offer exceptional TV packages with remarkable value. When you choose DISH Network over Comcast XFINITY, enjoy these promotional offers:
Free professional installation in up to 6 rooms
Guaranteed 2 year price lock
HBO included at no cost for 12 months with qualifying packages*
Complimentary HD for life
DISH vs Comcast: Customer Service
You'll love DISH's customer service! Enjoy #1 call center and website satisfaction, making choosing and ordering your DISH TV package as straight forward as possible. DISH's nationwide availability and free installation beat Comcast XFINITY's offerings. You'll receive a bill that leads the industry in clarity. Enjoy the industry's lowest customer complain rate with DISH; Comcast falls behind at #8.
*Based on the average American Customer Satisfaction Index comparison of major TV providers (2010-2015).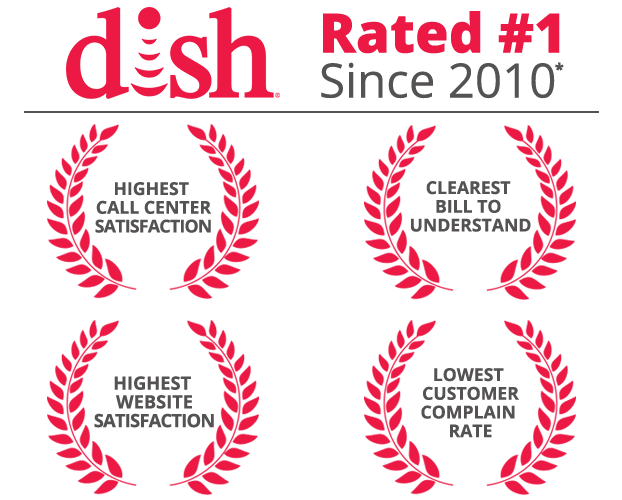 5 Reasons Why DISH Is Better Than Comcast
Enjoy free HD for life! When you subscribe to Comcast or XFINITY cable TV packages, you'll pay an extra $9.95 per month for HD programming. That adds up to almost $240 in savings over two years with DISH.
Upgrade to the Hopper 3 HD DVR for free. Record 16 channels at once, watch Netflix right from your Hopper, store 500 hours of HD programming and so much more! Comcast's X1 DVR can't touch the Hopper's industry-leading functionality.
Take live TV everywhere. With your Hopper 3 and the free DISH Anywhere app, watch live TV from your DISH package no matter where you are. Bravo on the beach, Animal Planet in the hotel or the big game on the train – it's all included with DISH.
Save with DISH's 2 year price lock. With Comcast, your price can increase as much as $20 per month after your first year of service. That means choosing DISH can save you hundreds over two years.
Watch Netflix without switching devices, with the Hopper's integrated Netflix app. Search for your favorite shows, whether they're on live TV, your DVR or Netflix using DISH's innovative searching technology.
DISH vs Comcast Frequently Asked Questions
Which is Better, Comcast or DISH?
DISH Network offers more channels than Comcast in its TV packages. With DISH, enjoy HD free for life, a DISH Hopper 3 DVR upgrade, 2 year price lock and more. Plus, DISH delivers 4K technology that Comcast can't match.
DISH Hopper vs XFINITY X1
The Hopper 3 HD DVR leads the industry with technology XFINITY's X1 DVR can't touch. Record up to 16 channels at once, automatically save primetime TV, skip commercials in recorded shows and more. Upgrade to the Hopper 3 for free with qualifying packages!
DISH vs Comcast Picture Quality
DISH Network customers enjoy free HD for life, compared to Comcast's $9.95 monthly HD fee. DISH's Wally and Hopper 3, as well as the 4K Joey, are 4K compatible for ultra high definition picture quality.