To ensure Americans have access to critical communications such as TV & Internet we are OPEN!
Hopper 3 vs Genie
Both DISH and DirecTV offer whole home DVRs that include your TV receiver and guide, plus smart DVR features. DISH offers the Hopper 3 HD DVR, while DirecTV provides the Genie as its whole home entertainment option. Learn more about both DVRs in this Hopper 3 vs Genie comparison.
With both the Hopper and the Genie, you can watch, record, rewind and pause live TV. This is only the start, with large hard drives, technologically advanced image quality, whole-home abilities and app integration. The Hopper 3 from DISH trumps the Genie in both specs and features. Paired with DISH's 2 year price guarantee and new customer deals, the Hopper 3 wins the battle of DirecTV Genie vs DISH Hopper 3.
| See for Yourself! | | |
| --- | --- | --- |
| Shows Recorded at Once | 16 | 8 |
| TVs Watched at Once | 7 | 4 |
| Instantly Skip Commercials | Yes | No |
| Hours of HD Storage | 500 | 200 |
| Built in Netflix | Yes | No |
| Multi-Channel Viewing | 4 Channels | 2 Channels |

What is a DVR?
A DVR, or digital video recorder, is a recording device that lets you save TV shows and movies for later. Your DVR's most important feature is the hard drive, which allows you to store hours of your favorite TV shows, sports, events and more.
Using a DVR gives you the ability to record shows, access your TV guide, play music, watch On Demand programming and more. Your DVR also serves as your TV receiver, sending the picture and sound for the TV channel you're watching to your TV. With DISH and DirecTV, you can upgrade your TV receiver to a DVR, either the DISH Hopper or the DirecTV Genie.
How Does the Hopper Work?
The DISH Hopper 3 combines innovation and value for whole home entertainment. Record up to 16 channels of live TV at once on as many as 7 TVs. Keep the whole family entertained with receivers in the basement, bedroom, kitchen or even outside. The Hopper 3 is packed with features, including remote finder, MulitView mode, Autohop, Primetime Anytime and more. Primetime Anytime lets you record primetime TV automatically on ABC, CBS, NBC and FOX, and Autohop automatically skips commercials in all of these shows. All of this uses just one of your 16 tuners and takes up no room on your Hopper's 2 TB hard drive!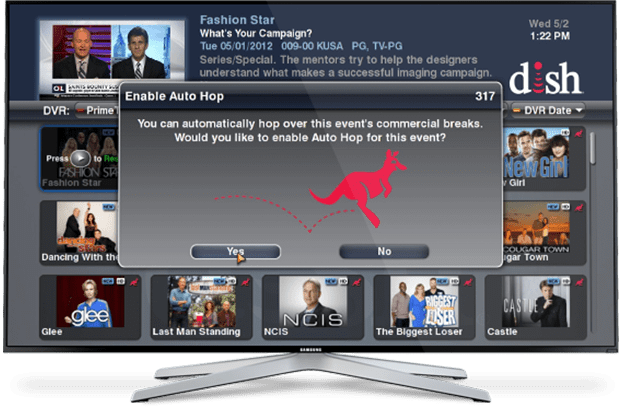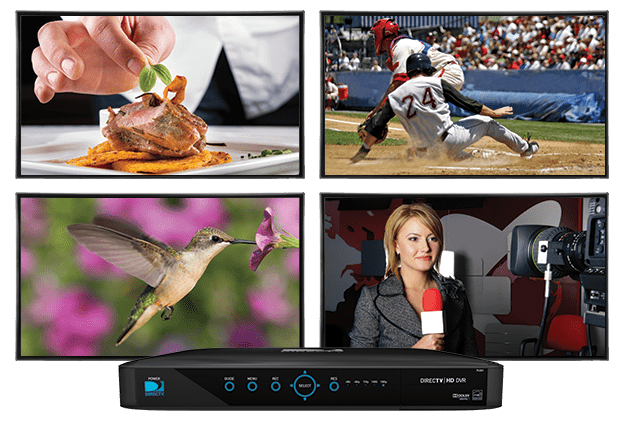 How Does DirecTV Genie Work?
The DirecTV Genie functions as a whole home smart DVR, acting as TV receiver as well as recording and saving shows. DirecTV customers can record up to 8 live shows at a time when they choose the Genie as a part of their TV service. While Genie users can connect 8 TVs throughout their home, only 4 can be watched at a time with the DirecTV DVR. This DVR includes a 1 TB hard drive for 200 hours of HD storage. The Genie features Picture-in-Picture mode, allowing customers to place two channels side by side on their TV screen. Genie Sports is also featured. This lets DirecTV viewers customize their guide for a sports-only view.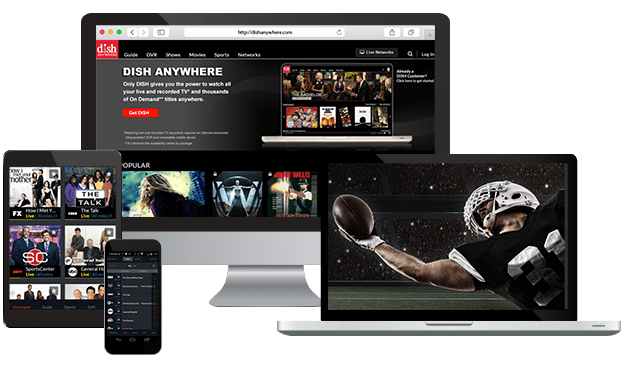 Whole Home Entertainment
DISH and DirecTV create whole home entertainment systems with their smart DVRs. You can watch live TV, OnDemand series and movies, recorded programs and more on any connected TV in your home, even outside. DISH lets you watch on 7 TVs throughout your home with one Hopper 3 HD DVR. Connect each TV to a Joey and you'll enjoy the entire Hopper interface throughout your home. Choose from the Joey, Wireless Joey, 4K Joey, Joey 3.0 and Super Joey.
DirecTV customers can watch on 4 TVs at a time, with up to 8 connected throughout their home. This whole home entertainment is powered by Genie-connected Genie Mini, Wireless Genie Mini or 4K Genie Mini receivers. Both DISH and DirecTV include whole-home parental controls in their entertainment systems for happy and safe families.
The Best Picture Quality
Both DISH and DirecTV boast 4K ultra high definition programming. Enjoy your 4K TV to the fullest with sporting events, documentaries, and on demand series and movies. Both DISH and DirecTV claim hundreds of hours of 4K programming. DirecTV includes 4K TV channels; DISH's integration with Netflix and YouTube offers additional content. Both the Hopper 3 and Genie are equipped with HD capabilities.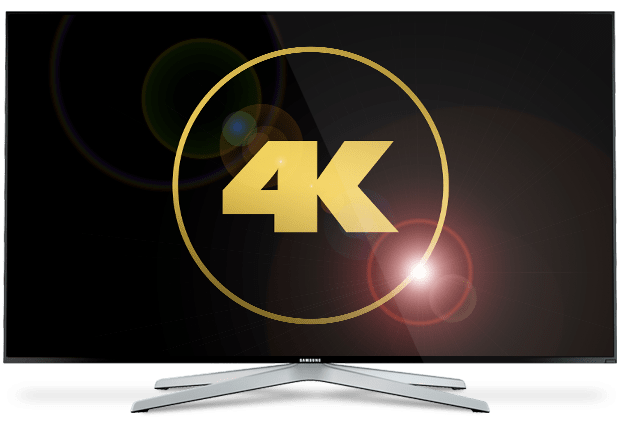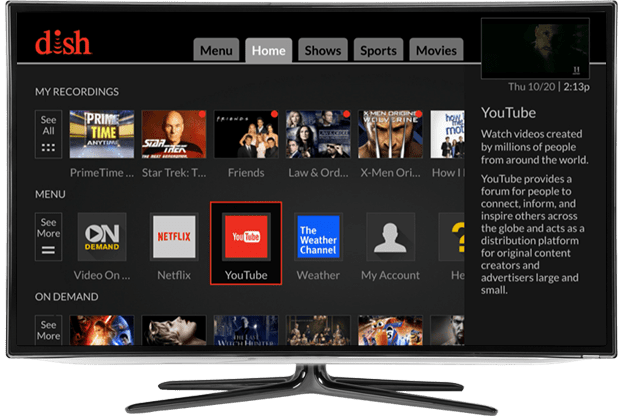 Add Apps to Your DVR
The DISH Hopper 3 HD DVR interface includes apps like Netflix, YouTube, Pandora and score overlay. With universal search, results from each of your Hopper 3 apps, including Netflix, display when you're looking for a specific episode or event. The Hopper 3's remote also includes voice search for incredibly easy navigation between apps, recordings and live TV.
DirecTV also includes apps on the Genie DVR. Sports fans can keep up with ScoreGuide and the Fantasy Football Genie app. Keep up with trending shows using the What's Hot app. DirecTV makes room for the Weather Channel app and Pandora as well.
DISH Anywhere vs DirecTV Everywhere
The Hopper 3 syncs with the free DISH Anywhere app to take your TV package on the go. Watch live TV and your Hopper recordings on your phone, tablet or laptop no matter where you are. Genie connects to the DirecTV app to stream live or recorded TV as well. Catch up with On Demand from your phone, available with either DISH or DirecTV. These provider apps also allow you to set your DVR away from home, as well as use your phone or tablet as a remote!
*Watching live and recorded TV anywhere requires an Internet-connected, Sling enabled DVR and compatible mobile device.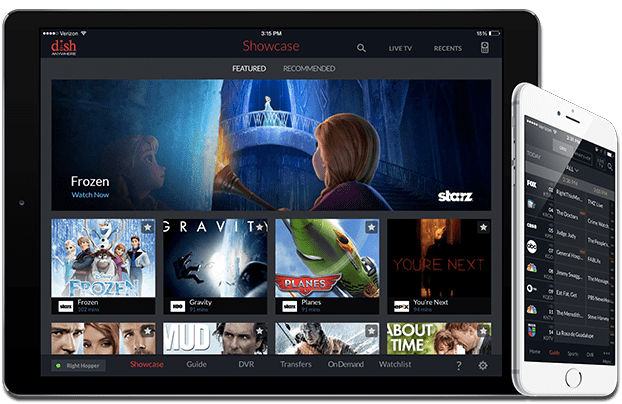 Share this Image On Your Site