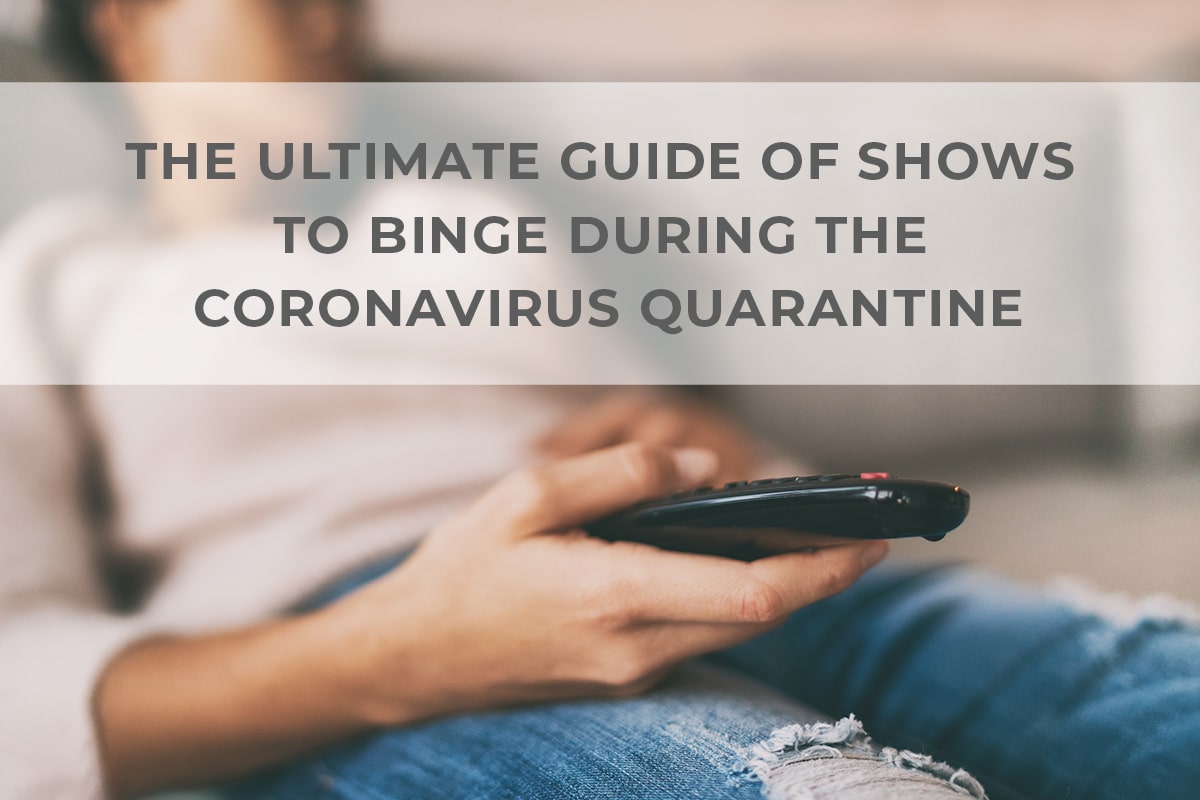 If you're one of the many Americans now working at home as a result of the coronavirus pandemic sweeping the nation, you probably have more time on your hands than ever. So, why not use the time we have to do some stationary exploring?
In the toughest of times, we turn to artists who produce shows that transport us to different places and worlds without having to move an inch. So grab your snacks, fluff up your pillows, and sit back to enjoy some of the newest and most entertaining content. Whether you use Netflix, Amazon Prime, or Hulu, we've covered all your favorite streaming platforms and compiled a list of must-see shows to watch from the comfort of your couch.
Happy binge-ing!
The Best Shows To Binge On Cable TV
The Good Place (NBC)
Ever wonder what heaven really looks like? In NBC's hit show, Eleanor Shellstrop finds out when she dies (from a rather embarrassing death) and winds up in The Good Place, a heaven-like utopia created by architect Michael. However, having been mistaken for a different person by Michael, Eleanor is now the only one who knows that her selfish, unkind actions in life were supposed to have landed her in The Bad Place, and she's determined to become a better person and earn her spot in the place where she most wants to be: The Good Place.
Manifest
Time is a tricky thing, but even more so when it starts to play by its own rules. In NBC's Manifest, passengers and crew are thankful and relieved when their plane, Montego Air Flight 828 from Jamaica to NYC, lands safe and sound after a brief but intense encounter with turbulence. But, to their shock, once they've landed they learn that in those few hours, somehow the world aged five years. Now, friends and family have moved on after everyone on board was presumed dead, and the passengers have to come to terms with not only the fact that everyone and everything they know has changed, but that more of the unexpected is to come.
The Blacklist
Crime, romance, investigations – The Blacklist has it all. This crime/action series follows Raymond "Red" Reddington, a once high-ranking U.S. Navy officer who becomes a high-profile criminal on every most-wanted list known to man. After he voluntarily turns himself in to the FBI, he agrees to their request that he help them go through their blacklist of mobsters, spies, and international terrorists and capture them. His agreement, however, is contingent on one thing – he must get to work with Elizabeth Keen, a rookie profiler with the FBI. With seemingly no connection to Liz, the question remains that follows us throughout the series – why her?
The Best Shows To Binge on Netflix
The Witcher
Based on a book series of the same name, The Witcher follows three main protagonists through an exploration of the legend of Geralt of Rivia, a monster-hunter enhanced by magic who is linked by destiny to two others in this work of medieval fantasy fiction. As he makes his way through turmoil, war, and darkness of the world, we begin to see that often times, the people he encounters along his path are much worse than the monsters he seeks to kill.
Peaky Blinders
Set in Birmingham, England after the First World War, Thomas Shelby leads the Peaky Blinders, his family of gangsters, as they run the gritty, crime-filled streets. Newly back from serving on the front lines of the war, Tommy and his brothers deal with PTSD and drug use while battling opposing gangs and an inspector from Belfast sent by Churchill to rid Birmingham of its criminals. Through multiple seasons, their battle wages on, and the development of these characters shows us a group of deeply flawed humans who, despite everything, fight through it all to keep their family together and strong.
Big Mouth
Puberty: it's just plain difficult. In this adult-centric cartoon series, Andrew makes his way through teenagehood and the growing-up process while his body and mind change in confusing ways. Alongside him are his friends Nick and Jessi who along the way become romantically tangled. With big voices like Maya Rudolph, John Mulaney, Nick Kroll, and Jordan Peele behind the major characters, the show deals with the often humorous struggled teenagers face that all adults can remember going through.
Ugly Delious
In this travelogue starring David Chang, an award-winning chef, writers, activists, artists, and other chefs join him as he uses food as a means to communicate and break through the many cultural barriers that plague us as a society. Visiting hot spots of culture and cuisine all around the world, Chang and his guests use each episode to highlight one dish or concept and explore the ways in which it has been adapted in various places and cultures and evolved into something completely unique, new, and different.
The Best Shows to Binge on Amazon Prime
The Hunters
In 1977 in New York City, a young Jewish man troubled by his past joins a group of Nazi hunters who've discovered hundreds of high-ranking Nazi officials in the city who seem to be conspiring to create the Fourth Reich. Paralleling with Operation Paperclip, the U.S. government's plan to relocate German Nazi scientists to the States, these hunters seek to bring these genocidal individuals to justice and keep their country free from the ideologies of this cruel cabal who've been allowed to escape their past atrocities.
Fleabag
Following an unnamed protagonist after the tragic death of her very best friend, Fleabag tells the story of a grieving London woman filled with anger and hurt. While she tries to heal from possibly the most traumatic event she has ever experienced, the woman (often referred to as "fleabag") often breaks the fourth wall with internal monologuing and exposition to the audience as she maintains her wit, charisma, and bravado.
Carnival Row
Starring Orlando Bloom and Cara Delevingne, this steampunk-style fantasy follows the lives of the people in Carnival Row during a time when mystical, immigrant creatures are struggling to simply coexist with humans after they've invaded their land. The central plot of the series is the investigation into a string of murders that have been occurring in the Row. Led by Rycroft Philostrate, a half-blood inspector who, much to the chagrin of his colleagues, understands and empathizes with the immigrant creatures, he works to figure out what is happening in the Row while battling his feelings for a former lover, who also happens to be a faerie.
The Best Shows to Binge on Disney+
The Mandalorian
Who doesn't love Star Wars? For the ultimate fans who want to take a step even further into this fictional universe, The Mandalorian, available on Disney+, is set 5 years after Return of the Jedi and 25 years before The Force Awakens. Following a Mandalorian bounty hunter who seeks to find and protect a member of the same species as Jedi master Yoda, this series has exploded online and become a fan favorite for lovers of the Star Wars franchise.
Star Wars: Clone Wars
The Best Shows to Binge on Apple TV
Ghostwriter
Even the most fierce literary buffs probably don't want to meet their favorite fictional characters in real life, which is exactly what happens in the 2019 fantasy series Ghostwriter. In this G-rated, kid-friendly series, a neighborhood bookstore becomes haunted by a mischievous ghost who begins releasing literary characters from the confines of their pages into the real world. To solve the mystery of why the ghost is doing this, four kids team up to figure it out together.
Little America
Based on the collection of true stories featured in Epic Magazine, Little America is a TV series that gives an inside look to its audience at the experience of immigrants in the United States. Having been given universal acclaim by viewers and critics alike and receiving a 94% rating on Rotten Tomatoes, Little America goes beyond what you see at first glance to bring you immigrant stories that are unexpected, funny, heartfelt, and perhaps surprisingly so, relatable.
Hala
We've all seen the coming-of-age films and television shows that reveal the true angst of what it's like to be a teenager in an adult's world. Hala, a 2019 series about a Pakistani-American girl, takes this archetypal theme and puts a twist on it. Unlike similar shows and movies on this subject, Hala is neither quippy nor comical – rather, it is more muted and, besides a few scenes of sexual nature, verges on demure, with teenager Hala exploring her newfound sexuality while navigating the complicated rules and regulations of her culture, religion, and family.
The Best Shows to Binge on Hulu
Castle Rock
Stephen King fans rejoice with the creation of this multiverse series that features many of the themes and ideas from King's greatest novels all set in his fictional town of Castle Rock, Maine. The main plot begins with and follows Henry Deaver, a death-row attorney who returns to the hometown that so unsettles him to help an inmate, one that has been unaccounted for, found locked underneath Shawshank State Penitentiary in a cage. With so much more mystery to behold, Castle Rock is the ultimate Stephen King fan-fiction that weaves a story to keeps you on your toes throughout each episode.
Ramy
Life is hard when you're in your twenties. It's even harder when you're torn between two versions of your life. Born in America to Egyptian immigrants, Ramy Hassan lives in a neighborhood in New Jersey that is divided in so many ways. While trying to find himself in the world of his fellow young people who are partying, dating, and just trying to live without regrets, he struggles against the expectations of his Muslim family and community whose beliefs go against everything he wants to do with his life.
Little Fires Everywhere
Set in the 1990s, Little Fires Everywhere is a series adaptation of the 2017 novel by Celeste Ng. In Shaker Heights, Ohio, the place where the author grew up, two families each within very specific demographics are connected and woven together through their children. The main source of conflict comes from the fire that burns down the home of one of the families, the Richardsons, and the fact that a year prior the Richardsons rented a room to a woman named Pearl and her daughter. As the story unfolds, we see the issues prejudices that arise from the racial differences between the families and watch them both slowly begin to rip them apart at the very seams.
The Best Shows to Binge on HBO
The Outside
Called "fascinating, chilling, and immediately engrossing" by the Chicago Sun-Times, The Outsider centers around the investigation of what at first seems like a rather straightforward yet gruesome murder of a young boy. A seasoned police officer and an investigator who utilizes some unorthodox tactics to get the job done are put to the ultimate test once a supernatural force enters the picture and changes everything they think they know and believe in. Based on the novel by Stephen King, The Outsider will leave you questioning your initial thoughts and bracing yourself for what's next to come.
Westworld
Have you ever wanted to live out your greatest fantasies without consequence or judgment? Well, welcome to Westworld. In this technologically-advanced Western theme park, android "hosts" populate and cater to wealthy guests who pay to do whatever they want, without running the risk of being hurt by the hosts who are programmed to be unable to hurt any humans. The guests therefore often perform violent physical or sexual acts that they otherwise could not act out in real life. However, once a few of the hosts become sentient, they seek to escape from the human guests and scientists behind the creation of Westworld.
GOT
How can such a small town hold so many secrets? This dark dramedy opens up with the death of a character whose identity is not revealed until the last episode. Throughout the series, we see the exploration of five women and the families, relationships, and lies that make up their existence in the wealthy town of Monterey, California. Along the way, we slowly learn the ways in which they are inadvertently connected to the murder and to each other and realize that even in the most picturesque families and places, things are not always what they seem.