DISH Flex Pack
$6299/mo
A TV package made your way
51+ Channels
FREE Next Day Installation!
Scheduling may vary & up to 6 TV's
CUSTOMIZE Your Package
Choose from a variety of channel packs
FREE HD for Life
Watch TV in the highest quality
51+ Channels Included




Customize with Add-on Packs
FREE Premium Channels*



Premium Channels Free for 3 Months
DISH Flex Pack Channel List

A&E
Discovery Channel
Hopper Insider
Syfy
AMC
DishHOME
IFC
TBN
BabyFirstTV
DIY
INSP
TBS
BET Gospel
E! Entertainment Television
Kid's & Teens Television
The Impact Network
BET Jams
Enlance
Lifetime
Three Angels Broadcasting
BET Soul
Family Entertainment TV
Link TV
TLC
BYUTV
Food Network
MTV2
TNT
Catroon Network
Free Speech TV
MTV Hits
Travel Channel
CCTV-E
FX
mtvU
truTV
CCTV-News
FXX
NASA
Turner Classic Movies
Classic Arts Showcase
Great American Country
National Geographic Channel
TV Land
CMT
Hallmark Channel
Pay-Per-View Guide
USA
CMT Music
HDNet Movies
Pixl
VH1
CNN
Headline News
Pop
Vme
Comedy Central
HGTV
QVC
WE tv
Cooking Channel
History
Spike
WeatherNation
C-SPAN
HITN
DISH Flex Pack Channel List

A&E
Hopper Insider
AMC
IFC
BabyFirstTV
INSP
BET Gospel
Kid's & Teens Television
BET Jams
Lifetime
BET Soul
Link TV
BYUTV
MTV2
Catroon Network
MTV Hits
CCTV-E
mtvU
CCTV-News
NASA
Classic Arts Showcase
National Geographic Channel
CMT
Pay-Per-View Guide
CMT Music
Pixl
CNN
Pop
Comedy Central
QVC
Cooking Channel
Spike
C-SPAN
Discovery Channel
Syfy
DishHOME
TBN
DIY
TBS
E! Entertainment Television
The Impact Network
Enlance
Three Angels Broadcasting
Family Entertainment TV
TLC
Food Network
TNT
Free Speech TV
Travel Channel
FX
truTV
FXX
Turner Classic Movies
Great American Country
TV Land
Hallmark Channel
USA
HDNet Movies
VH1
Headline News
Vme
HGTV
WE tv
History
WeatherNation
HITN
DISH Flex Pack: Add-On Packs
Choose as many packs as you would like and add or drop channel packs at any time!
Local Pack
$1200
Subject to availability

Variety Pack
$600
6 Channels

Heartland Pack
$600
11 Channels

National Action Pack
$1200
9 Channels

News Pack
$1000
8 Channels

Regional Action Pack
$1200
8+ Channels

Kids Pack
$1000
8 Channels

Outdoor Pack
$400
4 Channels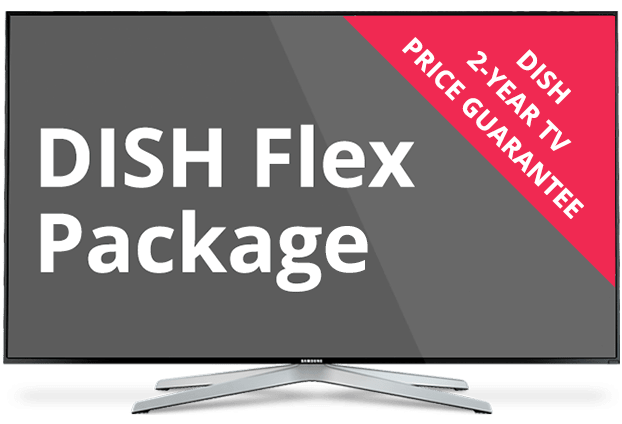 THE DISH Flex Pack
The Flex Pack lets you choose what channels you want to watch and how much you want to pay. Get more than 50 channels, and then add channel packs for national news, sports, movies, local channels or kids' favorites. The Flex Pack starts at just $62.99* per month, and includes a Smart HD DVR!
*All offers require credit qualification and 24-month commitment and early termination fee with eAutopay. Offer ends 4/10/24. Call for details.
The Best DISH Deals
With DISH Network's Flex Pack, your first channel pack and a smart HD DVR is included in your monthly payment of $62.99. Get free next day installation on up to 6 rooms, where available. Enjoy free premium channels from SHOWTIME, Starz and the DISH Movie Pack for three months.*
*After 3 mos., you will be billed $30/mo. for Showtime, Starz and DISH Movie Pack unless you call or go online to cancel.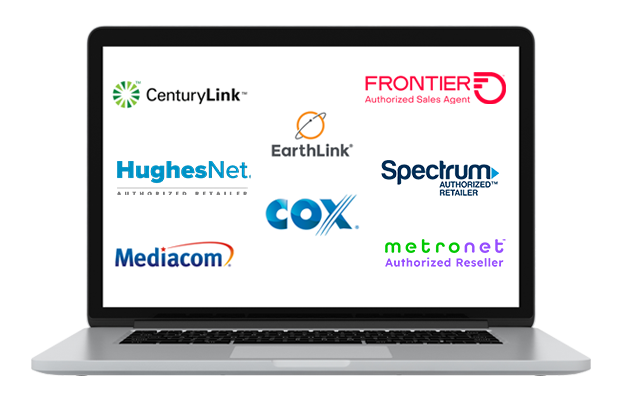 Add High Speed Internet and Save
Stay connected with email, social media, online shopping, and more. It's all waiting for you when you add high-speed to the DISH Flex Pack for as little as $19.99.* Choose between cable, DSL, Fiber, and satellite Internet options that are fit for any budget and lifestyle.
*Restrictions apply. Subject to availability. Internet not provided by DISH and will be billed separately.
A La Carte Channels
TV has never been as personalized as DISH's Flex Pack. Get 50+ popular channels, and choose one channel pack, all for $62.99 per month. Channel packs that everyone in the family will love are available starting at just $4 a month. Add on extras, like sports channels or premium movie channels, for a TV experience just for you!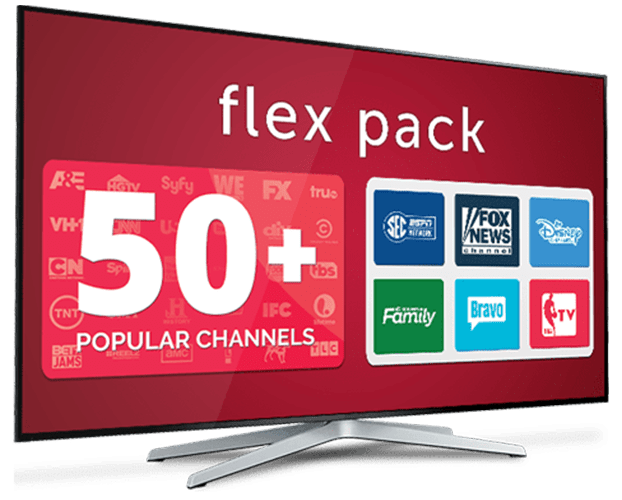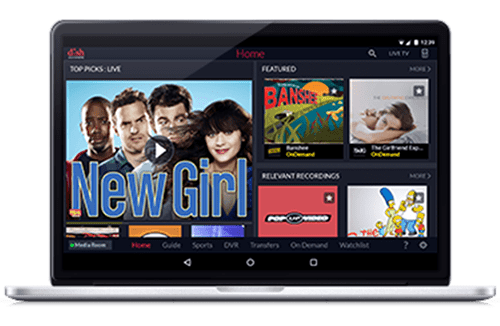 Watch the Channels You Love
Start with 50+ channels, including favorites likes A&E, AMC, Discovery, FX, HGTV, USA and more. Then, add channel packs. Stay up-to-date with News and Local Packs. There's the National Action Pack for sports fans, plus Outdoor Pack. The whole family will love the Kids Pack, Heartland Pack and Variety Pack!
DISH Flex Frequently Asked Questions
What is DISH Flex Pack?
The Flex Pack from DISH is a new package for value-focused families. Don't pay for channels you don't want. Start with 50+ popular channels and add channel packs for more news, sports, kids' channels or movies.

Learn More…
What Channels are in DISH Flex Pack?
Some of DISH Network's most popular channels are included, such as A&E, AMC, CNN, Comedy Central, HGTV, National Geographic, truTV and USA. Add channel packs for $4-$13/mo. for more of your favorites, including Bravo, FOX, ESPN, FOXSports, Big Ten Network and Animal Planet.

Learn More…
What is Included in DISH Flex Pack?
Pay for just the channels you want with DISH Network's Flex Pack. Start with 50+ popular channels and add the channel packs you want. Choose from topics like local channels, national sports and news. You can also add on premium movie and sports channels.

Learn More…
Exceptional Customer Experience